2013 Colored Diamond Prices Still Impress
When assessing the past price performance of fancy colored diamonds, it is actually quite amazing how incredible the value has appreciated over the past ten years. The prices paid for both important stones that were sold at auction and the more affordable diamonds traded everyday in the market, have shown impressive results. So much so, that more recently colored diamonds have begun attracting a lot of attention as exceptional investment opportunities, an asset class of their own.
Although Natural Yellow Diamonds are the most famous of the colored diamond family, among economists the interest for Pink Diamonds specifically continues to grow in the international market. On February 7, 2013 in Sotheby's Important Jewels Auction of New York, a 0.51-carat Fancy Vivid Purplish Pink Diamond with a VS2 GIA clarity grade sold for US $338,500. More people now understand that they don't need to invest millions of dollars in Pink Diamonds to grow their savings.
This amazing diamond ring with a 0.51-carat center stone and 46 round diamonds weighing approximately 0.30-carats flanked along the shank and halo was estimated at USD $60,000 – $80,000. The ring realized a whopping US338,500, which is more than four times the estimate! Gary Schuler, the Head of Sotheby's Jewellery department in New York said "the auction demonstrated the market's continued appetite for exceptional diamonds."
Leibish Polnauer, founder and President of LEIBISH, said that the sales in this years HKTDC Hong Kong International Jewellery Show were better than the company has seen in years. In fact, the companies two most important diamonds, the Leibish Pink Prosperity and the Pink Promise were both sold at the show.
The Leibish Prosperity Pink, a 1.68-carat, natural Fancy Vivid Purplish Pink Argyle Tender Diamond

The 1.68-carat 'Leibish Prosperity Pink' diamond originated from the Argyle mine and was purchased from the 2011 Argyle Pink Diamond Tender. This rare Fancy Vivid Purplish Pink diamond was purchased by South African based Jeweler and Diamond company Sid Forman (Pty) Ltd on behalf of a private buyer. David Forman, a director of Sid Forman, was quoted as saying "The 1.68ct Prosperity Pink diamond is a one-of-a kind gem, given its origin, the special significance behind its carat weight, and its mesmerizing color". David also noted the strong demand for Fancy Color diamonds across the board, notably Pink diamonds from the Argyle mine, generate strong interest among their clients in the Far-East.
Over just last year alone a number of important diamonds realized outstanding prices such as the 52.73-carat, magnificent Fancy Vivid Yellow Diamond Ring which sold for a total $3,890,500. The magnificent 6.54-carat, Fancy Intense Pink Oval diamond ring which sold for $8,594,500. The 47.14-carat, Fancy Intense Yellow Diamond, Heart-shaped diamond Pendant which sold for $2,546,500. The 10.48-carat, flawless, Fancy Deep Blue, Briolette-cut diamond which sold for $10,860,146 (USD$1.04 million per carat), and the list goes on...

2012 and the bright beginning of 2013 is just another piece in the great puzzle shaping the ultimate investment pieces that are paving the way for our future.
Contributor: Benji Margolese
Related Diamond Articles
Sotheby's Auctions 6.54 Carat Fancy Intense Pink for 8.5 Million
Toi et Moi Ring Steals the Show at Hong Kong Auction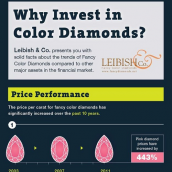 Investment Infographics - Investing in Colored Diamonds
The Blue Briolette Diamond