We believe every woman's jewelry box should be the happiest, trendiest, most artistic place on earth, and we believe diamonds can transport you there. These newly designed fancy color diamond rings are meant to do just that – they are so artistic and unique that adding them to your collection will actually turn your jewelry box into your own private art gallery. Let us take you on a tour of 5 extraordinary pieces of jewelry.
1) Walking On Sunshine
This ring doesn't need to sit around waiting in your jewelry box for the right occasion – you can wear this stunning piece with jeans or an evening gown, it's perfect either way! This ring is guaranteed to brighten your day and bring some extra bursts of sunshine to everyone around you!
2) Good Things Come In Pairs
Did your heart just miss a beat? Yes, we know, this ring can do that to you. It's fresh, it's unique and it's just out of this world. The way the Fancy Light Pink and Fancy Green diamonds work together, is just like PB&J - but better! Whoever thought of this amazing color combo is quite simply - a genius.
3) Sometimes You Want To Wear Your Heart On Your Finger, Not Your Sleeve
This Fancy Deep pink heart diamond ring is truly a masterpiece. Featuring a 1.01ct Fancy Deep Pink heart shape center stone, it's the perfect design for those days when you just want to spread some love and sparkle all around!
4) A Warm, Warm Hug
This crossover pink diamond halo ring feels and looks like a warm, loving pink hug! The delicate piece of art makes you feel all warm and fuzzy on the inside, and feminine and sparkly on the outside – the perfect combination.
5) The Bold And The Beautiful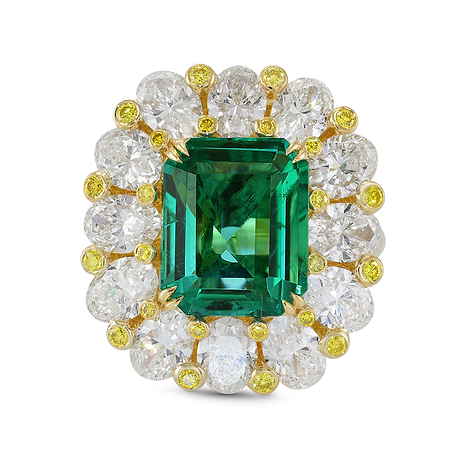 This one is not for the faint of heart. The Zambian emerald surrounded by intense yellow and colorless diamonds makes the boldest of statements. Honestly, it's gorgeous enough to be displayed in an art gallery! It's bright, it's couture at its best and it's totally majestic – perfect for when you need a little confidence boost.