Interested to learn which styles are trending? Want to be the first in the know about which color diamond styles are ahead? Check out just a few of our favorite items purchased this month. Who knows, maybe you'll be inspired!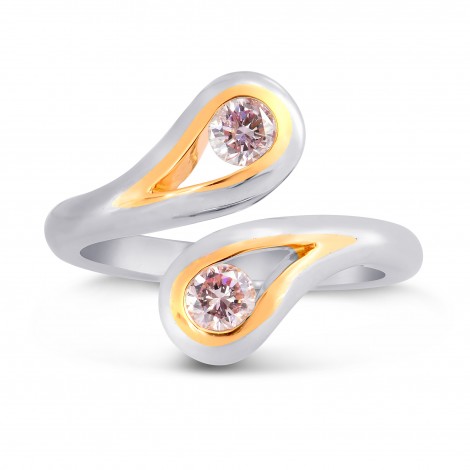 An exquisite two stone cross-over ring with two Fancy Light Pink round brilliant diamonds weighing 0.26Ct TW. The diamonds are set in rose gold sleeves, within the white gold shank
A fabulous 0.51 carat Fancy Yellow Radiant Diamond halo ring mounted in 18K white and yellow gold with 0.38CT TW collection D-F color and VS1-2 clarity with open pave setting.
A Classical Diamond Pave Split Shank ring mounted in 18K White & Yellow Gold. The ring is set with a 1.01ct Cushion cut Fancy Intense Yellow VS2 Diamond center stone and 0.34ct TW small Round Diamonds Color G-H Clarity VS, framing the Cushion cut diamond and set down the classic split shank. Surprise the special lady in your life with this stunning Canary diamond ring.
A beautiful Fancy Intense Purplish Pink round brilliant diamond solitaire ring mounted in 18K white gold with a cross-over shank design.
A fancy yellow cushion diamond halo ring mounted in 18K white and yellow gold. The center diamond is certified by GIA as a minimum Fancy Yellow VS2 quality, set with four 18K yellow gold prongs. The side diamonds are collection white round brilliants mounted in 18K white gold in an open pave style setting. The design belongs to the Canary collection that includes a matching pendant and earrings.
n enchanting 1.60Ct TW Fancy Intense Yellow cushion diamond halo ring. Mounted in 18K white and yellow gold the ring is styled with interweaving heart filigree scrolls in the side of the head.
A pair of Fancy Intense Yellow Cushion 1.04cts TW diamond halo earrings. Mounted in 18K white and yellow gold, these lovely earrings are set with 0.27Ct collection white brilliant diamonds with open pave on the surrounding halo.
Twin Suns...Fancy Intense Yellow cushion diamonds weighing 1.46Ct TW mounted in 18K yellow gold four prong basket stud earrings.
Custom-made multi-band ring with pave set bands asymmetrically aligned and mounted in 18K white gold. The ring is 15 MM wide and set with collection color white round brilliants.
A richly colored Fancy Dark Gray Greenish Yellow cushion diamond ring with collection color white round brilliant pave-set side diamonds, mounted in 18K white gold.
An 11.59Ct TW magnificent multicolored diamond halo bracelet mounted in 18K white yellow and rose gold. The center diamonds have a total weight of 9.28Ct and certified by GIA, including the main colors, yellow, orange, green and gray. The side diamonds on the halos are collection color white brilliants 2.31Ct TW.
Oval Tanzanite and pearshape Aquamarine diamond ring mounted in 18k white gold. The center oval Tanzanite is a beautiful deep blue color weighing 3.97Ct . The Aquamarines pears are a lovely sky blue color weighing 0.80Ct TW. These wonderful gemstones are surrounded by collection white round brilliants in a halo style setting.
A Round Briliant Fancy Vivid Orangy Yellow 0.28Ct Diamond set in a double halo platinum and 18K ring, with additional collection color diamonds 0.70Ct TW set arond the center stone.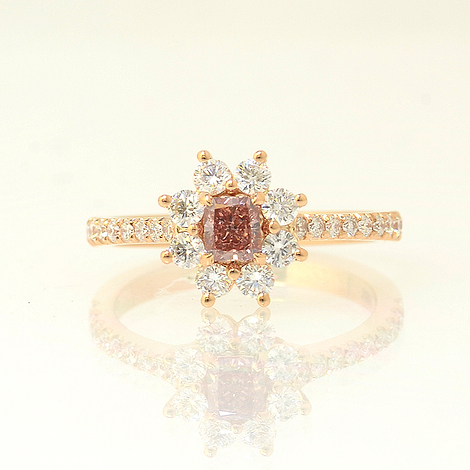 A simply stunning 0.26Ct GIA certified Fancy Deep Pink radiant diamond, mounted with a halo of prong set round brilliants and White round brilliants Along the shank Created in Rose gold the ring contains 26 collection white D-F color round brilliants, Clarity VS1-2 with a total weight of 0.54Ct.
Browse through all the recently sold items and let us know which you like best!