Interested to learn which styles are trending? Want to know what everyone else is purchasing? Check out just a few of our favorite items purchased this month. Who knows, maybe you'll be inspired!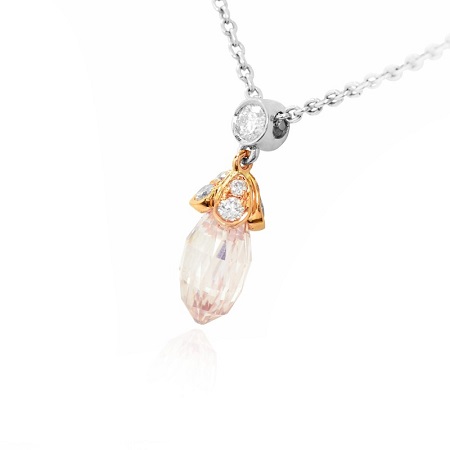 An extraordinary 1.35 carat TW Fancy Light Brownish Pink Briolette diamond drop pendant mounted in Platinum and 18K Rose gold. This exquisite briolette diamond weighs 1.23 carats and is certified by GIA. The setting is accented with collection color white round pave set brilliant diamonds on the cap and bail.
A superb natural GIA certified 1.06 carat Fancy Pink Radiant diamond mounted in a three stone ring setting with 0.28 cafrats TW collection color white Triangle diamonds. Mounted in 18K white and rose gold.
A superb 8.64Ct TW diamond pendant set with an 8.35Ct TW GIA certified natural black diamond, mounted in 18K white gold. The black diamond is complimented with 0.29Ct collection color white round brilliants around the halo and along the bail.
A mystifying 0.64 carat Very Light Pink, Pear Shaped 3-Stone Halow Diamond Ring. The center stone is complimented with two beautiful tapper diamonds surrounded by collection color round brilliant stones.
A lovely double halo diamond ring set in 18K Yellow and White Gold. The center stone is a 0.25 carat brilliant cut Fancy Brown diamond, VS1 clarity, which is surrounded by 76 Collection Brilliant Cut diamonds, creating the Double Halo effect.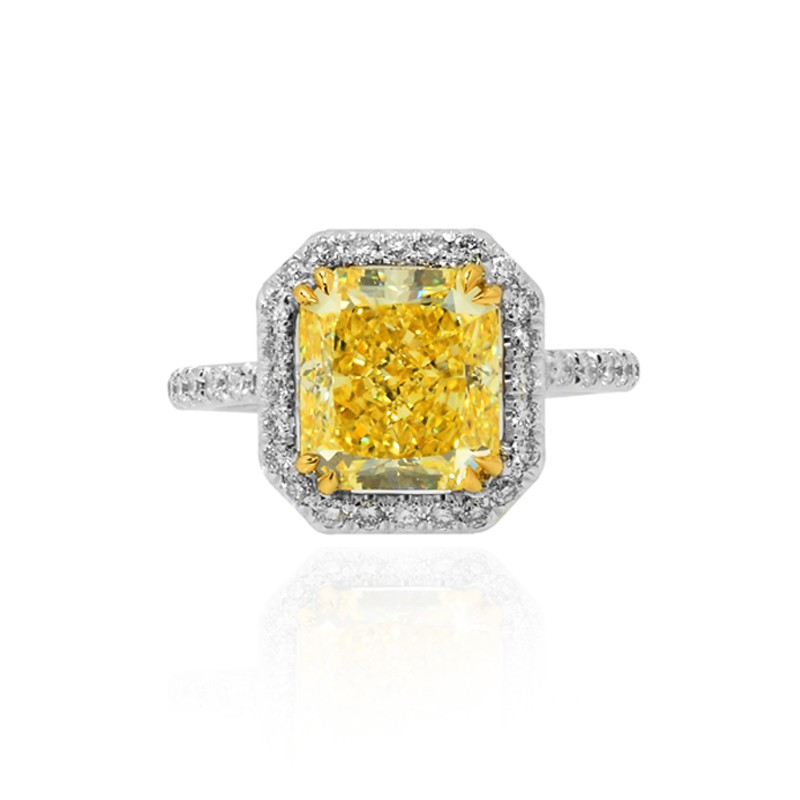 A spectacular 3.29 carat TW Fancy Intense Yellow Radiant diamond halo ring mounted in 18 karat white and yellow gold, with a French open pave setting around the halo and 2/3 way around the shank.
A deeply rich colored diamond ring with a Fancy Gray Green Pear diamond and two Fancy Deep Orange Pink cushion side diamonds. The shank is set with collection colored white round brilliants along the shank. The ring is mounted in 18K white and rose gold.
A breathtaking Fancy Light Yellowish Green Radiant Diamond and two Fancy Intense Purplish Pink Pear Diamonds Set in a Platinum and 18K Rose Gold Couture custom ring design. This one of a kind masterpiece features a 1.65 carat Radiant cut Fancy Light Yellowish Green center diamond, flanked by two Fancy Intense Purplish Pink Pear diamonds. The one weighing 0.16 carats with an SI1 clarity and the second weighing 0.15 carat with a VVS1 clarity. The 3 diamonds are encompassed by 0.41 carats TW of Collection 'D' color round brilliant small diamonds which also flow along the shank.
A 3.10 carat TW Fancy Black cushion diamond engagement and wedding ring set mounted in all 18K white gold. The engagement ring is styled as a halo setting with collection color white round brilliants around the center diamond; lending a beautiful contrast. The engagement is designed to include a matching wedding ring that fits comfortably together as a unified set.
A 2.03 carat Fancy Yellow Oval shape diamond with a GIA VS2 clarity. The perfect canary diamond is flanked by two F VVS-VS half moon side stones. An impressive 3 stone setting in anniversary canary diamond ring.
A spectacular Fancy Vivid Yellow Orange pear diamond double halo ring, mounted in 18K white and yellow gold. This exceptional design is styled with three shanks at differing heights that meet to together at the external halo. The halos and shanks are decorated with collection color white round brilliants in an open pave setting.
A 3.21 carat TW Fancy Light Yellow Cushion Diamond double halo ring mounted in Platinum and 18 karat yellow gold.