Blue Diamonds Gaining Major Popularity at the World's Biggest Auctions
Blue diamonds have been around since the beginning of time, but have they only recently begun to regain popularity? Some feel the reason for their stunted popularity is in part due to their rarity and value. According to Robb Report, just because there are more headlines does not mean that there are more blue diamonds, instead "it means that more people have learned to appreciate them.
Some say the reason for their stunted popularity is in part due to their rarity and partially because of their steep prices. Many were simply not familiar with the blue version of "a girl's best friend." Since blue diamonds are among the more rare colors of fancy color diamonds, they are priced accordingly. Nevertheless, today, those with the means appear to be seeking out these very special specimens more than ever before.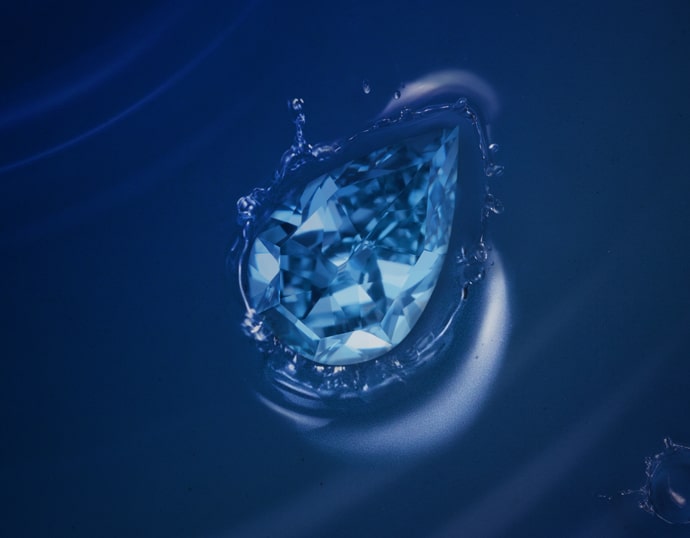 Natural blue diamonds have gained a lot of fame this year
Yellow diamonds are the most popular of the fancy color diamond family. Pink diamonds are considered the most luxurious and therefore highly sought after by the most rich and famous. While Blue diamonds, which have been seen quite often at some of the biggest auctions houses around, are very quickly catching up, and on the eye of all the high rollers. The Oppenheimer Blue is an excellent example of an extraordinary blue diamond that can make anyone yearn for the gleaming stone with the mesmerizing blue hue.
The Oppenheimer Blue
Rectangular in shape and boasting flawless qualities, the Oppenheimer Blue is a 14.62-carat, emerald-cut, vivid blue diamond. The rare stone is named for its previous owner, Sir Philip Oppenheimer, whose family has been a leader in the diamond industry for generations. The Oppenheimer Blue, which is the largest vivid blue diamond ever to be auctioned, will go up for auction on May 18 in Geneva.
Blue Diamonds
Fancy color diamonds are found around the globe in an assortment of colors, from pink to red to orange to green to blue, and even black. While some colors like yellow and brown are somewhat "common," other stones such as pink and blue diamonds are not. Each color is caused by a separate element. For instance, yellow diamonds contain nitrogen, which gives the stone its yellowish tint. Blue diamonds on the other hand receive their unusual color from boron. Most of the world's blue diamonds are mined in the Cullinan mine in South Africa.
Blue Diamonds Sold at Auction
Though the Oppenheimer Blue may be the largest vivid blue diamond ever to be auctioned, there have been other types of blue diamonds in various sizes that have been sold at auction over the years. In 1983, a blue diamond ring that belonged to Marie-Antoinette was auctioned, in 1984 the pear-shaped Tereshchenko (42.92 carats) was sold, and in 1995, the 13.78-carat Begum Blue was bought. More recently, the famous Wittelsbach Blue (31.06-carat deep blue diamond) made headlines when in sold in 2008.
Genuine blue diamonds, especially those of superb quality and size, may only be available to those with deep pockets, but the mere fact that they are now on the radar of those who have the means but still only acquire items of importance and value, goes to show how significant these blue gems are and the weight they hold for the future.