While we think of May as traditionally the time for Spring Fever, it draws our awareness to every signal of new life, including all things green. There's a lot going on across the globe at this moment, so it's interesting to take a look at how –if any—it affects the diamond and gemstone trade currently.
If you think that important diamonds and gemstones have suffered during the ongoing conflict in Ukraine or even the shut-down in China --- think again.
Sales Reveal Collector's Appetite
Just look at the spectacular sale of the largest blue diamond ever to come to auction, recently. A 15.10 ct step cut fancy vivid blue diamond just sold at Sotheby's Hong Kong for $57.5M, and it was not the only important stone sold.
Below the surface, many important fancy color diamonds have been sold and then disappeared from the market. A 2.20 ct Fancy Red Argyle, a 5 ct vivid blue round diamond -- quickly gone. It proves that there is still a lot of cash available for investing in important fancy color diamonds and gemstones.
More such transactions could be made, but there is simply not enough goods are entering the market for serious collectors to scoop up. Celebrities always create an enormous interest with the public in general, and their engagement jewels are widely viewed and avidly copied.
Lucky Color--Green
Mega-stars Jennifer Lopez and Ben Affleck, once fondly referred to as "Bennifer" met on the set of their film "Gigli" produced in 2002 and became engaged that same year. Affleck proposed with a pink diamond, something unheard of for most people in those days. Media onslaught and outside pressures wore heavily on their relationship and the two called it quits in 2004. Fast forward 20 years, and the two rekindled their romance once again. This time, Affleck outdid his first gesture with an exquisite 8.5 ct fancy green diamond ring valued at between $5M and $10M. "I always say the color green is my lucky color," Lopez claims. (per Entertainment Tonight). "Maybe you can remember a certain green dress. I've realized there are many moments in my life where amazing things happened when I was wearing green."
Brides Now Thinking Green
Just how will Lopez' gorgeous green diamond affect consumer's desire for green engagement rings? We think it will create a trending pattern for saying I Do to green very quickly. While not all consumers have the budget for green diamonds, there are other ravishing options in green to chose from. How about emeralds, for instance?
I must agree with her as green diamonds and green emeralds definitely create a positive sentiment. Looking at our own brand and its world of colors - green emeralds are very close our hearts. Digging a little deeper, we find we are not alone in this love affair with green stones. Both Columbian and Zambian emeralds can make a sensational color stone engagement ring with a powerful color face-up hue.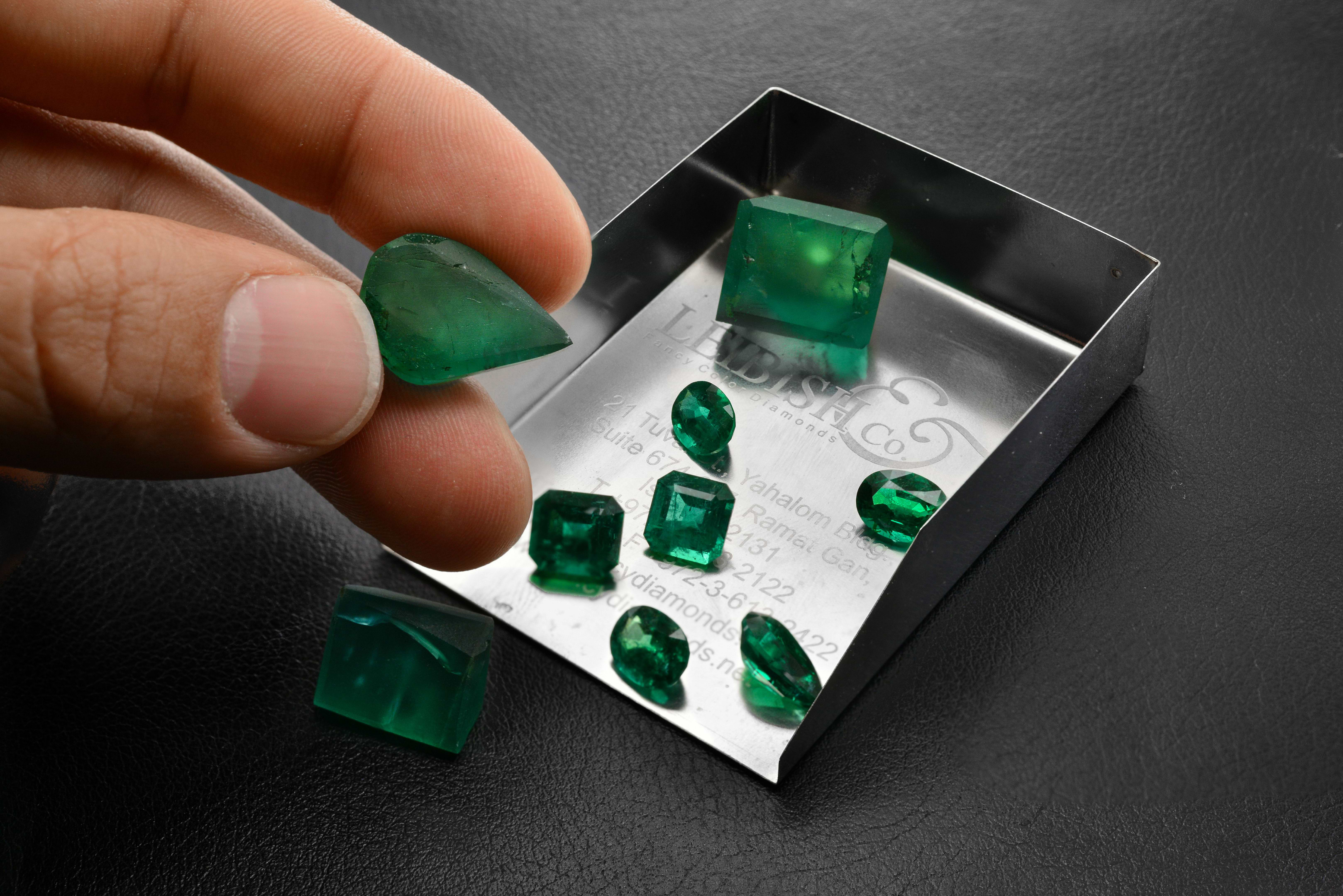 LEIBISH loose Emeralds
Liz Taylor's Fabulous Emeralds
One of the greatest collectors of emerald jewelry was the legendary film star Elizabeth Taylor. Her equally legendary emerald jewelry designed by Bulgari was given to her by Richard Burton in the1960s while they were filming Cleopatra. The real Cleopatra was such a fanatic for emeralds that she gave visiting dignitaries to Egypt a gift of an emerald carved in her likeness. Was that why Ms. Taylor fell madly for emeralds? Who knows? What we do know is that she's still the coolest of the cool amongst Hollywood's Golden Age royalty—and one who amassed some of the finest diamonds and gems in any private collection.
Ms. Taylor's entire jewelry collection including her emeralds, called "the most valuable private collection of jewels" on Christie's website sold for an astonishing $156.8M on the 16th of December 2011.
I personally love Colombian emeralds. We have many carefully collected and important loose stones and emerald jewelry in our inventory. We invite you to personally preview them in our New York or Hong Kong office.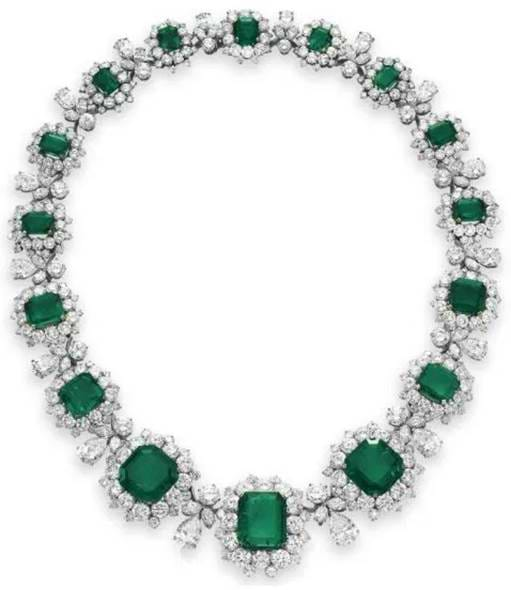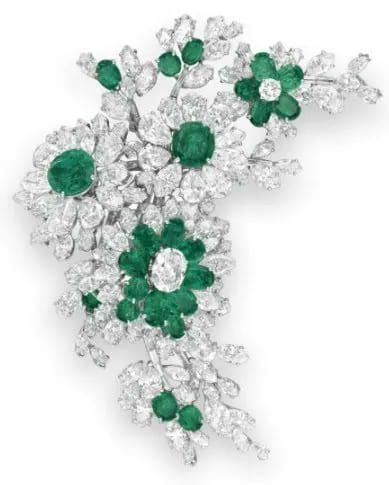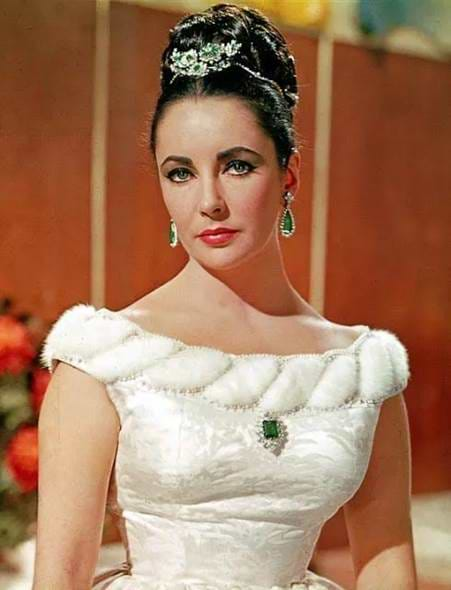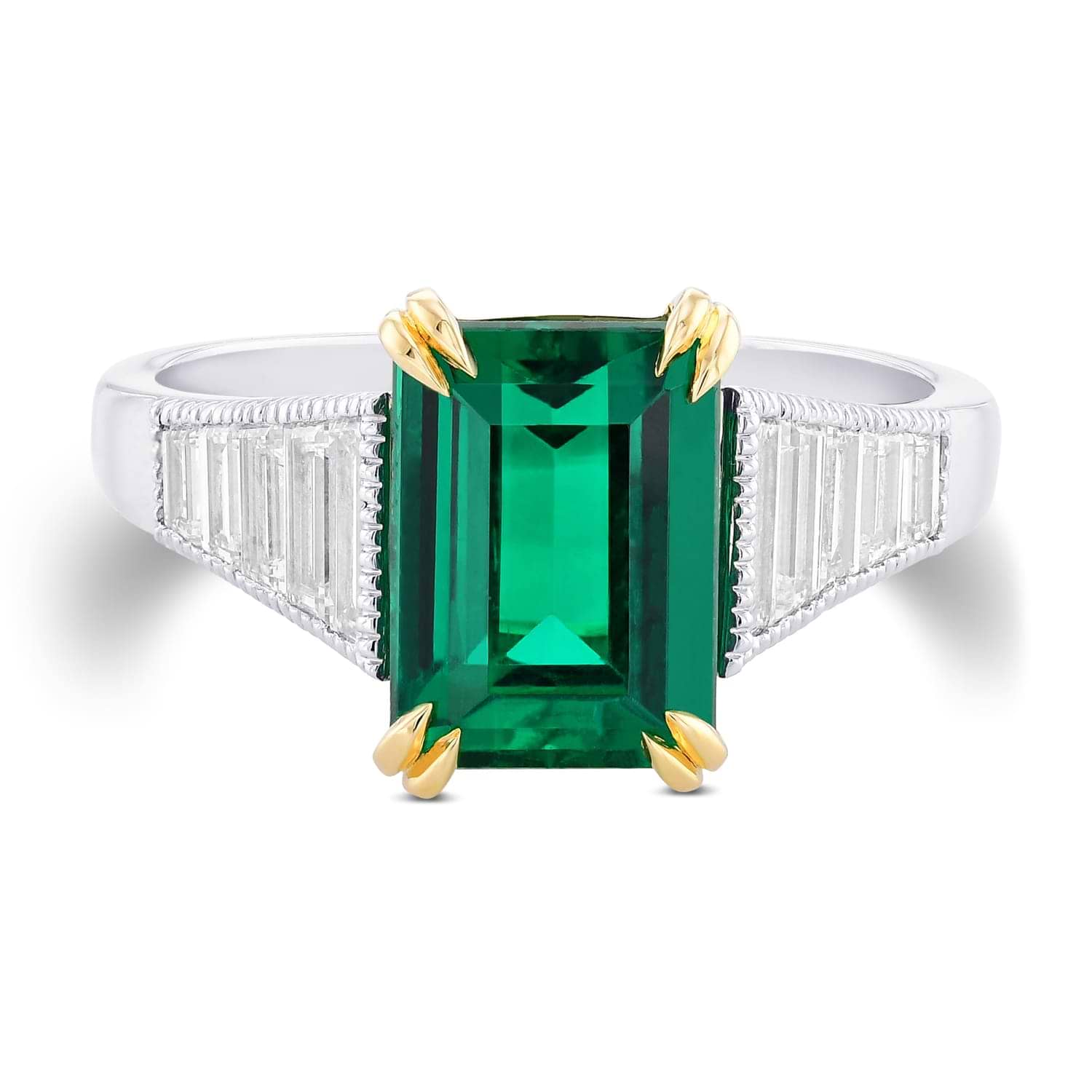 LEIBISH Colombian Emerald and Diamond Sidestone Ring (3.17Ct TW)
Fit for a Duchess
Another world-class emerald collector was the Duchess of Windsor, Wallis Simpson. Her husband and former King of England (as Edward VIII) Prince Edward showered her with jewelry mostly made by Cartier. The Duchess' most celebrated emerald was in fact her engagement ring. When Edward abdicated the throne in 1936 in order to marry Wallis, he commissioned Cartier to make a breathtaking 19.77ct rectangular cut emerald with an amazing back story. The gorgeous emerald was originally half of a much larger stone belonging to the Great Mughal. The extraordinary decision to cut an historical stone of this size in two pained its owner Jacques Cartier enormously. But the times were in the Great Depression of the 1930s and there was no buyer for such a mammoth emerald. He did however find an American millionaire for one half, and the Duke of Windsor for the other.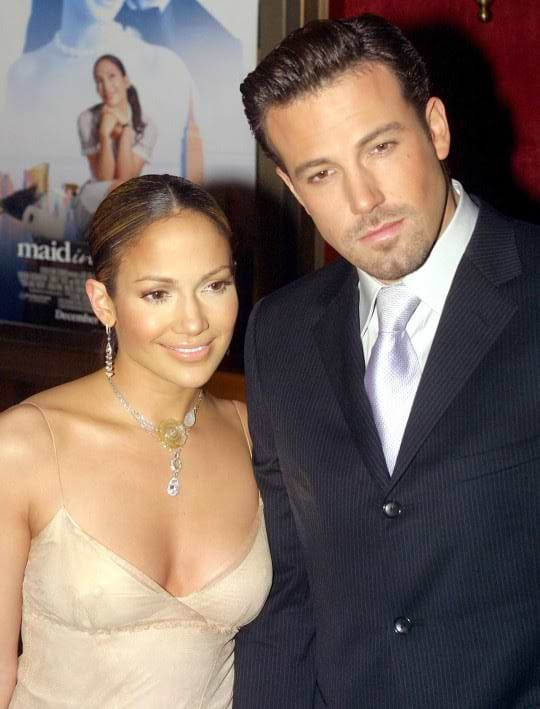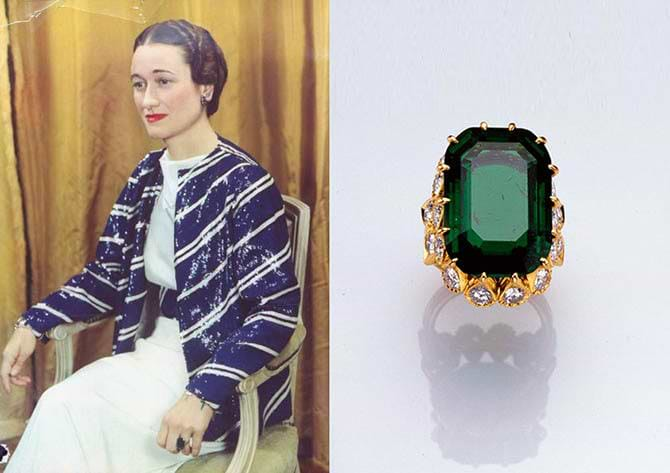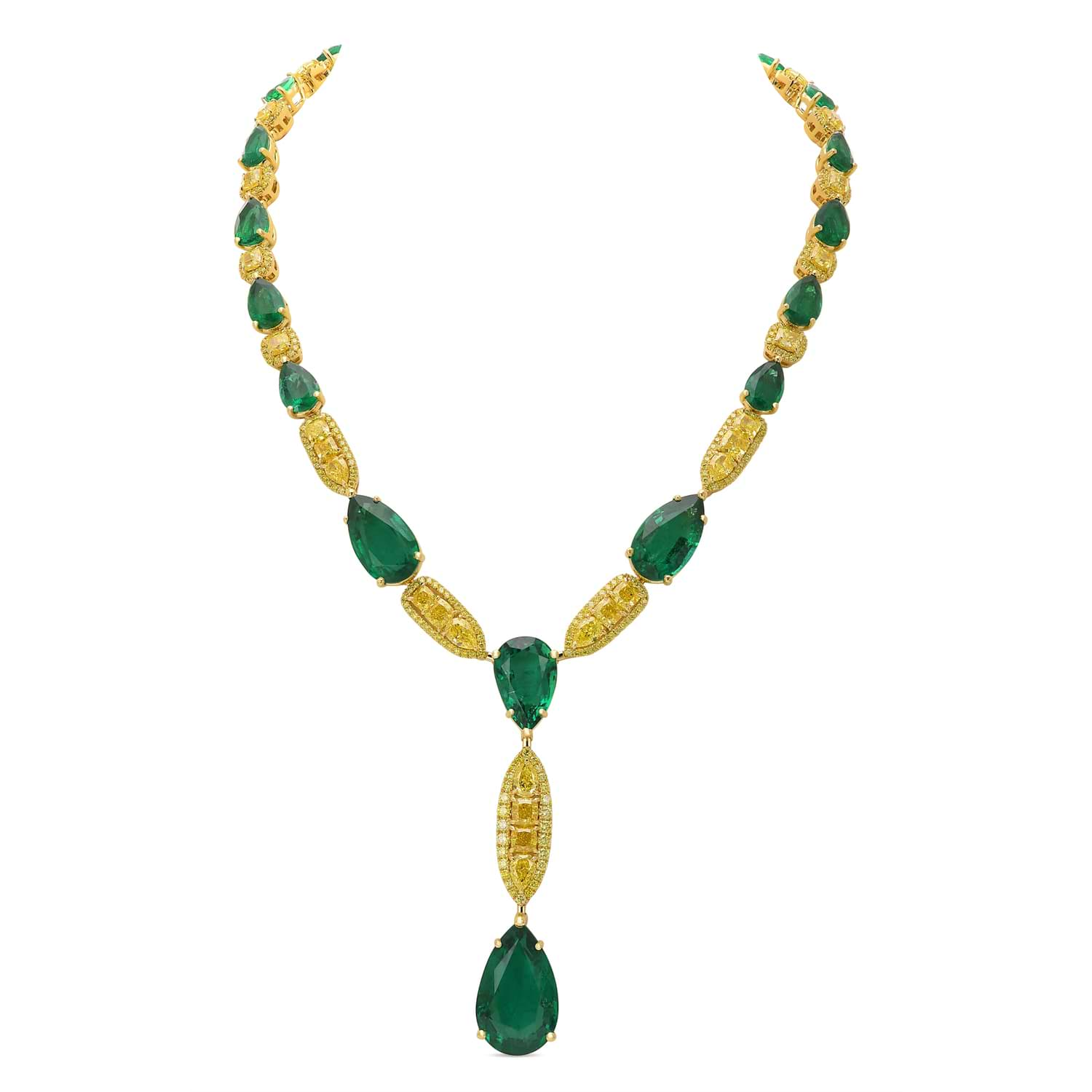 LEIBISH Extraordinary Emerald and Fancy Vivid Yellow Diamond Necklace (80.52Ct TW)
A spectacular emerald and fancy vivid yellow diamond necklace mounted in 18K yellow gold. This one-of-a-kind masterpiece features 20 pear shaped emeralds, along with 32 fancy vivid yellow pear and cushion shaped diamonds, surrounded by fancy vivid yellow round brilliants. They are all certified by GIA labs. This mesmerizing showstopper displays a rare beauty and timeless elegance. (Emeralds 64.86 carats, pear fancy vivid yellow diamonds 3.13 carats, fancy vivid cushion diamonds 12.54 carats)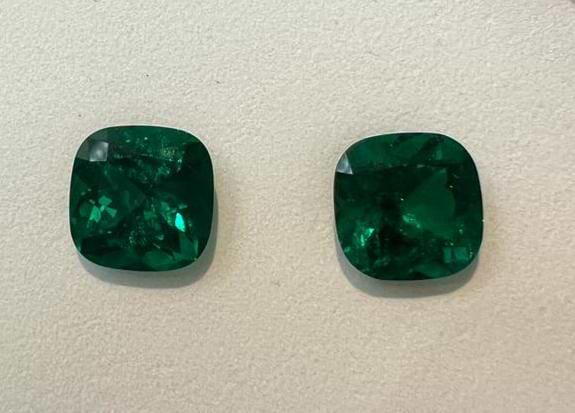 LEIBISH pair of 28 ct. Columbian Mizo Emeralds - minor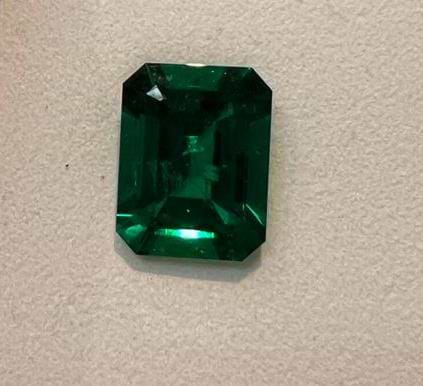 LEIBISH 20 ct No Oil - Columbian Muzo emerald
You may have your own dreams for owning an emerald, or even a green diamond. May is the perfect time to transform your vision into action. Let us know how we can make your dreams come true.