Auctions and prestigious jewelry sales are the perfect opportunities to get a glimpse of some of the world's absolute finest gems. As the year 2015 comes to a close, we are seeing some spectacular items set to be auctioned at various auction houses and jewelry sales. It was reported just over a week ago that the largest blue diamond every will be auctioned off at Sotheby's, Geneva, and the Hope Spinel which was estimated at roughly $300,000, sold for a whopping $1,470,724!
Many of the jewelry pieces at the upcoming auctions have managed to gain quite an interest, especially the 75.56-carat fancy vivid yellow diamond ring, to be auctioned at Christie's New York on October 20th, and a 16.08-carat fancy vivid pink diamond ring, set to be auctioned for an estimated $28 million at Christie's, Geneva on November 10th. Of course we cannot forget the coveted Argyle Tender, which is accepting bids until October 21 and will reveal the lucky winners of the exceptional Argyle diamonds shortly after.
75.56-carat Fancy Vivid Yellow Diamond Ring Set to Fetch $3 to $4 Million
On October 20th the Important Jewels Sale will take place at Christie's, New York, featuring many magnificent jewels including the star of the show: a 75.56-carat fancy vivid yellow diamond ring. Though the lavish piece is believed to earn between $3 million and $4 million, the unusually large yellow diamond of superb quality will most likely see an even higher sum. While this showstopper may be the highlight of the sale, there are several other noteworthy pieces that will be up for auction including a 34.12-carat cushion cut fancy yellow diamond ring set in platinum and 18K gold, a 7.11-carat pear-shaped fancy intense yellowish-green diamond ring, a Van Cleef sapphire and diamond necklace that can also be worn as a bracelet, and many other phenomenal pieces of jewelry.
16.08-Carat Cushion-Shaped Fancy Vivid Pink Diamond Ring to be Auctioned
Pink diamonds are not only hard to come by; they are also especially adored due to their romantic and enticing hue. Therefore it should come as no surprise that a 16.08-carat cushion-shaped type IIa fancy vivid pink diamond ring is estimated to bring in a whopping $28 million at the upcoming Christie's Magnificent Jewels Sale in Geneva this November. The ring is just one of many sensational jewels that will be offered to the elite public for purchase. If the item does indeed reach the estimated sum, it might set a new record as the most expensive cushion-shaped pink diamond ever sold at auction. Furthermore, if this extremely rare diamond manages to reap more than $34 million, it will break the record of the most expensive price paid per carat for a pink diamond, which currently belongs to the Vivid Pink Diamond, worth $2.1 million per carat.
This diamond is not just unusually large for a pink diamond, but it also displays a very rare purity, with virtually no trace of any secondary color. Set in a platinum ring surrounded a double row of pave colorless diamond, the diamond is one of only three large pink diamonds over 10 carats in size that has been sold at auction in the past 250 years.
The 2015 Argyle Tender
On October 21 the Argyle Tender will close its doors to any future bids. Shortly afterwards the prestigious tender will reveal the very lucky winners of some earth's finest specimens.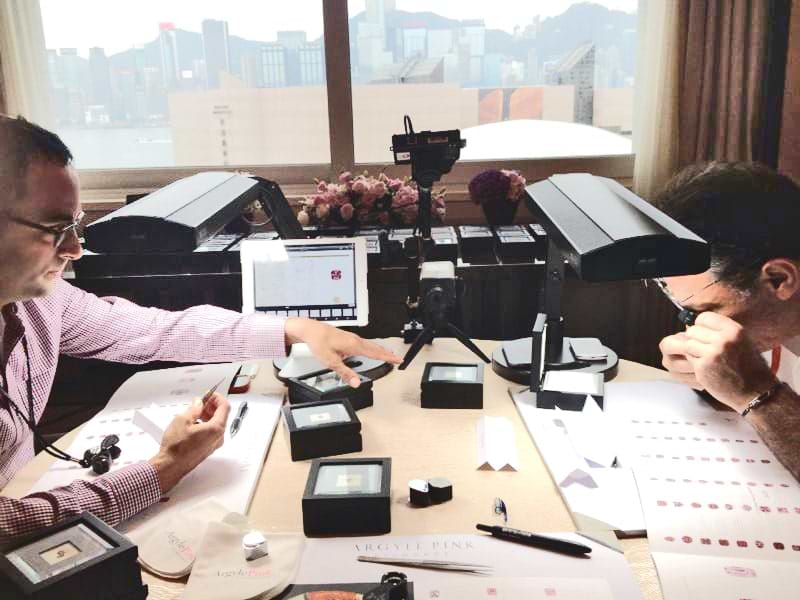 Submitting bids at the Argyle pink diamond tender
The Argyle Tender is an exclusive event, which offers the highest quality diamonds mined at the Argyle mine to a select few. After submitting bids, the bidders await the decree that may name them as an Argyle Tender winner. This year's most valuable stone, the Argyle Prima, is believed to bring in between $2 million and $3 million. It is a rare 1.20-carat diamond with a deep red hue. Altogether, 65 stones will be auctioned at this year's tender.
The end of the 2015 seems as though it will shine bright for quite some time!