Rare 12-Carat Pink Diamond to Be Auctioned at Christie's Hong Kong
Natural fancy pink diamonds are hard to come by. It is especially unusual to find one that is large or one that does not contain secondary colors.
This 12-carat, round-shape, fancy intense pink diamond, which possesses both of these traits, will be auctioned at Christie's in Hong Kong on May 29th. The only other significantly large round pink diamond is the famous 23.60-carat Williamson Pink diamond, which was given to Queen Elizabeth over six decades ago in honor of her wedding.
While many pink diamonds display color modifiers such as purple and brown, this stone shows no trace of a secondary hue.
The Christie's sale, which will take place in Hong Kong, will showcase many rare, valuable, and fascinating jewels, including this rare 12-carat round pink stone. The diamond is called the 'Martian Pink' after the historical satellite launch on a mission to Mars, which took place the same year the diamond was bought from Harry Winston. The Martian Pink, now owned by a private collector, is the largest round pink diamond to ever be auctioned off. The stone is believed to rake in between $8 and $10 million.
Though not many pieces can top the Martian Pink, there will be many other remarkable jewels on display at the Christie's sale this May. One example is the 11.85-carat round brilliant cut diamond from Harry Winston. The stone, graded D VVS1 Potentially Flawless exhibits remarkable color, dimensions, and a round brilliant cut, resulting in a phenomenal classic round diamond stone. The diamond has an estimated value of $1.7 to $2.5 million.
Large pink diamonds such as the Martian Pink and the Williamson Pink may not come along often, but pink stones of fairly large sizes do. LEIBISH has quite a few 'famous' large diamonds that have been sold, among them large pink diamonds as well. Examples of such diamonds include the over 4-carat fancy purplish pink cushion-cut diamond and the over 5-carat fancy intense pink oval diamond.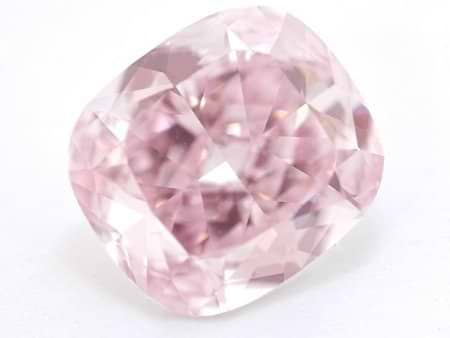 4-carat, Fancy Purplish Pink Internally Flawless
Cushion