Precious Gems such as Sapphire, Ruby, and even Emeralds, to some extent, have been quietly but steadily gaining value creation momentum over the past few years. As the value of Fancy Color Diamonds have been increasing rather rapidly, and are the center of attention by the media, these precious gems have been gathering followers quietly as well.

Sapphires and Rubies have been increasing in value quite fast in the past 3-5 years, with Rubies selling for as much as $1 million per carat, such as the recent Graff Ruby that sold at Sotheby's back in December.

At Sotheby's Geneva auction that is coming up next week, the 25.59 carat Sunrise Ruby will go under the hammer and is estimated to sell at a final price between $13m and $18m.
What about Sapphires?
Very rarely do we see Sapphires over 100 carats in size because Sapphires of that size are extremely rare. If you are looking to invest in Sapphires, one with Burma as its origin shows more worth in a value: weight comparison.
Sapphires have also broken a few records in the past few years. The following are some of the most expensive Sapphires sold:
On November 13, 2013 Sotheby's Geneva sold "The Richelieu Sapphires" for $8,358,520 which was almost double the highest price estimation of $4,577,622 by the auction house. The pair, a 26.66 ct and 20.88 ct, were mounted on a pair of earrings. These are of Kashmir origin.

During that same auction, a loose Burmese Sapphire broke the world record for price paid for Burmese Sapphires. At 114.74 carats, it sold for $7,137,821, or $62,208 per carat. This one sold for over 150% of its high estimate of $2,833,766 by the auction house.
A third Burmese Sapphire, a 58.29 ct, sold that November at Christie's in Geneva, and is still holding the world record for Burmese Sapphire per carat price. It sold for $4,569,684, a 27% premium to its estimate, and is the highest per carat price standing at $78,396 per carat. The designer of this Brooch is the famous Anna Hu!
However, only two and a half years earlier, a 130.50 carat Burmese Sapphire that had held the last word record for a Burmese sapphire sold at auction for $7,127,453 or $54,616 per carat ($24k less than the record holder of two years previous!). The high estimate was $1.3 million! Where did Christie's go wrong with their estimated value?
The previous per carat holder for a Burmese Sapphire was a 47.15 carat, also designed as a Brooch, by Mellerio. It sold for $3,648,894 or $77,389 per carat (the brooch in 2013 beat this price by a slim $1K). This record was set at Christie's on May 16, 2012 in Geneva.
Here, again, Christie's really underestimated the value. The high end of the value was only $589,967, which means that the final price that was realized was 618% greater.
An honorable mention in the Sapphire cateogry is "The Rockefeller Sapphire". Once owned by the esteemed Rockefeller family, the 62.02 carat stone also hails from Burma. It was sold at auction by Christie's in 2001 in NY, and realized a price of $3,031,000 or $48,871 per carat. It sold in no other auction location than the Rockefeller Plaza. Prior to the Rockefellers, it was owned by the Nizam of Hyderabad. It was previous sold in 1971 at auction for a mere $170,000. It got sold again in 1980 in Zurich for $1,500,000 and again in 1988 in St. Moritz for $2,850,000, which means that by 2001 it climbed another $1.15m.
Another one of a kind Sapphire is currently available on the market, a 131.17 carat Burmese Sapphire set in a diamonds necklace. It is described as a one of a kind by the SSEF via a special letter.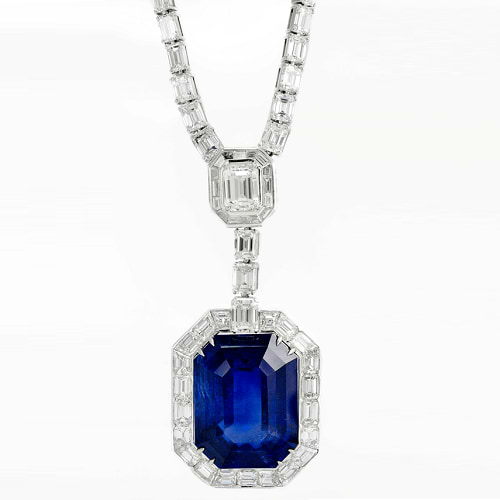 131.17 carat Burmese Sapphire necklace
If you think that you have that special someone that deserves this one of a kind necklace, do not hesitate to contact us, we will guide you in the right direction.