It was a crispy morning; summer was drawing to a close. A fresh salty wind was blowing from the North Sea.

The man sitting in the shade of the kiosk was staring at the ocean from his powerful binoculars. Nothing moved and I could not figure out what he was looking at. The sky was clear except some slowly drifting cumulus clouds – nothing of interest there. But the man just continued his observations and every once in a while made a little note in his logbook.
I was standing closely behind the man and directed my eye out to the sea but I could not detect anything. There was nothing to be seen. The man made me uneasy, he must see something; what was I missing? I tried to start a conversation, "Good morning, Sir," but to no avail; he just grunted something inaudible in return.
"Could I ask what you are looking at?" I said. "Yes," he responded but did not lift his head and did not offer me the use of his binoculars either. "The migration of birds has started. The birds are moving to the south for the winter."
That was a strong observation as I could not detect any birds on the horizon. "I can't see even one bird, Sir." "You don't see but I do, far out in the sky. The migration of birds has started. They are moving to the warm comfort of the south. It is still summer out there."

"Sir," I tried to continue the conversation so that I could perhaps look in his binoculars but the man remained unmoved. He did not offer to share his instrument. Just threw me a final sentence to indicate that our conversation is over.

"The birds know, that the summer is over."

How do the birds know that summer is nearly over, they don't have a watch or cell phone? I thought that the birds would react to the cold but it seems they act on an instinct for warmth and security. They obviously know what is going to happen and anticipate the cold winter. A similar instinct must motivate people to acquire Flawless stones - a little warmth and secure perfection.
Our specialists – Shmulik Polnauer, a GIA GG together with Amit, the diamond cutter, – stare for hours at stones. As with the birds, I look at the stones and see no imperfections - they appear completely 'clean.' However they detect a little VVS in the corner.
| | |
| --- | --- |
| 11.24ct, Fancy Yellow, SI2 | 10.79ct, Fancy Yellow, IF |
An 11.24ct Fancy Yellow Diamond with an SI2 clarity that was polished down to a 10.79ct Fancy Yellow diamond with an IF clarity
| | | |
| --- | --- | --- |
| 1.06ct Fancy Light Brownish Pink, IF | 1.15 Carat, Fancy Vivid Yellow, Radiant, IF | 2.23 Ct, Fancy Intense Yellow, Cushion, IF |

The longing for unquestionable perfection must be in our heart. No question can be asked on an Internally Flawless stone. A man shares the instinct of migrating birds for the secure warmth of the south. The same urge motivates us to reserve a secure and warm place in our heart for our jewelry.

One of my dear friends wrote to me recently:
Wise guys who watch the money markets are now saying that anyone expecting to protect their life savings from the upcoming abyss had better start migrating to real hard assets, as in gold (real), silver (real) and you guessed it................DIAMONDS (REAL) and, the early birds will catch the worms.
I don't know about catching the worms but we cut about 30-40 Internally Flawless diamonds each month and sell them very fast.
If you want to create jewelry and cut IF stones you have to be obsessed with perfection as some stones go back and forth to the GIA 3-4 times. Each time the diamond is sent to the GIA costs money.

As a kid I didn't want to polish the back of my shoes, I claimed nobody could see them so why bother? I am now fascinated to see how the back and lower case of our color diamond rings are designed and finished by our designer Chavi Itzhkov.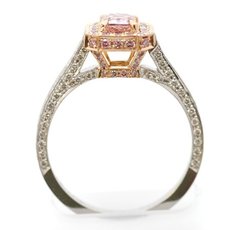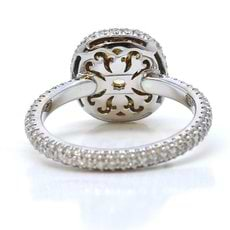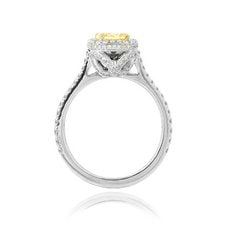 I realized that the parts that people cannot see also have to be perfect if you want an item to be in perfect harmony. All parts of a diamond and every little detail of a ring have to be immaculate. It is probably that continuous drive for perfection that motivated Jim Cramer's, The Street.com - Best of the Best to feature us!
I would like to share with you some of our latest customer feedback, starting with one received today:
I want to thank you and everyone at Leibish for a magnificent ring. My wife (and my daughters) absolutely loved it. The color, the setting, the sparkle were all spectacular. She has not stopped staring at the ring since I gave it to her on Sunday. The ring arrived on Thursday with no problems at all (please thank Ari).
You made the entire process very easy and confidence-inspiring. (I really appreciated all of the pictures along the way.) I am already looking forward to working with you on the next gift!
Please thank everyone involved on my behalf.
Best regards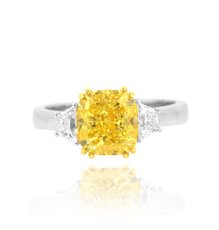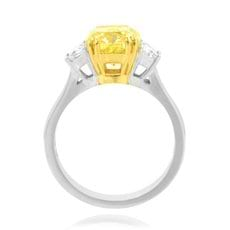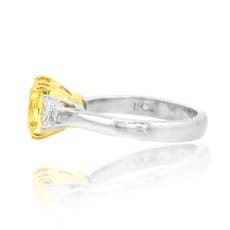 The 4.08 carat, Fancy Intense Yellow, Cushion-cut diamond purchased by this customer. It is set in Platinum, with a Yellow Gold center stone setting. Shanked with collection color Trapezoid Side stones

The ultimate secrets are hidden from the eye. A living icon such as Madonna who is lacking for nothing materially is learning Kabbala to learn the great secrets of life. She is searching for perfection.

We are all seeking to reach out and find the great unknown secrets. Some use binoculars, others loupes or sophisticated software to try and ascertain the secret source of complete and indisputable perfections.

We would all like to be Ex Ex and Internally Flawless but only a few reach the ultimate beauty of wisdom. It is much easier to own a perfect flawless beauty, than to become one. It is incumbent upon us to at least try to overcome our limitations and attempt to reach the ultimate perfection.