This year marks the 28th anniversary for the Argyle Pink Diamonds Tender since its first year back in 1985. The Tender is known as the most prestigious event in the natural fancy color diamond industry. Traditionally, Argyle Pink Diamonds tender stones are introduced to the market exclusively through this event. Approximately 200 people are invited each year by Argyle to the tender. Only 80-100 actually book appointments to view the stones, while only 20-25 make successful bids on them.
One might ask, what is so special about these stones, and did people consider them an investible asset back then. Just so we understand what we are talking about, "For every million carats of rough diamonds produced at Argyle, less than one carat will be suitable for the Tender", as we say in proper English; "one in a million!"

Investors around the world are aware that the Argyle mine is planning its official shut down in 2020, after an additional $2.2billion was invested to move underground and extend the mine's production by three years. However, as of yet, no other mine produces anything close to the amount of stones with such vivid colors to the market, and if one was found today it would take approximately ten years until they were fully operational. Knowing that supply will dry out, while demand for these special stones are on the rise, prices have gone up drastically. Argyle Pink Diamonds as a whole represents 90% of pink diamonds worldwide.
We all know what happens to prices of products in demand that become "discontinued," per say. Normal human and economic rules dictate that the rarer a product becomes, and less available in the market, so does the desire begin to significantly increase. The value of the Argyle Pink Diamonds from a tender, "have outperformed major equity indices over the past decade and are worth up to 50 times the price of a comparable white diamond."
LEIBISH has had the privilege of participating in the Annual prestigious tender for the last five years in a row, having successfully bid and won a total of 37 stones out of 328 stones offered collectively, which makes it an impressive 11.3% on average, winning 17 in 2012 alone! All but a few sold as fast as you can say 'one in a million!' Our own Gemologist, Shmulik Polnauer had successfully bid and won 7 of the 64 tender stones offered this year.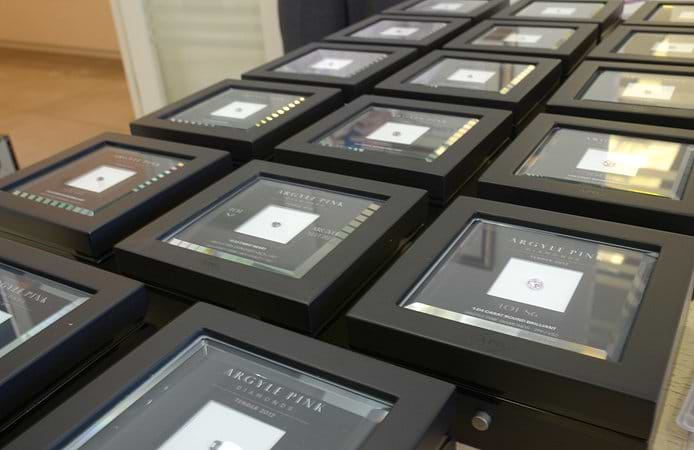 Argyle Tender Diamonds on display
This morning, it was reported that the 1.56 ct Phoenix, one of the six highlighted stones in the 2013 tender was sold for more than $2 million. The buyer, from south-east Asia, who religiously, attends the yearly prestigious event "described the collection as an absolute exquisite", and added that this is the most he ever paid for an argyle tender stone. He paid about 25% more this year than last year.
In total, the Tender brought in over $25 million, and this year there were the most bids ever over $1 million. Josephine Johnson, Rio Tinto's Argyle Pink Diamond manager says that "this year, 30% more bidders took part of the event." "We saw much more aggressive bidding, and it well exceeded all our expectations", she added.
This year's event results are a testament to the strong demand by high-end Jewelers and dealers from around the globe. The market sentiment is as such that it is expected that prices for the Argyle Pink Tender Diamonds will continue to rise, at least until 2020, when the mine plans to officially shut down. So what will be the day after?