Among the treasures for sale at the Sotheby's New York Important Jewels Auction held on the 20th September, 2011, were two pieces of contrasting style but comparable beauty.

Let's start with this stunning Platinum, Fancy Intense Blue and near colorless pendant necklace. Sold at USD782,500, above the upper end of the estimate. The pendant is set with a Fancy Intense Blue Pear-shaped diamond weighing 2.59 carats. It is surmounted by a Marquise-shaped diamond weighing 0.92 carats, and a Round diamond weighing approximately 0.10 carats. The pendants are on a 17.5 inch Platinum Link chain.

There is no information provided regarding the age or provenance of this piece, however, does it really matter? The pendant could be one week, one year, or one hundred years old; it would not affect the beauty of the craftsmanship, design, brilliance and sparkle of the diamonds, nor the timelessness of the piece one iota.
No less ethereal or eternal but definitely a little more colorful in design, is Cartier's 'Tutti Frutti' sold in the same auction.
"A-wop-bop-a-loo-bop-a-lop-bop-bop!" – The introductory words of the immortal Little Richard song, "Tutti Frutti." Not to be confused with the immortal Cartier 'Tutti Frutti' Bracelet, circa 1928. This timeless piece was up for auction with a USD200,000 - 300,000 estimate and sold for a whopping USD842,500. In Italian, 'Tutti Frutti' means literally 'all fruits;' with a more appropriate translation being 'fruit salad.'

The bracelet was originally commissioned for Mr. Roy D. Chapin, with a name descriptive of the vibrant colors and shapes of the carved sapphires, rubies and emeralds, accented by emerald and sapphire beads. The bracelet is also set with old European-cut and single-cut diamonds weighing approximately 7.00 carats. The stones are applied with black enamel. The bracelet is 7.5 inches in length and signed by Cartier.

The 'Tutti Frutti' is a tour de force. Over 80 years old, it is further proof that style, class, and quality are undying factors of diamonds. Diamonds really are forever!

When Cartier designed this legendary bracelet in Paris in the late 1920's, he had no digital images he could transmit over to his client. Mr. Roy D. Chapin had to travel for seven days by steamship over high seas to Paris, to see the bracelet in the Cartier atelier.
When LEIBISH designer, Chavi Itzhakov, created her own version of the 'Tutti Frutti' styled bracelet, she e-mailed the design images to a prospective client and sent it half way across the world in five seconds flat. An exquisite piece of art that will one day be cherished by many.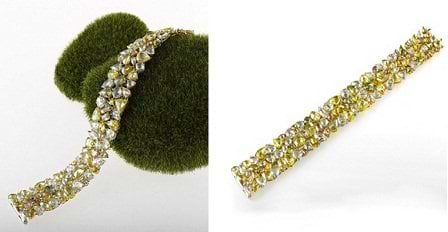 Tutti Frutti Bracelet from Leibish
The LEIBISH 'Tutti Frutti' bracelet, the Cartier 'Tutti Frutti' bracelet and the Platinum, Fancy Intense Blue and Near Colorless Diamond Pendant-Necklace may represent differing interpretations of the use of color in the creation of magnificent jewelry. However, there is no doubting the fact that all three of these pieces epitomize the art of jewelry manufacturing at its best and most tasteful.

It was fascinating to witness what effect the current economic climate had upon the treasures up for sale at this year's auction, realizing their true value.