When one thinks of diamond jewelry, or yellow diamond jewelry in particular, diamond rings are generally what come to mind. Sometimes it's a pair of earrings or maybe even a colored diamond bracelet, but pendants are oftentimes overlooked when they in essence are a one of the greatest ways to display the stone. A diamond necklace made solely from diamonds can be sensational, but for some it can be a bit much and quite expensive. Colored diamond pendants on the other hand, hung from an 18K Gold chain, can say elegance and simplicity simultaneously. The trick is in concentrating all of the beauty into one magnificent piece: the colored diamond pendant. Pendants can be created from a wide range of stones and diamonds, but here is a look at what can be done with stunning yellow diamonds.
Keep It Simple
Unlike, say, diamond studs, a pendant in the center of ones chest will gain a lot of attention. More often than not it will be a halo pendant, which is a single stone surrounded by smaller stones creating a halo effect. This can be achieved with a variety of shapes as well as with one, two, or even more rows of diamonds surrounding the center stone. Generally the center stone is the color diamond, so that it can be showcased properly, but it can be done the other way around as well. The sky is the limit here in terms of designs, shapes and colors. The fun in creating a diamond pendant is in exploring all of the exciting options.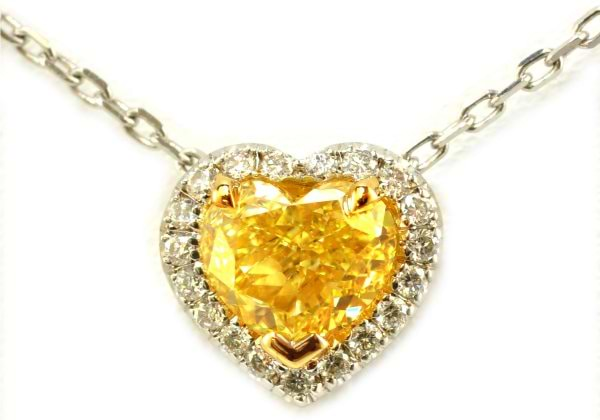 Heart-Shaped Yellow Diamond Pendant Surrounded with Colorless Diamonds
Spice It Up
Following the halo design, but with a little twist, is the multi-stone pendant. Instead of just one halo pendant, a pendant constructed from two or even more stones take the centerfold. To keep things spectacular, smaller, and usually colorless diamonds surround each stone. The stones can be various shades of yellow diamonds, or a combination of several colors. One of the more interesting things that has been done with pendants is having a central color stone, a yellow diamond or any other color for that matter, surrounded by yellow and white diamonds. The result is unbelievable.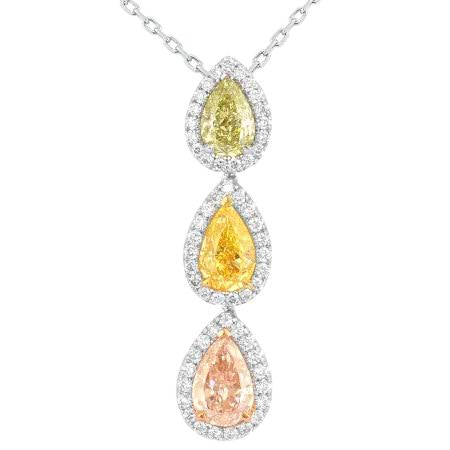 2.39-Carat Pear-Shaped Green, Yellow, and Pink Diamond Multiple Stone Drop Pendant
Pave Pendants
Finally, if the pendant you desire is in a shape other than those offered by classic diamond shapes, there is the option of designing a pendant with pave diamonds. This means the pendant is shaped into any mold you would like from a letter to an image to a shape of an object. It is then filled with small diamonds in such a way that the metal is not seen. The effect achieved is a shimmering and impressive one. This option for pendants really is limitless and can be completely yellow, yellow and white, as well as any color combination you can come up with based of course on the availability of the diamonds and your budget.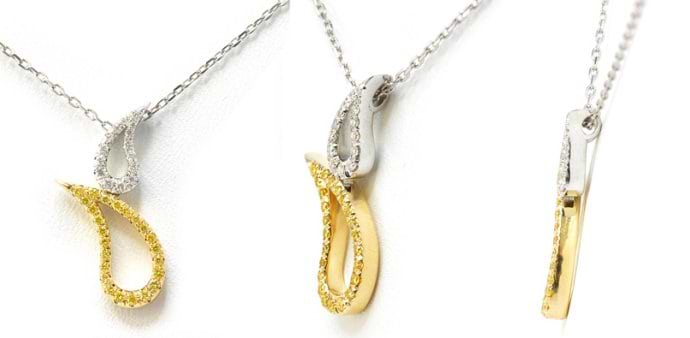 Yellow and White Diamond Pave Tear Pendant
Whether you choose a heart-shaped Vivid Yellow Diamond pendant surrounded by colorless diamond or decide to go with a smaller round Vivid Yellow diamond with two rows of smaller colorless diamonds, the outcome will have you pleasantly surprised and extremely satisfied. Yellow is after all a cheerful and soothing color. Combined with the natural beauty of a diamond, a Yellow Diamond pendant will be an item you cherish in your jewelry collection for many years to come.