Beyoncé Stuns in Fancy Color Diamonds at Super Bowl 2016
There isn't much that Beyoncé Knowles, former member of "Destiny's Child," is lacking, given that she is an exceptionally talented singer and performer, is happily married to singing sensation Jay Z, and the proud mother of daughter Blue Ivy. Truth be told, the Halftime show of Super Bowl 50 wasn't the first time she has been "dressed in endless diamonds," but the jewels she chose to wear were both quite unique and special. Seriously, have you ever browsed a little to see what champagne diamond jewelry looks like?!
Beyoncé was among a list of pop stars that showed up on stage at this year's Super Bowl dripping in diamonds. However, as if her skin-tight body suit and leather jacket weren't enough, Beyoncé stunned in over 100 carats worth, an obscene amount of precious stones, even by celebrity standards.
The Diamonds
Since this was the Super Bowl, after all, it was only fitting for Beyoncé to don some football-shaped stones, otherwise known as marquise diamonds. They appeared as 18K gold and champagne diamond studs. Both earpieces combined weighed a total of 31 carats! In addition to those show-stopping earrings, Beyoncé chose four astounding diamond rings, including a 30-carat cushion-shaped bezel ring, a 26-carat pear-shaped champagne diamond knocker bezel ring, and two champagne diamond wrap-around rings. With all that weight on her fingers, it's a miracle Beyoncé was able to pick up the microphone!
The Performance
Beyoncé made her grand entrance during the halftime show of the 2016 Super Bowl, right in the middle of the dynamite Bruno Mars performance. "Queen B" strutted her stuff singing a mashup after the drum line parted and revealed her and her backup dancers. Truth is, there has been some controversy about the song Beyoncé chose to sing because of the harsh message the song's video sends to the police. However, one can't deny that it was an incredible performance. In fact, there are those who say she stole the show!
Other Noteworthy Diamonds
Lady Gaga, who brilliantly sang the National Anthem, showed up in more than just her dazzling Gucci red pantsuit, mismatched American-flag-themed pumps, and red eye shadow. The controversial singer also sported enormous diamond earrings, which paled in comparison to Beyoncé's jewels but were still quite impressive.
The Super Bowl has become so much more than an annual sporting event. Even those who are far from being sports enthusiast, let alone football fans, can enjoy the Super Bowl due to the phenomenal performances, creative commercials, and unbelievable getups and jewels. We, for one, truly appreciated Beyoncé's choice of jewelry this year, and are certain we will see more of it in the future.
Related Diamond Articles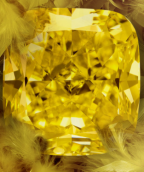 Jennifer Lopez Stuns in Yellow Diamonds at the 2016 Golden Globes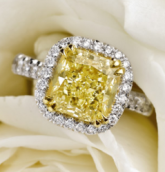 Mariah Carey's 35-Carat Engagement Ring
Can You Guess Which Bling Cost More?