About Natural Fancy Black Diamonds
Natural fancy black diamonds, also known as Carbonado, are real polycrystalline diamonds that can be found in their rough form in alluvial deposits in the Central African Republic and Brazil. They are different from other rough diamonds in that they are more porous, making them more challenging to cut, and may have high luminescence. Like all diamonds, they originate high pressure on carbon under the Earth's surface that produces a repeating geometric pattern in the crystal lattice. However, the black color, when it occurs naturally, it thought to be produced by the inclusion of graphite in the crystalline structure during formation, before the kimberlite deposits reached the Earth's surface. Carbonado was first used to polish wood in the Brazilian deciduous forest, and was transported to Europe after its use, although it was not set into jewelry at that time. It is also interesting to note that in 1905, black diamond was used for rock drilling in the Panama Canal.
Leibish & Co. Fancy Black Diamond Halo earrings and a Leibish & Co. Fancy Black heart shaped Diamond Halo pendant
Black diamonds do not sparkle like other colors - however, they look magnificent when paired together or set in a solitaire setting. Since they are completely opaque, they do not vary in intensity or color at all, and can only be found as Fancy Black. Truly natural fancy black diamonds are very rare and expensive, therefore most of the Black diamond are heated in Rough and that takes the price down dramatically.
A collection of Leibish & Co. Fancy Black Diamonds
Black diamonds have become increasingly popular in recent years due to their unique color, price and fashionable appearance. With the proliferance of black diamonds in jewelry that is preferred by celebrities and in appearances on the runway, these previously underappreciated gems are starting to be included in all types of jewelry, for both men and women!
Leibish & Co. Fancy Black Diamond stud earrings in 18K white gold, and a Leibish & Co. Fancy Black diamond solitaire ring in 18K rose gold
There is also a theory that black diamonds are of extraterrestrial origin, unlike every other color of diamond which were formed at the Earth's core. A team of U.S. geologists, led by Stephen Haggerty and Jozsef Garai of Florida International University have published evidence claiming interstellar space as these diamonds' origin. They have found that black diamonds contain trace elements of nitrogen and hydrogen, which they postulate are sure indicators of an extraterrestrial origin!
Famous Black Diamonds
Black Orlov
Black Orlov is a 67.50 carat, cushion-cut diamond. The Black Orlov is currently set in a diamond brooch surrounded by 108 white diamonds and suspended from a 124-diamond necklace.
Legend has it that the Black Orlov, also known as the "Eye of Brahma" was an uncut black stone of 195 carats, pried out of the eye of the statute of the sacred Hindu God Brahma, from a temple in Southern India. It takes much from the story surrounding the legendary Hope diamond.
Apparently the stolen diamond found its way to Russia, where it is believed to have been acquired by Princess Nadia Vyegin Orlov of Russia – hence its name. In 1932, the diamond found its way to the United States. It was purchased in 1947 by Charles F Winson who sold it to an unknown buyer in 1969 for USD300,000.
Spirit of de Grisigono
The old Moghul-cut, 312.24 carat (587 carats rough), black Spirit of de Grisogono diamond is the largest black diamond in the world. It was mined in the Central African Republic but further details of the diamond are not known.
The rough stone was purchased by famous Swiss jeweler, Fawaz Gruosi and cut by the world renowned black diamond cutting specialist, de Grisogono; after who it is named. The team of Gruosi and de Grisogono have been responsible for creating the current enthusiasm for black diamond jewelry.
Planning of the cutting and the actual cutting process took over one year. The stone has been mounted on a white gold ring and set with 702 white diamonds totaling 36.69 carats.
Gruosi
The heart-shaped, 115.34 carat (300.12 carats in the rough) black Gruosi diamond took three years to be cut and polished because of the difficulties encountered due to the inconsistency in the hardness of the rough stone. The diamond was discovered in India in 1998 and was cut by the world renowned black diamond cutting specialist, de Grisogono.
It is named after renowned Swiss jewelry and watch designer, manufacturer and dealer, Fawaz Gruosi. Gruosi is almost single-handedly responsible for bringing black diamonds to the prominence they have attained.
The Gruosi is the centerpiece of a magnificent necklace designed by Fawaz Gruosi. The necklace also consists of 58.77 carats of small black diamonds, 378 carats of small white diamonds, and 14.10 carats of tsavorite garnets, all set in white gold.
Table of Islam
The Table of Islam is a Fancy Black square emerald cut diamond weighing in at an impressive 160.18 carats. Little more is known about this diamond.
Korloff Noir
The Korloff Noir initially weighed 491 carats, and currently weighs 88 carats. It is now a round cut diamond with 57 facets, and is now located with the Korloff jewelers in France. It is reputed to bring good luck to the owner.
Black Star of Africa
The Black Star of Africa is an impressive 202 carat Fancy Black diamond. This black diamond was seen for the last time in Tokyo in 1971.
Related Diamond Articles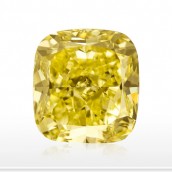 About Fancy Yellow Diamonds
About Natural Fancy Pink Diamonds
About Natural Fancy Champagne Diamonds
About Natural Fancy Blue Diamonds