4.75 carat, Blue, Brazilian Aquamarine, Oval Shape
$1,175 USD
Up to 12 Free Installments of $97 with

Free Shipping Available to ship in

2-5 Business Days

30-day money back guarantee
Appraisal Included
Financing Options
Gemstone Full Details
| | |
| --- | --- |
| Gemstone SKU | 296031 |
| Gemstone Weight | 4.75 |
| Gemstone Color | Blue |
| Gemstone Shape | Oval |
| Gemstone Measurements | 9.4x13.05x6.59 |
| Gemstone Transparency | Transparent |
| Gemstone Origin | Brazil |
| Gemstone Stones | 1 |
Description
4.75 carat, , Oval shape Gemstone. An impressive Gemstone that's full of fire. For more information about this item please contact our customer service department.
$1,175 USD
Up to 12 Free Installments of $97 with

Free Shipping Policy
Leibish appreciates your business and is pleased to offer free, fully insured, shipping and returns.*
There are no hidden fees or additional expenses that will be added onto the cost of the item (loose diamond or jewelry piece) at any point. However, Leibish recommends that you consult with your local tax official to see what import duties and/or VAT you are required to pay in your place of residence. Leibish will not be responsible for any duties, VAT, taxes or surcharges levied by the customer's country.
Additional information regarding anything purchased through www.leibish.com:
All orders are fully insured before shipping by Leibish.

Shipments usually take between 3-5 business days after Leibish receives final payment for the order. Please check with your Leibish representative in order to verify shipping times specific to your country as they may vary.

Shipments cannot be made to P.O. boxes. Therefore, a proper shipping address, telephone number, and name of receiver must be provided before the sale is complete.

No item is shipped until full payment has been received.

Every item is shipped with an invoice and an appraisal if one has been requested.
Shipping Outside the USA
Please note that Leibish offers complimentary shipping worldwide - to most countries. However, there are some countries where local restrictions prohibit the import of diamonds and other high value items and/or additional costs may apply. As such, please feel free to contact our team at info@leibish.com if you have questions about shipping.
Overnight Shipping
Items available for Overnight Shipping are only available to be shipped within the United States. Furthermore, these orders must be completed by 2:00PM EST. An order is only considered completed once the final payment for that product is received by Leibish. Any product that is available for Overnight Shipping will include a link or icon on its product page and will appear on the Overnight Shipping page. If the final payment for these specific products are received before 2:00pm EST, the items will be shipped Overnight to the customers at no extra charge, under the condition that no changes are required. If a change, such as a resize or engraving is needed, the shipping may be postponed.
48 Hour Shipping
All items listed in the 48 Hour Shipping catalog, or that have the 48 hour shipping icon, will be shipped out within 48 business hours from the moment the payment is received at no additional cost. If the payment is only received on a Thursday, the shipment will be delayed until the following Monday. Any jewelry resizing required will be completed within the 48 business hour period in order that the jewelry items are ready to be sent out as soon as possible.
Please note:
48 Hour Shipping and Overnight Shipping will ensure the time frame in which the jewelry is sent, but can in no way guarantee the exact date by when it will arrive. Different countries have different importing regulations that are unfortunately not within Leibish's control.
Leibish will not be held accountable for any shipping delays. However, all sales representatives will do whatever necessary to help rectify the problems in order to ensure a quick and easy delivery.
The free international shipping is from the Leibish offices to the address provided by the customer. Leibish will not be responsible in the event that a shipment is held/stored with a carrier or by customs. Furthermore, if fees are applied, the customer will be held responsible to pay the charge in order to have the shipment released. If for any reasons the shipment must be returned back to the Leibish offices, the customer will be held liable for the cost of the returning shipment. In the event that a customer chooses not to complete a transaction, any fees applied for storage and returned shipment will be deducted from the refund issued for the order.
In the event that an extended payment plan is approved the purchase is not covered under the 30-Day-Money-Back-Guarantee. Additionally, any shipping charges, storage costs, taxes incurred, etc., will be the sole responsibility of the customer.
*Free Returns
Free returns applies to customers returning items within the United States only. To request a complimentary return shipping label, kindly send an email to: info@leibish.com and state your name, email address and order number.
100% Money Back Guarantee
Leibish & Co. provides a 30-day money-back guarantee, no questions asked. A full refund will be given under the following conditions.
The merchandise must be returned or exchanged within 30 days upon its receipt, and must be in its original condition.
The merchandise must not be damaged, worn, used or resized (excluding special orders).
The merchandise must precisely match product data records.
Original Certificate(s) must be returned with the merchandise.*
*Items returned without the original certificate(s) will be charged a service fee. Fees start at $150, depending on the carat size and certificate type.
Refunds are not issued for the value of the labor and administrative costs for custom designed jewelry.
Leibish & Co. reserves the right, at the company's discretion, to deduct administrative, production, and logistics costs for return refunds on custom-orders from the DYO category or the Jewelry Catalog. In such a case, the deductible amount will be clearly stated on the order quotation.
In the event that an extended payment plan is approved, purchased goods are not covered under the 30-Day return policy.
Refunds will be issued in the same method by which it was received, meaning the original form of payment via wire transfer, PayPal, or cash. In the event of a refund, approved refunds will reflect the amount of the transaction as mentioned on the invoice provided by Leibish & Co. Leibish & Co. is not responsible for any additional fees or charges applied by the banks, any duties, VAT, taxes, or surcharges that may be levied by the customer's country of importation, or any other parties throughout the process.
If Leibish & Co. chooses to authorize a refund after 30-days from the purchased date, 10% of the total cost will be deducted for any expenses paid.
After 30 days from the point a loose diamond or piece of jewelry is reserved, or in the case where a customer neglects to complete the payment installations, Leibish & Co. reserves the right to cancel the reservation and return the fees paid, minus a $300.00 handling fee.
Note: All Custom orders are non-refundable. Furthermore, should Leibish & Co. purchase any product(s) or diamond(s) at the request of the customer in order to create a custom designed piece of jewelry and the customer decides in the end not to purchase the jewelry, the requested products(s) or/and stone(s) will not be refunded.
Refunds will be made in the original form of payment, by either check, wire transfer or PayPal.
Diamonds, colored stones and jewelry are inspected upon receipt and prior to the issuance of a refund, exchange or credit. Merchandise that does not match product data in our records will be returned or refused.
Please send the merchandise to our New York office:
Leibish & Co.
580 5th Avenue, 25th Floor, Room 218
New York, NY, 10036
Toll free number: 1-855-Leibish (1-855-534-2474)
Phone: +1- 212-921-9700
Fax: +1-212-768-7866
After sending the returned merchandise, please send an email with the tracking number and date of shipping to: info@leibish.com
Please insure the merchandise against loss in transit and prepay freight and handling charges.
Leibish & Co. is pleased to provide free returns for customers returning items from within the United States only.
To request a complimentary return shipping label, kindly send an email to: info@leibish.com and state your name, email address and order number.
Leibish & Co. is not responsible for any diamond, colored stone or jewelry that it does not actually receive, or that is not returned in accordance with the terms mentioned above.
Please remember to enclose a copy of the invoice you received with your shipment.
We look forward to doing business with you again!
Billing Information
In order to make your purchase as easy as possible, Leibish & Co. accepts a number of different payment methods. All payments can be made through a Bank Transfer, PayPal, or any Major Credit Card. Further information about the different payment methods available, can be found within the 'Checkout' of any product on the website.
Please read through the information below as the prices may vary depending on the payment method used.
Credit Card Payments
If a customer would prefer to make the payment using their credit card, this can conveniently be done through Stripe. The Stripe payment solution is among the easiest new payment processors available. Stripe is known to take your security very seriously. The system was developed in a way to receive your payments easily, without a hitch.
Splitit™ Interest-Free Installments
Splitit™ is an internationally recognized, secure, payment processing solution that allows affordable monthly payment options fit for any budget. The Splitit™ technology enables:
Up to three interest-free installments
No credit checks or paperwork required (simply insert your credit card details)
Works with both Visa and MasterCard
The Splitit™ payment solution can only be applied to a maximum of $35,000 on a single transaction. In the event that the amount due exceeds $35,000, a Leibish & Co. representative will contact you within 24 business hours to issue a separate payment request for the remaining balance due.
PayPal
PayPal is recognized as the safest method of making an online payment. The service enables payments through any of the major credit cards, in addition to accepting bank account payments or PayPal Smart Connect payments. The PayPal supported major credit cards include Visa, MasterCard, American Express, Discover, JCB, Diner's Club and EnRoute.
In order to make payments through PayPal, Leibish & Co. offers verified and secured, 'SSL approved,' links directly to PayPal that are already connected to the product, from within the 'Checkout' of any product on the website.
Wire Transfer
Transferring funds from one bank account to another is considered one of the quickest and safest methods of payment, especially when dealing with large amounts. Leibish & Co. provides the bank details so that any customer may conveniently transfer funds directly from their bank account into Leibish & Co.'s bank account.
When a payment is made by wire transfer, an automatic 1.5% discount is applied to the regular listed cost price in your shopping cart!

All prices displayed on www.leibish.com are currently shown in the United States Currency Format. (US Format - $1,234,567.89 – One million, two hundred and thirty four thousand five hundred and sixty seven dollars, and eighty nine cents). This means that even if the price is quoted in the official currency of the eurozone, EURO, it will be shown in the US format as well.
Secure Shopping
Whenever customers are asked to enter private information on the website, including their name, address, or credit card information, it will be handled using a secure server (SSL 128) protocol.
The encryption technology that Leibish & Co. uses is the most advanced presently available. Customers who prefer not to order through the Internet can use the Pay by Phone option, and leave their contact details, or send us an email to info@leibish.com and a representative will contact you.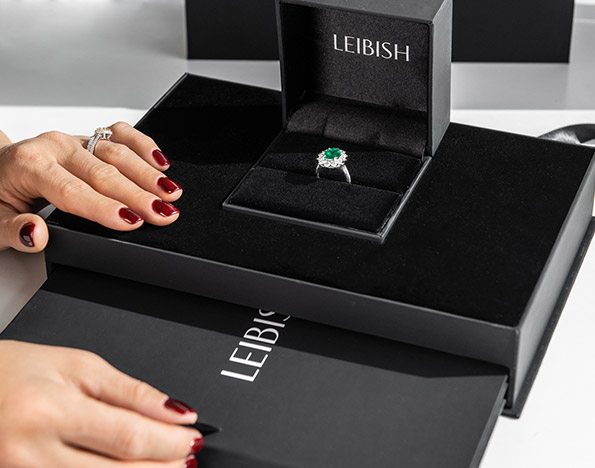 All jewelry orders include:
Elegant packaging
Diamond Certificate (if applicable)
30-day money back guarantee
Free shipping, fully insured worldwide
Free professional appraisals upon request