Branded
The security at the entrance to the diamond exchange called the office asking to receive routine permission to admit a visitor.

"Mike Oman would like to come up and see you," said the guard.
"Okay," I uttered.
"May I ask who is giving the permission?" asked the security guard.
"Leibish," I said calmly.
"I need your name, Sir. Not the company."
"This is Leibish," I answered again, trying to sound more convincing.

The security guard lost her patience.
"There is no such person as Leibish, that is just a brand name. Anyhow, let me talk to Sarit, the receptionist."

It appears that we have been branded!
Brand in German means "fire." In my Hungarian village, similar to fire, branding was typically applied only to animals. They heated an iron number or sign and stamped it on the cow's back leaving an everlasting mark on their skin.
In today's terms, branding is also associated with heat. Simply becasue you have to generate a lot of it if you want your brand to attain and maintain visibility for your business to stay alive.
Some brands in the world of jewelry and diamonds have been around for generations. Successful branding is not achieved just via advertising be it posters, TV, or any other form of advertising. You may gain visibility, but a great brand is created with the perception or the illusion that the desired product meets your expectations.
Cartier legendary Flamingo is widely recognized by the style of its master. Awesome! It was sold for nearly USD3 million.

Chavi Itzhakov's multi-color earrings for Leibish & Co. are widely recognized for their beauty and mix of different natural colors. Our multi-color earrings sell now for about USD30,000.
It is all about perceived value with complete customer satisfaction. Whether it is a luxury product by Cartier for USD3 million or earrings by Leibish for USD30,000 is irrelevant. Virtual brands act and operate entirely different from jewelry stores. They don't see their customer face to face; sometimes the visitor is 20,000 miles away from us. It actually transpired that we had 35 customers in our web store at the same time from six different countries, and six of them were looking at the same item. But the store was not crowded as the virtual world has no geometric limits. You don't even see the other customers.

I am often asked what our most frequently sold item is. So, allow me to reveal a trade secret. It is our line of color diamond engagement rings, set with the best quality and the finest make, IF VG/VG diamonds, made with stones we polished on our own. And they sell worldwide.
A lovely Halo Ring set in Platinum and 18K Yellow Gold, with a 1.61ct Fancy Yellow Cushion diamond center stone, IF clarity

A great virtual jewelry brand such as Blue Nile has estimated sales for 2013 of about USD450 million. And the reason for their growing sales? Meticulous quality control and high customer satisfaction. The world's most famous jewelry brands, serving the high-end market are prospering by different degrees. We have worked with all of them.
Why do customers buy from us when they are surrounded by such great brands with exceptional quality? How did we succeed in attaining a 70% returning customer base?

I enclose an authentic customer mail from last week:
I am curious why do you folks have a reputation for the best prices (the truth about diamonds website) other e-tailers are mentioned as great sources of supply, but you folks have the name for best prices. What positions you compared to be the best of the other half a dozen companies out there?"

It is a valid question, but the price is not the main attraction for customer loyalty! The perceived value and the chance to create high-end jewelry with your own design ideas is what makes the difference. The opportunity to buy directly from a reputable source on the other side of the world at a reasonable trade price is what sets us apart.

The ultimate reason people buy from us and keep on returning again and again is the same reason why the Berkshire Hathaway shareholders buy at Borsheims from the greatest jewelry promoter, Mr. Warren Buffett.

With regards to Borsheims Fine Jewelry gala on Sunday, May 5, Warren Buffett said "Around 1 p.m. on Sunday, I will begin clerking at Borsheims," Buffett wrote. "Last year my sales totaled $1.5 million. This year I won't quit until I hit $2 million. Because I need to leave well before sundown, I will be desperate to do business. Come take advantage of me. Ask for my 'Crazy Warren' price."
In G-d we trust.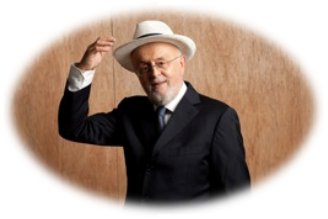 I wish you all a Happy Holiday and Great New Year!
Leibish Polnauer, President and Founder of Leibish & Co. Fancy Color Diamonds
Related Diamond Articles
What Makes a Ring an Engagement Ring?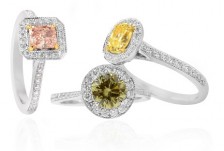 Color Diamonds: The Gift that Keeps on Giving
Geneva is back on the Map with a Fancy Vivid Orange Appeal
Most Expensive E-cigarette in the World - Over $800,000!