The selection of a pair of diamond earrings should in theory be an easy choice. After all, no need to get the fit right like with a ring and no need to get the length right like with a bracelet or necklace; just stick them in your ear lobe and off you go. If only life was that easy.

Earrings are the item of jewelry worn closest to the face. Consequently, though small in size, they make a big impact. The correct pair of earrings can enhance your features and the converse is also true. There is an enormous range of earrings from which to make your selection.

Earrings come in three styles – Studs, Drops, and Hoops. Studs are usually small and sit flush against the ear. Drops hang from the ear and below their setting. Hoops are usually round or some permutation of a circular shape.

Within these three basic styles, there is an infinite number of design possibilities, with a style to suit every taste, look, and budget.

Following is a brief description of a few of the more popular earring styles with advice as to who they are best suited:

Solitaire Ear Studs

A single diamond (usually over 1 carat) set in a stud style is a simple, classical, timeless piece of jewelry that makes a classy, demure statement and is suited for most shapes. Below are two pairs fancy yellow diamond earrings.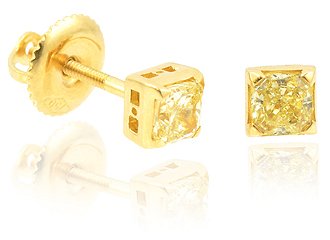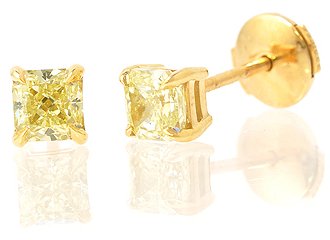 0.56 carat and a 1.02 carat Fancy Yellow Diamond Ear Studs
Halo Stud Earrings

If a solitaire stud is a little too reserved for your taste, a pair of halo stud earrings may be more to your liking. Similar to a solitaire stud but in a variety of shapes and surrounded with a smaller pavé or micropavé diamond setting framing the center diamond. The addition of this halo of smaller diamonds enhances the brilliance of the center stone and gives an overall more flamboyant effect to the studs.

Although they may be more dazzling than non-halo studs, halo studs are not too extravagant and give you the opportunity to play with different color diamonds for an extraordinary effect. They are also best suited to oval, long, or diamond shaped faces. Also, since the effect is greater, the center stone can be smaller than the norm of a solitaire stud. Both of the Halo earrings below contain 100% natural pink diamonds.
Round Pave Set Diamond Earrings
0.30 Carat, Round Fancy Pink and White Diamonds and 0.38 Carat, White and Pink Diamonds
Single-Center Stone Drop Earrings

As the name suggests, Single-Center Stone Drop Earrings are drop earrings from which a solitary (not to be confused with solitaire) center stone dangles. The center stone is usually the largest stone in the earrings and a major focus of attention. The center stone may or may not be surrounded by other diamonds.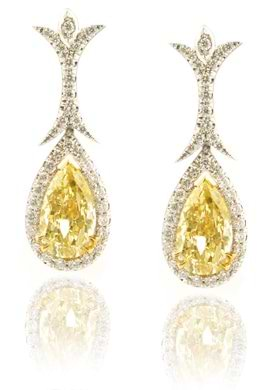 2.04 Carat, Fancy Light Yellow Halo Drop Earrings, Pear
Multi-Center Stone Drop Earrings

More ostentatious than their single-center stone sisters, Multi-Center Stone Drop Earrings are drop earrings from which more than one centre stone dangles. Consequently, they are longer than single-center stone drops. The center stones may be the same size, color, or shape but may vary according to the design.

These earrings are also best suited to women with oval, square, and diamond shaped faces.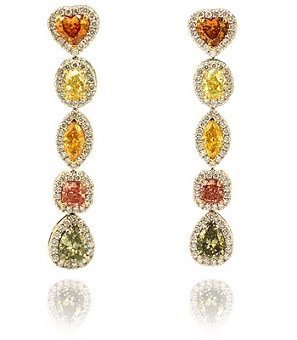 5.18 Carat, Yellow Orange Green Color Halo Drop Earrings
Pavé Earrings

Pavé refers to a setting of diamonds that are set very closely together so that no metal is visible. Usually the stones are quite small or smaller diamonds are alternated with larger diamonds to achieve this effect.

Pavé earrings can be used in any style of earring – Stud, Drop, or Halo, to maximize the "wow" factor. The ability to play with the color of the diamonds used makes for some fascinating possibilities with pave earrings.

Selecting that perfect pair of earrings should be fun and exciting. With the endless style possibilities on offer it may seem a little bewildering at times but when you do find that sublime treasure, remember that the best part of the acquisition was the journey.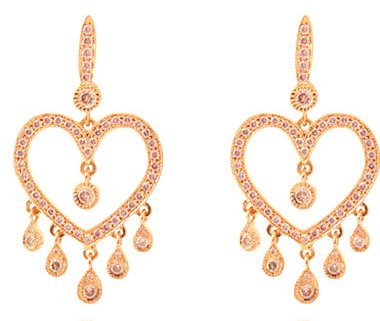 18K Rose gold earrings set with 1.17ct. Natural Fancy Pink Diamonds
Contributor: Benji Margolese