When people think of the rarest diamonds, it is either the biggest white stones or the most vivid colors that come to mind. When doing a simple Google search for this term, it is common to see the rarest of the bunch are pink and red diamonds. Truth be told, even more so than those colors specifically, violet diamonds are likely the rarest of the fancy color diamond collection.

One of the most famous diamond mines known to produce the most magnificent colors is Rio Tinto's Argyle mine in Western Australia. So much so, that they hold an annual tender where they auction off the most luxurious diamonds found each year. In other words, the very best and most difficult diamonds to obtain are available to only a select few each year by invitation only. Therefore, it is no surprise that the pinks, reds, and violets are those that are always presented as their "hero" diamonds of each tender.
The theme of this year's Tender was inspired by the world of ballet. Named, the "Connoisseur's Collection", there are only 65 diamonds which weigh a total of 44.14 carats. In recognition of the partnership between Argyle Pink Diamond with The Australian Ballet, the names of the 2015 hero stones are:
Argyle Prima™ - a 1.20 carat Fancy Red pear shaped diamond, coveted for its unique combination of size, shape, colour and clarity


Argyle Aurora™ - a 1.47 carat Fancy Red oval shaped diamond, named in honour of Princess Aurora from The Sleeping Beauty


Argyle Allegro™ - a 0.79 carat Fancy Red radiant shaped diamond, named after the brisk and lively ballet movement


Argyle Spectre™ - a 1.93 carat Fancy Vivid Purplish Pink shield shaped diamond whose name is inspired by the ballet Le Spectre de la rose


Argyle Élevé™ - a 1.44 carat Fancy Intense Pink emerald shaped diamond, inspired by the ballet movement of rising high without bending
Rio Tinto's Argyle diamond mine is found deep in the Kimberley region of Western Australia, on the southwest point of Lake Argyle. It's approximately 185 kilometers away from the closest town, but still manages to maintain over 500 employees. Because the majority of workers commute from Perth, which is over 1200 miles away, they alternate between each other for two-week shifts. The mine is ranked to have the third highest production of gem quality diamonds, of which most are colorless and champagne. Among all mines throughout the world where pink, red, and violet color diamonds are found, the Argyle mine produces the most – and still that doesn't equate to more than a handful each year.
As mentioned previously, contrary to what most believe, the incredible vivid pink diamonds or even the fancy reds coming from Argyle aren't the rarest ones they produce. The finest and most rarely found Argyle's are the violet diamonds.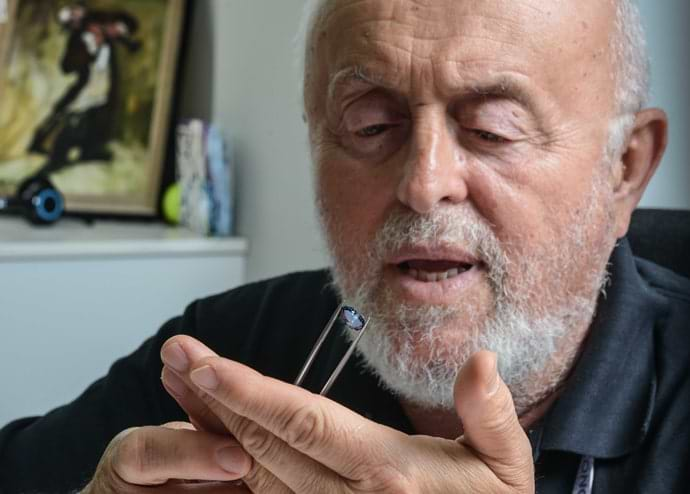 Leibish basking in the beauty of an extremely rare diamond
It was just three years ago in the Argyle Diamond Tender, that among the 17 stones we won, seven of them included a violet color. Needless to say, this was a reason for celebration. I have always been a big fan of Argyle diamonds, but feel that the best kept secret about these stones are the scarcity of the violet color. According to some experts of GIA, Carolyn H. van der Bogert, Christopher P. Smith, Thomas Hainschwang, and Shane F. McClure – "The Argyle diamond mine is the only known source of type IaB hydrogen- and nitrogen-rich diamonds colored gray to blue to violet".
Violet diamonds are truly a gift to any gem-lover's passion. The color is a combination of blue and purple diamonds and often appears as a secondary color in these stones. The color, which reflects the appearance of a blue, sleepless night, is simply captivating.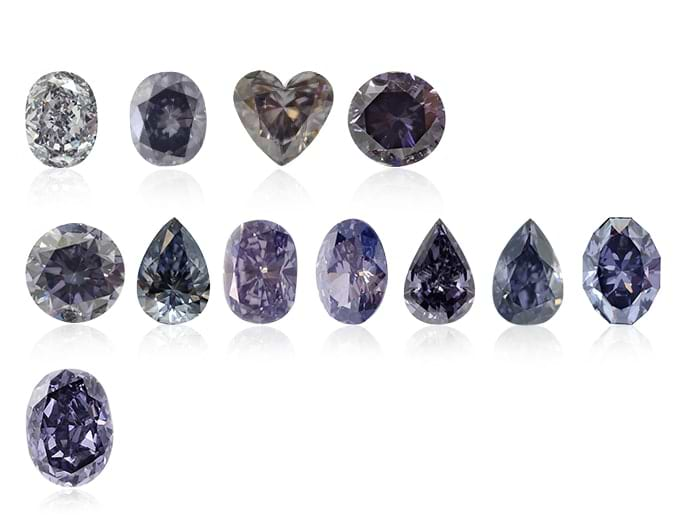 Left to Right, 1st row: Fancy Violet Gray, Fancy Dark Violetish Gray, Fancy Deep Violetish Gray, Fancy Dark Violet Grey
Left to Right, 2nd row: Fancy Gray Violet, Fancy Grayish Violet, Fancy Intense Violet, Fancy Deep Violet, Fancy Deep Gray Violet, Fancy Deep Grayish Violet, Fancy Dark Gray Violet
Left to Right, 3rd row: Fancy Deep Violetish Blue
After 35 years in the industry, I have seen quite a few of the most fantastic color diamonds pass through this office. Still the depth of color seen in these stones is a complete mystery to me. In fact, it makes sense that the mine is located just off of Lake Argyle. When I look at the violet diamond color, I see the color of what I imagine it looks like when swimming in the depths of that lake, 100 meters deep below the surface, without any diving gear. Below the dreamy waters of the lake, one likely has to fight with the larger fish just to try and grab one of these fine stones, similar to the situation of the real life Argyle Tenders.
The deep blue stones emerging from depths of the Argyle Sea have a pure bluish violet color by soaking in deep blue waters of Lake Argyle. No other color manages to fascinate me with such an endless cool feeling.
The company holds a beautiful collection of the finest Argyle diamonds. However, the most exceptional Violet colored diamonds we are currently holding both have a truly exceptional color saturation and face up.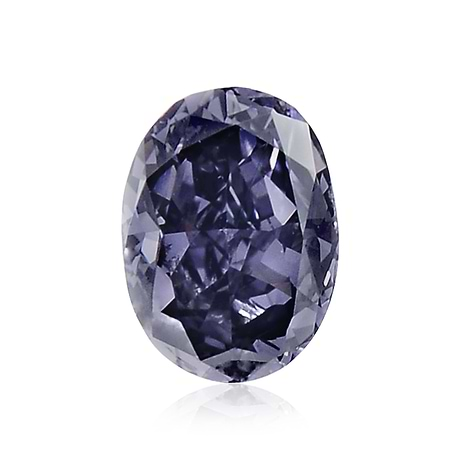 View the 1.00 carat, Fancy Deep Violetish Blue, Oval Shape, SI1 Clarity, GIA, SKU 170113
One of the rarest diamonds we have seen on the market, let alone in our inventory. A 1.00ct Oval shape Fancy DEEP VIOLETISH BLUE, with an SI1 clarity and GIA certificate. We have not come across a diamond of this size and with this color in a very long time. The diamond has a magnificent color appearance and wonderful proportions. Being 1.00 carat in size and possessing this truly unique color, makes this diamond a needle in a haystack. So much so that the GIA laboratory prepared a customized 'Portrait Book' on this gem, further emphasizing its rarity.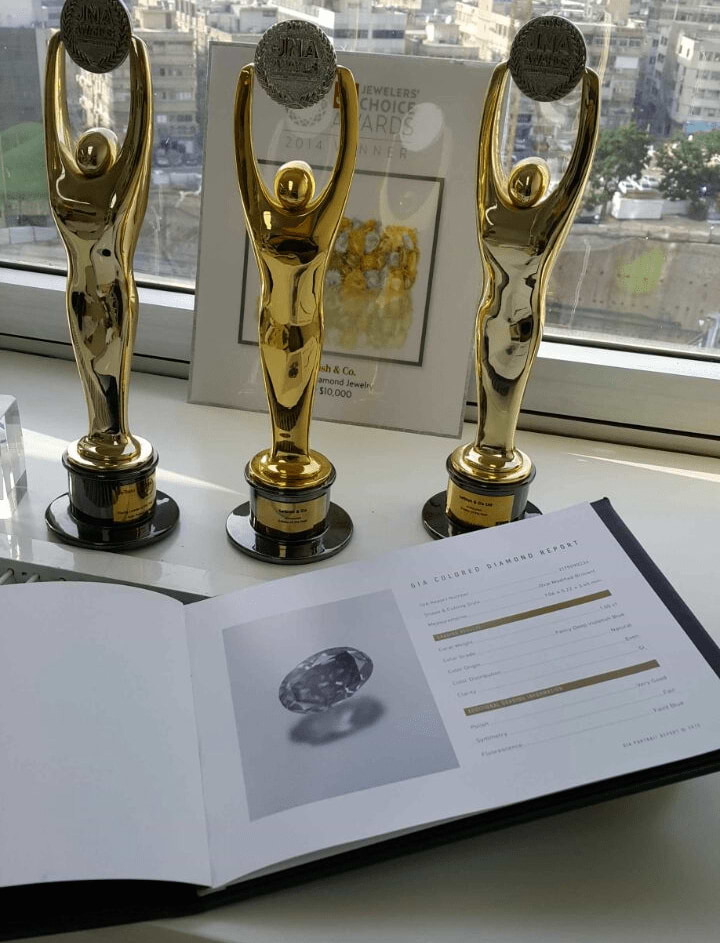 The GIA book dedicated to the 1.00 carat, Fancy Deep Violetish Blue
In this book the GIA states "The mine (Argyle mine, Western Australia) has also been referenced as one of the only known sources of diamonds containing a violet hue".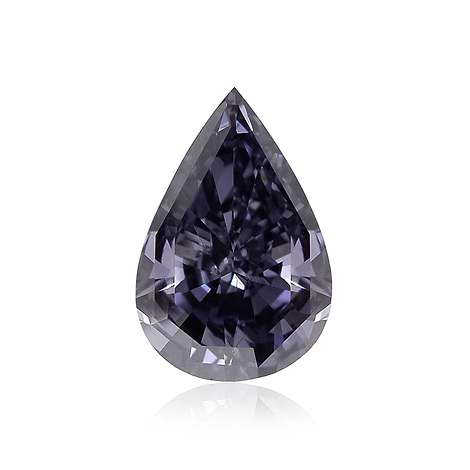 View the 1.03 carat, Fancy Deep Gray Violet, Pear Shape, SI2 Clarity, GIA, SKU 184890
This 1.03 carat Pear shape Diamond has a Fancy Deep Gray-Violet color and a great SI2 clarity, graded by GIA. This as well is another of the most magnificent Violet diamonds we have ever had in our inventory. This is an old Argyle stone with the most fantastic plum color. The 63.2% depth gives the diamond a great 'spread' when viewed from the top. Violet diamonds over 1ct in size with a good clarity and rich color are extremely rare to find and highly desirable. The stone has a 'Very Good' polish and 'Good' symmetry.
The power of the violet color is over-powering and still I can watch it again and again. In a niche where people are always looking for something different, something incredibly unique, something that most will never see, Argyle diamonds, and more specifically those with a Violetish hue, should be the top of the list for any major color diamond collector.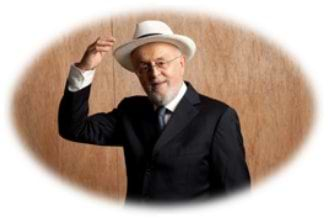 Best regards,
Leibish Polnauer, President and Founder of LEIBISH Fancy Color Diamonds