We all adore a good love story—if it's not ours, we want to enjoy other's happiness vicariously. Great love stories inspire hope in all of us that love does conquer all. Some of our most memorable romantic tales belong to larger than life celebrities—because we can read about their story through the media.
Surprise, Surprise!
We're celebrating the surprise nuptials of Ben Affleck and Jennifer Lopez. But really, could they have done it any more brilliantly? Their earlier marriages with other spouses were the subject of tabloid headlines. And their first attempt at walking down the aisle in 2003 (Affleck proposed in 2002) was quashed by leaks to the press just days before their wedding. While they said they were postposing it at the time, the unrelenting media intrusion caused both parties to simply move on separately.
Elopement 21st Century Style
Fast forward 2 decades and this time, the couple were insistent on doing it their way without the invasive paparazzi messing things up. So last weekend, unbeknownst to everyone apparently, Ben Affleck and Jennifer Lopez queued up in line at the marriage license office in Las Vegas along with other happy couples—just like regular folk.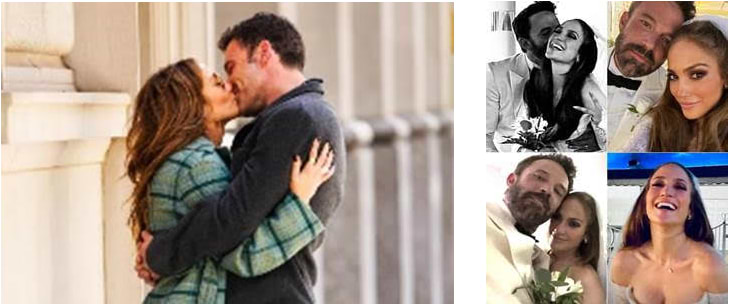 After the hush-hush ceremony, the new Mrs. Affleck (yes, she took his name) gushed in her newsletter, "Stick around long enough and maybe you'll find the best moment of your life in a drive-through in Las Vegas at 12:30 in the morning in the Tunnel of Love [chapel], with your kids and the one you'll spend forever with." We absolutely love a happy ending, and this seems like the beginning of their happily-ever-after for sure.
Let's Start with Pink
Affleck has always played the romantic when it comes to showing affection for Lopez. Their first engagement was highlighted by a spectacular engagement ring the likes of which few people had ever heard about. In 2002, Ben Affleck proposed to Lopez with a 6.1 carat radiant cut fancy intense pink diamond engagement ring. The out-of-this-world ring also boasted white diamonds flanking the dazzling pink diamond, exquisitely set in platinum by jeweler Harry Winston. It didn't take long for the rare diamond color to create an appetite for pink diamonds—even though no one knew they existed days before the announcement.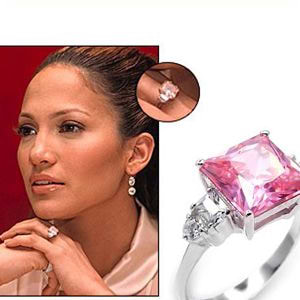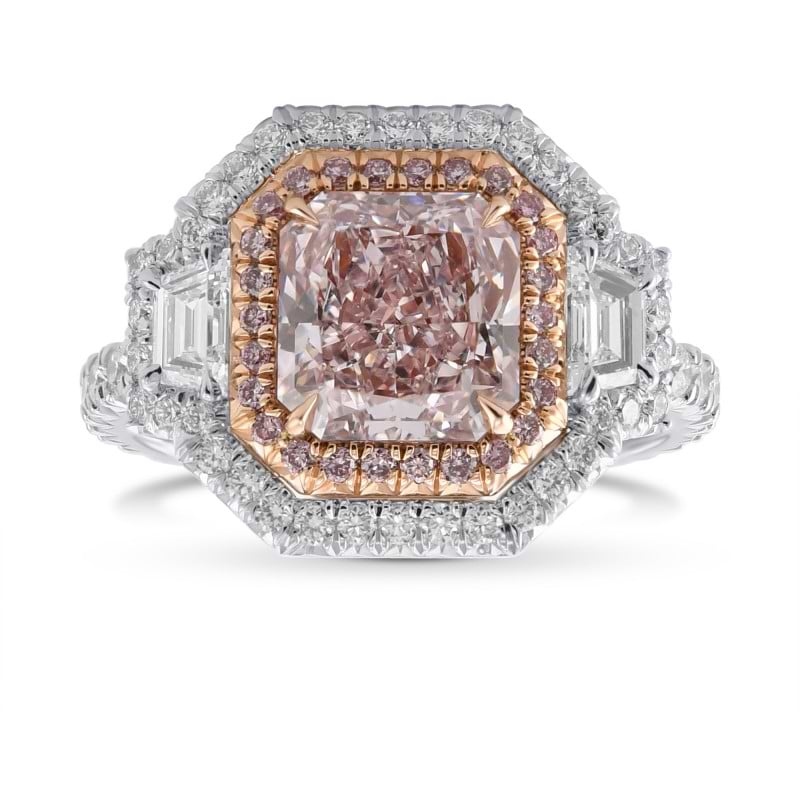 LEIBISH Fancy Light Pink Radiant Double Halo Ring
Then on to Green
I mean really, how could he top that ring with his 2nd proposal? We have to give Affleck big kudos for his imaginative choice for The Proposal--Part Deux. This time in 2022, Affleck popped the big question with nothing less than a natural green diamond ring. "Green is my lucky color," Lopez claimed. How fortuitous!
While we don't know precisely, the 2022 engagement ring purchased from a Beverly Hills jeweler appears to be similar in style to the first ring of some 20 years ago. It looks to be about 8.5 carats of green diamond cut into a modified cushion shape with trapezoid white diamonds on either side of the central stone. Yellow gold prongs secure the green diamond in place, while the rest of the setting is crafted in platinum.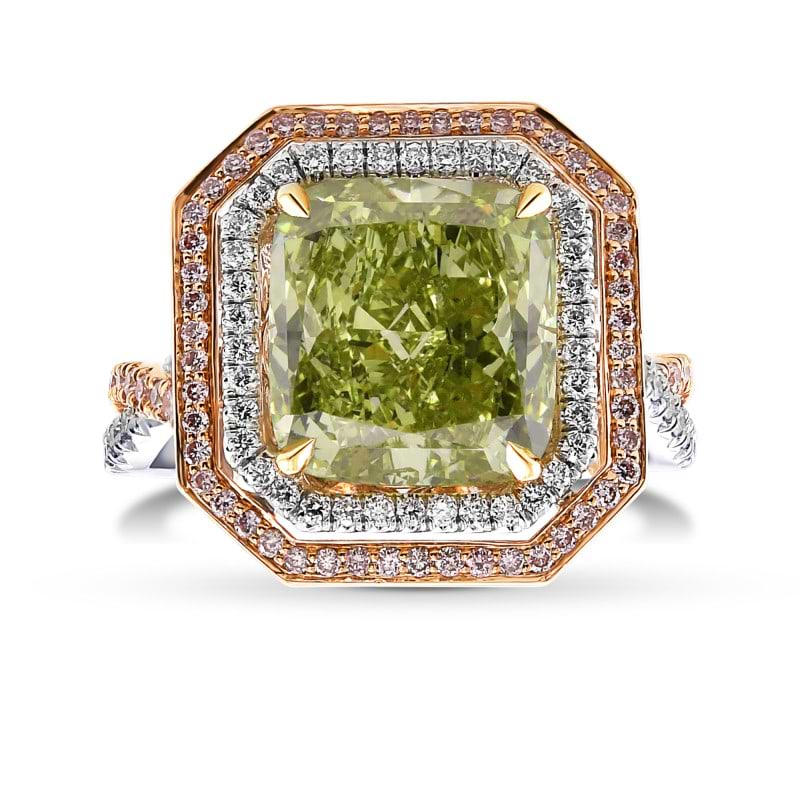 LEIBISH Fancy Intense Yellow Green Cushion Double Halo Diamond Ring
There's Rare, and then there's Really Rare
It's clear that Affleck wanted to out-do his last engagement ring. Pink diamonds are exceptionally rare these days, more so since the closing of Argyle Mine where most pink diamonds came from. But green diamonds occur even less frequently in nature. Affleck definitely made a statement with these rings. All natural diamonds are beautiful, precious, and durable—just like true love. But pink and green diamonds tell an even deeper story of unexpected beauty and extraordinary rarity. Isn't that how everyone feels when they find their one true love, no matter how long it takes?
LEIBISH Fancy Intense Green Diamond
Worth the Wait
All legendary relationships need time to fully mature—to ripen into the sweet story that unfolds after years of waiting and hoping for the perfect time. And as people mature, they may gravitate toward calmer colors. Pink is a very exciting color loaded with emotion and desire. But may I say so, Jennifer is now a mature women. So she has calmed down and the green color actually better reflects her current mood today.
Before there was Affleck and Lopez
While we are fascinated with the Affleck-Lopez saga, they aren't the only celebrity couple that captured the imagination of the world. A generation or two back, another storybook romance—this one with Elizabeth Taylor and Richard Burton, captured the world's imaginations and hearts. Their love affair while tumultuous at times, is the stuff of Hollywood movies, except these were real people who also happened to be Hollywood icons.
An Epic Love Story for the 20th Century
Actress Elizabeth Taylor was married 8 times—twice to Richard Burton from 1964-1974 and again in 1975-1976. "I don't want to be that much in love ever again," she reflected, looking back on their epic love story. After Richard," Taylor would say, "the men in my life were just there to hold the coat, to open the door. All the men after Richard were really just company."
During her extraordinary life and marriages, she gathered exceptional diamond rings. Jewels gifted to her from Richard Taylor still hold the world spellbound. Burton loved spoiling Taylor and jewelry was her weakness. But not just any bauble. Taylor was a savvy collector and aimed for the best-of-the-best in her massive collection spanning decades. In 1968 Burton surprised Liz with a 33.19 carat D/VS1 Asscher cut diamond. Originally called the Krupp diamond, its name was later changed to The Elizabeth Taylor Diamond. When it sold at auction in 2011, the hammer came down at $8.8M—well above its pre-sale estimate of $2.5M to $3.5M.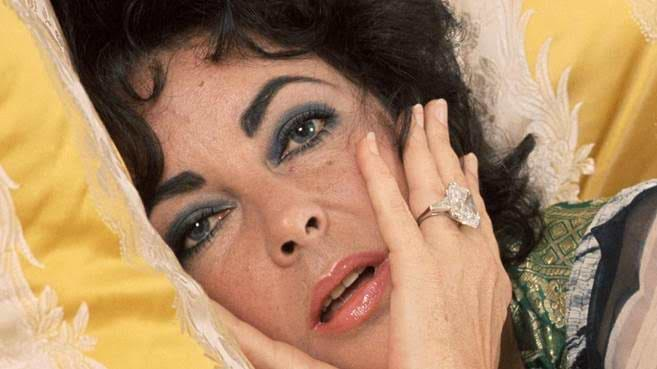 Did Burton actually out-do himself the way Ben Affleck did when he purchased his 2nd diamond for J Lo? That's pretty much a yes. In 1969, Richard Burton saw a 68 carat pear shape diamond cut by Harry Winston come to auction. He had to have it through protestations of Taylor who said she "would make do" with what she already had. That was enough to cause Burton to acquire it no-matter-what, through rabid bidding. Too big to be a ring, although one could mount it as such, the Taylor-Burton diamond as it was known, became the legendary necklace Elizabeth Taylor wore to the 42nd Academy Awards presentation after she stunned the otherwise blasé attendees at Princess Grace of Monaco's 40th birthday in Monte Carlo. Eventually it was sold for an undisclosed amount between $3M-$5M with part of its proceeds helping to build a hospital in Botswana—the site of Taylor and Burton's 2nd wedding.
21st Century Love Story
While the Taylor-Burton love story was one for the ages, and still captivates the imagination of millions today, now we have a new story unfolding for a new generation. Ben Affleck and Jennifer Lopez married for love, and just the way they wanted—away from the limelight this time around. Over time, people change—plans change, and 20 years between their original love story have seen a lot of living for both of them. But they have proven that love delayed is not love lost. These two overcame the decades between their first proposal and their perfectly private wedding many years later.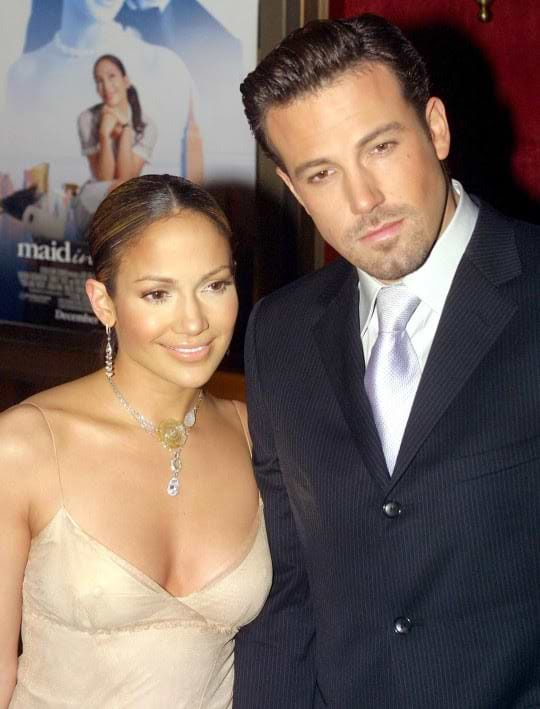 Like genuine diamonds, love can last forever, even if it needs time to be shaped into the perfect symbol of happily-ever-after. Big Congratulations to Ben Affleck and Jennifer Lopez. ▼