What is an Argyle Diamond?
For almost 40 years now, the Argyle diamond mine located in Kimberley, Western Australia has been producing about 90% of the world's most rare and coveted pink diamonds. The mine, owned by the Rio Tinto Mining Corporation, also holds an invitation-only, annual Argyle Pink Diamond Tender in which it showcases its best pink, red, and even blue stones from the preceding year.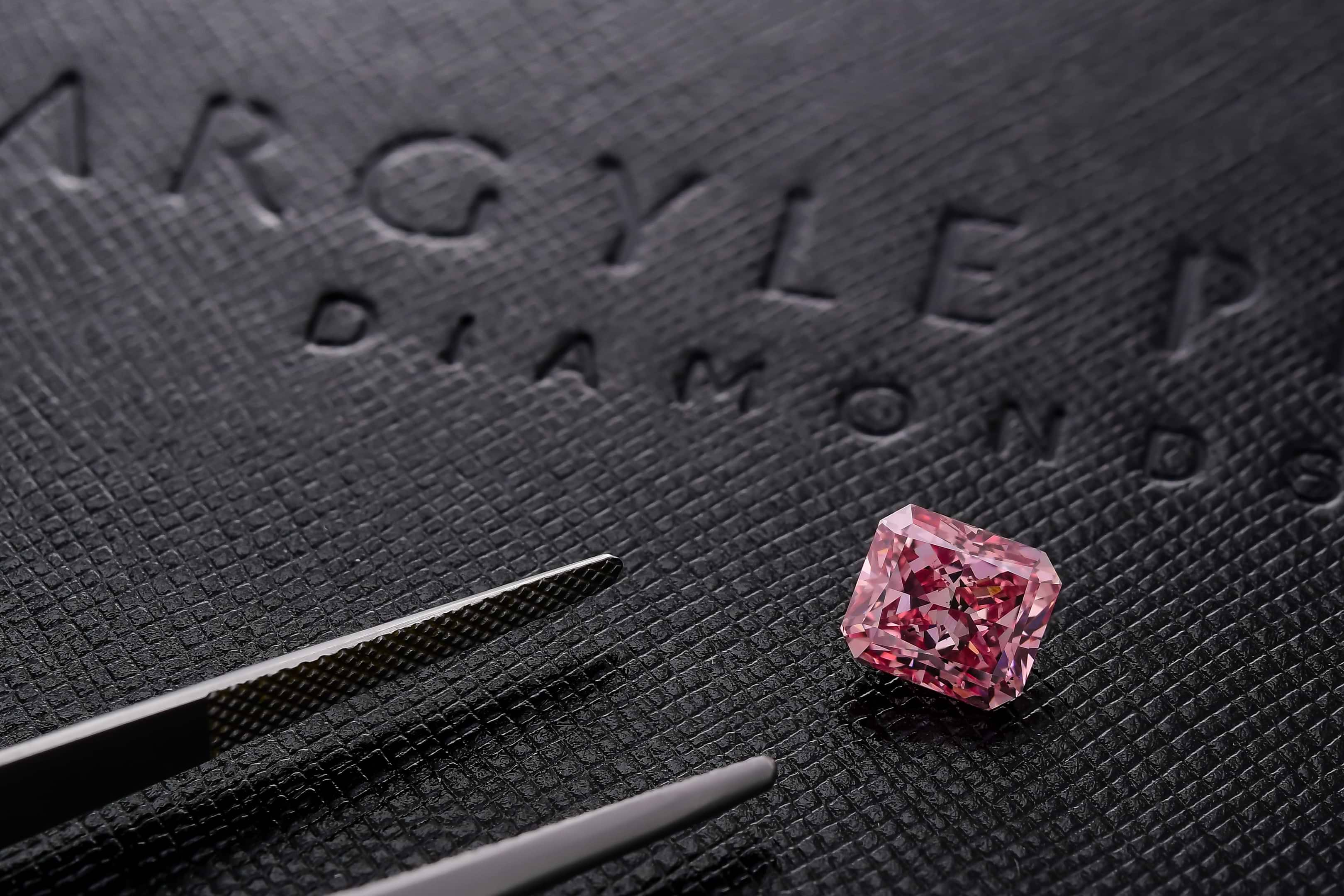 Lot #63, Argyle Tender Stone, 2.34ct Fancy Intense Pink
What Is So Special About Argyle Diamonds?
When comparing Argyle pink diamonds to those mined in other locations such as Russia, one can quickly see a difference in color. Stones mined in Western Australia have a distinct color tone which has more red, purple and blue influences, whereas stones from other mines usually have more of a bubble gum color tone.
Aside from the fact that these incredible Argyle diamonds come in such incredible color tones and hues, Rio Tinto has managed to become the leading name when it comes to pink diamonds. As a result of their brilliant branding, as well as their incredible diamonds, they are also responsible for creating a very well respected diamond grading system of their own.
How Does Argyle Grade the Colors of Their Diamonds?
While GIA diamond reports grade color on a scale from Light - Fancy Dark, Argyle has their own unique color grading system. Every Argyle diamond mined comes with an Argyle diamond certificate, which states the Argyle color grading.
This special grading system allows Argyle to narrow down the color tone and intensity to a more specific degree than GIA.
In the image here below, shows all the variations of color intensities -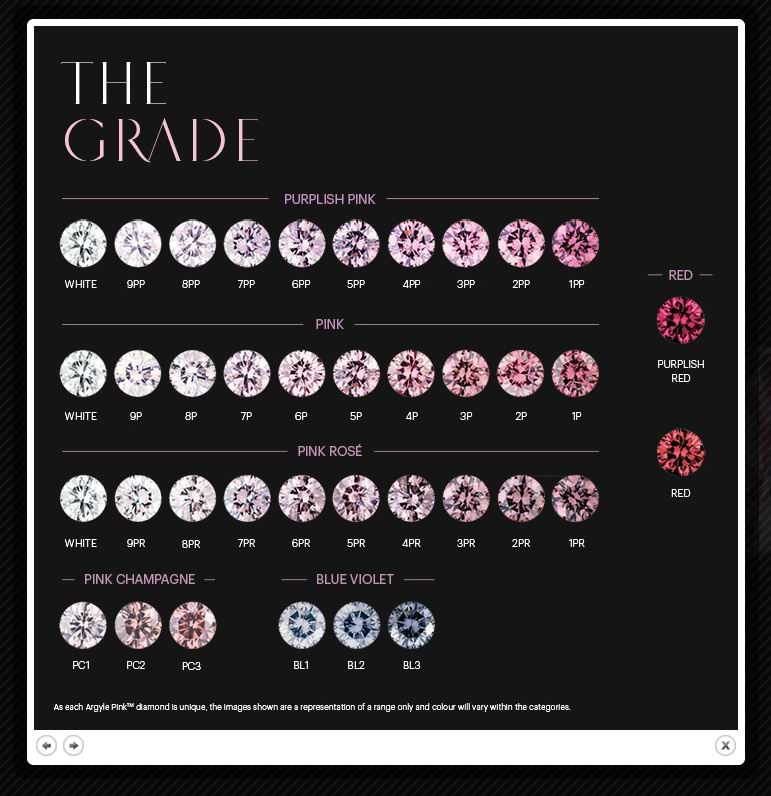 PP-(Purplish Pink) : 9PP, 8PP, 7PP, 6PP, 5PP, 4PP, 3PP, 2PP, 1PP
P- (Pink) : 9P, 8P, 7P, 6P, 5P, 4P, 3P, 2P, 1P
PR- (Pink Rose) : 9PR, 8PR, 7PR, 6PR, 5PR, 4PR, 3PR, 2PR, 1PR
PC - (Pink Champagne) : PC1, PC2, PC3, PC4
BL - (Blue Voilet) : BL1, BL2, BL3, BL4
Red, Purplish Red
Why Are Argyles So Popular Right Now?
Over the past decade or so, there has been a steady decline in the amount of Argyle pink diamonds being mined. The supply of these goods is slowly but surely becoming depleted and we are seeing smaller goods and lower clarity gradings in the annual Argyle Tender as well.
This decrease in supply paired with the increase in awareness about these phenomenal stones has been making them exceedingly popular. Today, Argyle Pink diamonds are sought after by many privates and collectors alike due to their predicted investment value.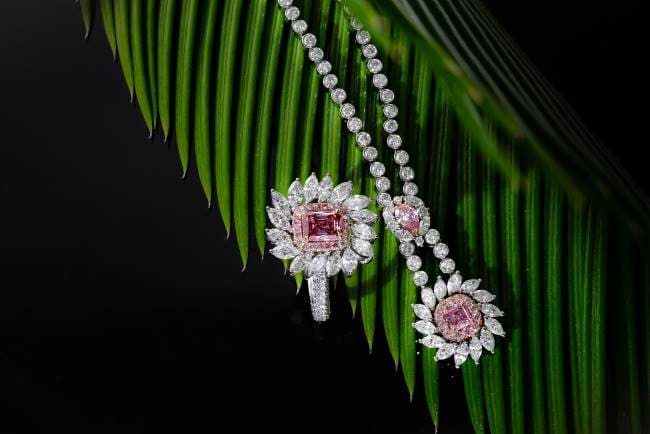 Custom Argyle Pink Diamond Jewelry, Designed by LEIBISH
Why is Now the Time to Buy an Argyle?
As the saying goes, "all good things come to an end," and sadly, the Argyle Mine has been set to close by the end of 2020. If you are considering the purchase of an Argyle pink diamond, now is certainly the time to do so. While the average price per carat is already higher than ever, with the imminent closure of the mine these prices are expected to rise dramatically, and even more so once the mine officially closes.
How to Choose an Argyle Diamond?
When it comes to fancy color diamonds the most important factor is the color. The same goes for Argyle diamonds.
The key factors to consider are the color intensity of the stone as well as the size and clarity, with the priority being the color.
If you are looking for investment grade stones, it is recommended to go with Intense or Vivid color intensities, as well as the largest stone your budget allows.
Would you like more information on Argyle diamonds? Contact our team of experts now.