When politicians are looking for voter empathy, it has been recommended that they appear with their dog. They have been advised correctly that their pet influences their public image. Since Bill Clinton did not have a dog at the time of his campaign for election, the right dog had to be selected to help with the electioneering. It had to be a dog with maximal impact on voters. After long deliberation they selected a Labrador that eventually became the most famous dog in the world. Former U.S. President George W. Bush and First Lady Laura Bush also owned a Scottish Terrier named Barney who proved to be quite a talent as the main star of the White House's annual Christmas videos during the Bush administration.
As President Barak Obama did not have a dog either, his staff contacted a known dog expert, Stanley Coren Ph.D., who received the Maxwell Medal of Excellence for his book "Born to Bark," to select the "correct" canine. As Melia, President Obama's daughter, is allergic to dogs, they needed to select a hypoallergenic dog. Stanley suggested a couple dogs that would qualify, including Coton de Tulear and a Havanese, the latter of which, due to its Cuban origin, was quickly refused due to political sensitivities. So Bo became the First Dog of the USA - the dog of the President.
Even in such an important role in the U.S. administrations, Bo, the First Dog, does not always follow the will of the President… Similarly, I consult my dog during our morning walks on various different business decisions and financial issues. However, my dog, Portash, firmly refused to participate in politics. In fact, he refused to even walk with me to the polling station this past national election day.
Animals have great influence on their leaders. Not only on their everyday household decisions, but quite often regarding their work as well. Many jewelers' designed their pieces with animals in mind. In fact, Cartier was one of the first who created diamond jewelry with animals. Similar to how we see man's best friend ahead of the leaders of the United States, dogs and tigers lead the way to the hearts of many powerful clients.

A few days ago I went to Madrid to see the Art of Cartier Exhibition in the Museo Thyssen-Bornemisza (open until 17 February, 2013). Seeing the exhibition, I got so carried away I felt like traveling with Paul Cartier to the Orient. Dogs, tigers, panthers were just the start when it came to opening the hearts of the most famous women of the 19th and 20th century. Kings, the aristocracy, and famous actresses shared and added to Cartier's glamour.
Cartier was not just a man, but several generations of jewelers that started with Alfred Cartier in 1854. I think Cartier was the first real luxury brand in existence and that was some hundred years before we all knew what a luxury brand is. Their frequent trips to Persia and India connected Cartier to all the unique materials of the Orient, and its rulers.

India opened the gate to all precious stones and to the craft of carving on emeralds, which became the centerpiece of the Tutti-Frutti collection. The Tutti-Frutti strap bracelet, made by Cartier in 1929, was for his client Mrs. Cole Porter. This item is sold time and time again at auction for millions of dollars. Cartier eventually purchased the bracelet back himself at auction paying high premiums.
Our designer Chavi Itzhakov recreated the spirit of the Tutti-Frutti bracelet with fancy color diamonds exclusively. This magnificent 55.84 carat bracelet was crafted with 112 natural color diamonds.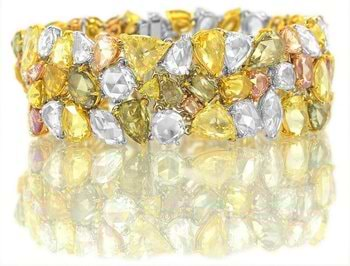 LEIBISH's multicolored Tutti Frutti diamond bracelet

The multicolored designs are sought after by many of our worldwide clients and were made in many different variations.
Other LEIBISH multicolored diamond bracelets

I could not decide if famous women made Cartier so well known or maybe the ladies became really famous due to Cartier making special designs for them?

The Duchess of Windsor was probably one of the best known women of her time. King Edward abdicated in order to marry her. He bestowed upon her the most magnificent Cartier designs.

When great women wanted to make the right impression, they wore exceptional jewelry. The Duchess was trumped by only a few ladies; Liz Taylor was one them, as was Grace Kelly, the Princess of Monaco.

The legend, Elizabeth Taylor with La Pelegrina – the legendary pearl, a 16th century pearl, ruby, and diamond necklace designed by Elizabeth Taylor, with Al Durante of Cartier. A gift from Richard Burton, January 23, 1969. Estimate: USD2,000,000 – 3,000,000. SOLD FOR USD11,842,500.
Mike Todd gave this ruby and diamond necklace to Elizabeth Taylor. It was sold recently at the Elizabeth Taylor Auction for USD3,778,000. Luxury was never cheap and only the lucky few could afford to buy Cartier's creations. However, even at their top prices the mixture of design and celebrity achieved record prices at auction - many times above their original prices.

Important and satisfied clients become repeat clients of their jewelers. Elizabeth Taylor changed her husband seven times but she always returned to Cartier. We have clients who thankfully haven't gone through so many divorces, but still always return to the same jewelers. Some who have purchased from us in excess of ten times over the years.

The Mike and Lisa Four Seasons Color Collection was created for one of our important US clients and friends. The collection is a compilation of 10 'one of a kind' stunning pieces of jewelry. Each piece in this collection was crafted by our very own in-house designer, Chavi Itzhakov.
The stones used to design the pieces are all of exceptional quality. Each was individually selected in order to create these pieces.
The Pieces of the Mike and Lisa Four Seasons Color Collection

The first item is a remarkable 0.61 carat Emerald cut Fancy Intense Purplish Pink Argyle diamond ring set in 7.90 grams of 18 karat platinum and rose gold and flanked with 0.27 carat Kite shaped Fancy Blue diamonds.




The second item is a 1.31 carat Emerald cut Chameleon diamond ring set in 9.0 grams of platinum and yellow gold and flanked with 0.37 carat Shield cut, G color, VS clarity side stones.



The third item is a 0.52 carat Radiant cut Fancy Purplish Red Diamond ring set in 5.10 grams of yellow gold and flanked with 0.62 carat Round cut collection diamonds melees and 0.06 carat triangle collection side stones.





The fourth item is a 1.26 carat total weight custom made diamond ring set in a 15 grams of platinum and flanked with 1.07 carat Baguette Diamonds. The center stone comprises a 0.19 carat Radiant cut Fancy Deep Blue Green Diamond of SI2 clarity.




The fifth item is a unique 4.02 carat Fancy White round shape diamond flanked with 0.62 carat Fancy Pink melees. The large, "milky" looking white diamond is very rare.




The sixth item is the outstanding Four Season Vivid Color Diamond Pendant necklace containing a 0.79 carat Fancy Vivid Orange diamond, a 0.19 carat Fancy Vivid Blue-Green diamond, a 0.22 carat, Fancy Purple-Pink diamond, a 0.21 carat, Fancy Vivid Blue diamond, and a 0.15 carat, Fancy Vivid Green diamond.



The seventh item is a 5.01 carat Fancy Vivid Yellow, VVS2, Emerald cut ring with a brilliant Zimi color. The stone has perfect 10-10 color saturation and consummate proportions and is set in a ring with 0.90 carat total weight Taper Baguette side stones.



The eighth item is an exceptional 2.22 carat Fancy Dark Gray Yellowish Green Chameleon Pear shape diamond set with a 0.41 carat Fancy Intense Pink Round diamond in an 18 karat white and rose gold pendant beaded in 0.34 carat D-E color VVS small diamonds, totaling 7.80 grams.
The ninth item is colored diamond pendant setting with pave scrolls decorating a very rare central 1.06 carat Fancy Intense Orange Cushion diamond, SI1; mounted in 18 karat white and yellow gold. The pendant contains 0.40 carat total weight collection colorless diamonds, VS clarity.



The tenth item is a special one of a kind pair of 12.54 carat Fancy Yellow diamond earrings handcrafted in 18 karat white and yellow gold, and flanked with 1.97 carat round brilliant collection melees. The earrings contain 0.87 carat Trapezoid collection diamonds and 2 Shield cut 2.5 carat yellow diamonds.
Great brands are not only fulfilled from their customer's expectations. It is also the client's amazement each time a beautiful piece of jewelry is received, irrespective of whether it is a $5000 or $5million item. Grace Kelly entered the shop of Cartier many times and saw both Cartier and his designers face to face.

The Leibish jewelry brand is entirely virtual. Client's don't walk in or shake our hands. Rather, our returning customers receive digital images, mock-ups, and videos of the pieces and only then do we deliver the products.

Most importantly, the moment of excitement when the piece is presented is the same. If you sit in the Rue de la Paix with Cartier or you open a Leibish parcel in the comfort of your own home, the smile on your face will be just as golden.
Best regards,
Leibish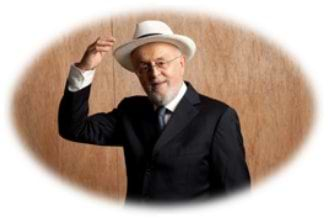 Leibish Polnauer, President and Founder of LEIBISH Fancy Color Diamonds