Any diamond or gemstone can be worth a lot more than its fixed price – it has a personal value, and it is usually related to special moment in life.
However, you don't have to pay a small fortune in order to have a valuable, well-designed and highly impressive jewel. Here we've gathered ten exquisite rings that will brighten up any occasion.
Yellow Cushion Diamond Halo Ring (1.64Ct TW)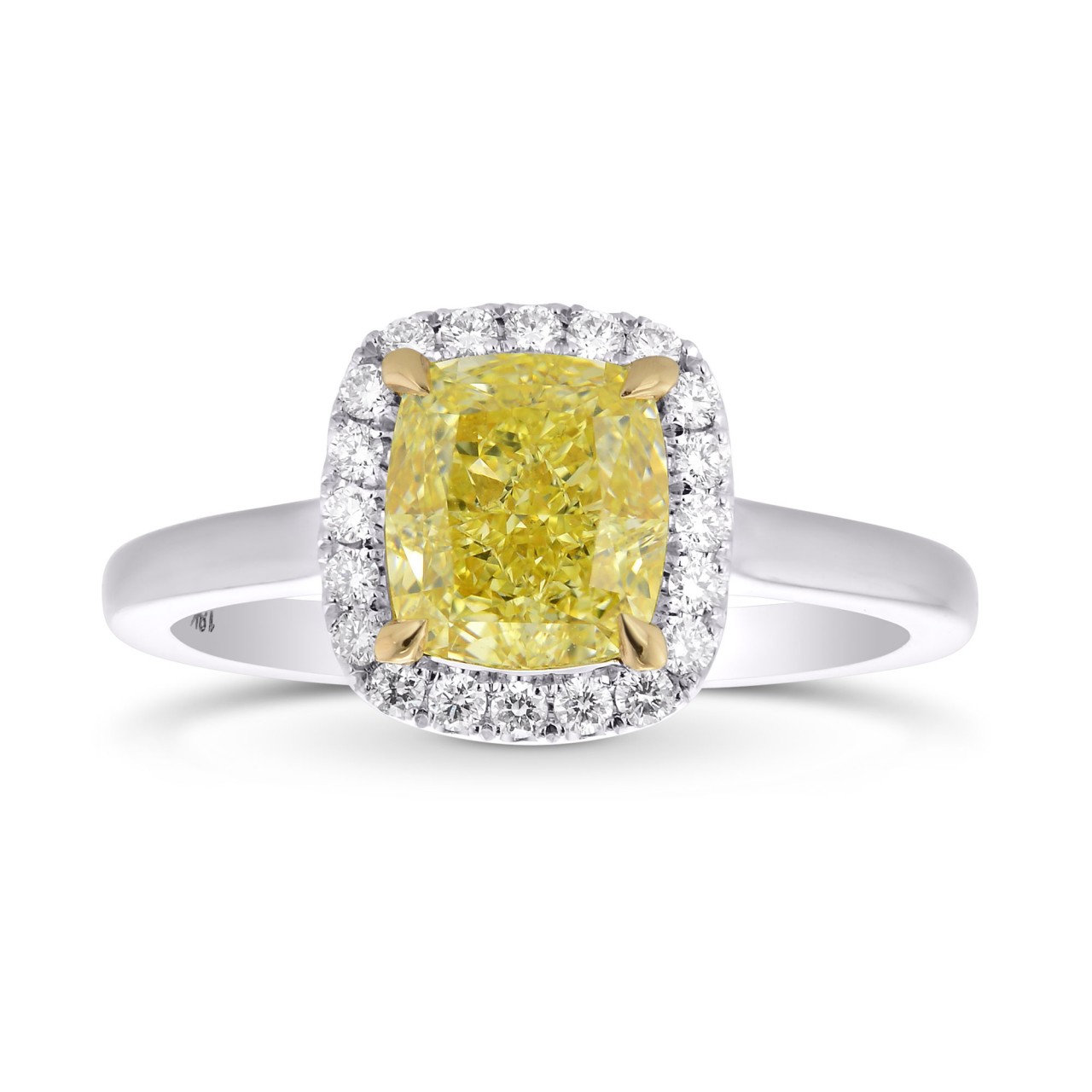 Yellow Cushion Diamond Halo Ring with a 1.51cts center stone and a Halo of over 20F+ brilliant diamonds. This beauty is molded in beautiful Yellow and White Gold of 18K. It'll look equally impressive on special occasions and in day-to-day activities.
Perfect for those looking for a classic and timeless design.
Price: $8,990
Fancy Deep Brown Orange Radiant Diamond Solitaire Ring (1.40Ct)
This rich chocolate color solitaire ring composed of18K rose gold mounted with 1.40Ct Deep Brown Orange Diamond of VS2 Clarity and GIA certification, has a sophisticated vibe and will definitely add some spice to to your wardrobe. Looks phenomenal on dark complexions too!
Perfect for those who prefer a unique and captivating color tone in a classic setting.
Price: $9,950
Fancy Light Green Cushion Diamond Solitaire Band (0.61Ct)
A delicate and classic solitaire diamond ring tension setting featuring a gorgeous fancy light green cushion center stone. The diamond weighs 0.61cts, GIA certified. The band is 18K white gold with a brushed finish for a little added spark.
Perfect for those who believe in understated elegance.
Price: $7,950
Pink and White Diamond Designer Ring (0.92Ct TW)
If you're seeking a super special design- look no further! This perfect pink and white diamond ring is a wonderful addition to any wardrobe. Dress it down with a pair of blue jeans or jazz it up with a summery cocktail dress - either way, you will feel and look like a million bucks.
Perfect for those who love to dance to the beat of their own drum.
Price: $7,975
Natural Tanzanite & Spinel Diamond Ring (6.79Ct TW)
Combine an amazing oval blue Tanzanite (4.87 carats) and two gorgeous Spinels (1.44 carat) and create an exceptional, one-of-a-kind ring, set in 18K white gold. These two magnificent colors work wonderfully together and look fabulous with a dress suit or evening gown.
Sizes: Size 6 and with 2.65mm shank width.
Perfect for those with a complex tastes and interests who like to enjoy the finer things in life.
Price: $7,450
Green Tourmaline Diamond Milgrain Double Halo Ring (2.05Ct TW)
A glorious Tourmaline center stone set in a glorious double halo ring setting will spice up any day or night. This amazing ring has a vintage look with a modern feel. The ring is mounted in platinum with 18K yellow gold.
Perfect for those who are always full of surprises!
Price: $5,950
Chameleon and Diamond Side Stones Ring (1.18Ct TW)
This special chameleon diamond ring has an incredible and fresh green color tone. Chameleon diamonds are known for their ability to change color when heated or left in darkness for an extended period of time. This gorgeous pear shape stone is flanked by two clusters of collection color, round brilliant diamonds.
Perfect for those minimalists who love to stand out and be different.
Price: $7,863
Fancy Yellow Cushion & Pink Diamond Engagement Ring (1.17Ct TW)
Classically inspired, this daring piece boasts a beautiful and unexpected combination of colors. With a gorgeous fancy yellow center diamond set between fancy pink side stones, this feminine ring is fit for a princess. Mounted in platinum with 18K Rose and Yellow gold.
Perfect for adventure seekers who still enjoy celebrating their femininity!
Price: $8,883
Natural Multicolored Diamond Band Ring (1.18Ct TW) SKU: 243117
A celebration of colors and shapes! A delightful and bright ring design with a combination of beautiful fancy color diamonds in pink, orange and yellow with a total weight of 1.18ct.
Perfect for those looking to live life in color!
Price: $9,990
Unheated Vivid Red Ruby Heart Solitaire Ring
The most celebrated symbol of love, heart shapes are always the perfect way to say "I love you." The center stone is a CD certified natural unheated, this vivid red Heart shape ruby, mounted in 18K White & Yellow gold.
Perfect for those who tend to wear their heart on their sleeves. Or should we say hand?
Price: $ 8,458
Pick your favorite and enrich your wardrobe with a timeless jewel!