Just the other day on my way to the office, a gentleman walked up to me on the train and asked an interesting question. Having conversed with him in the past, he knew what I do for a living. He asked with a completely straight face, do you think it would be appropriate to gift my future bride an iPhone 14 instead of a diamond ring as an engagement present?
"Why not?" I answered with some surprise. "But what will you do when the iPhone 15, or 16 hits the market?" He thought for a moment and said, "well, I will give her the new edition."
I told him he was very generous to ensure her engagement gift was never outdated. I asked if each time he would propose again and again, and if he planned on having a party each time as well!
You see, the most sophisticated iPhone is out of date and passé in less than three years, if that much. Even those which are plated with gold, once the new version is out, they are last year's gift and nothing more. I asked if his plans were to change the girl as well after three years time. He said, "I would never leave her!"
I thought that 'never' is a long time. "Listen, a diamond is forever," I said. "It will never change in luster or color. People change. They get older, and they get wrinkles under their eyes. But a beautiful diamond ring will be just as perfect 100 years from now as it was the day it was purchased."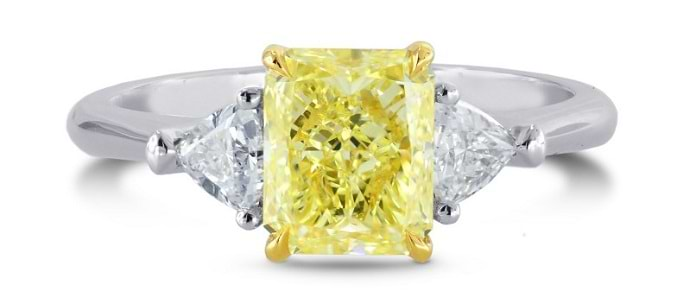 A Fancy Yellow radiant diamond ring. A ring that will look the same regardless of how long ago it was presented.
I reached my stop and said goodbye, but after reviewing the conversation in my head, I thought, nothing lasts forever like a diamond. In fact, it's scary to think of the number of marriages today ending up in divorce.
Liz Taylor married eight times. Her marriages did not last for long, but each time she was given a remarkable piece of jewelry.
The 33 carat D colored diamond Ring by Harry Winston given to her by Richard Burton No one really remembers the names of all her husbands, but the jewelry they gave her survived through all the divorces. In fact, the whole collection was sold at a spectacular auction in Christie's New York.
Interestingly enough, I actually didn't gift my wife at the time with a diamond engagement ring. Back then, I didn't have a nickel to my name. I bought a sapphire marquise ring for 110 pounds, in London. Even for that ring, my mentor, Mr. A.Y. Gluck, gave me the money.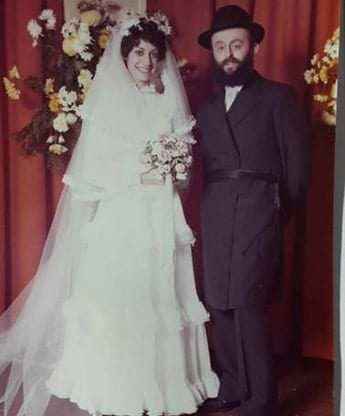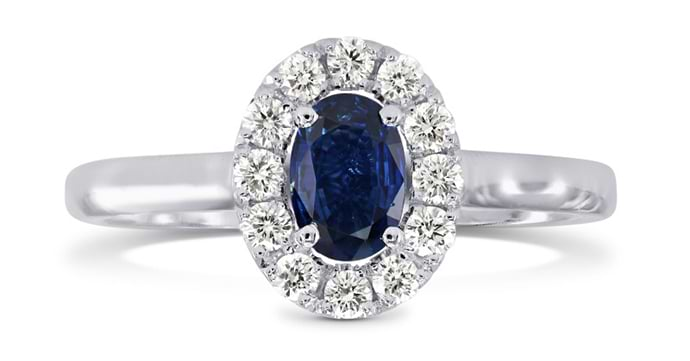 Leibish & Rosi at their wedding. This was similar to the engagement ring Leibish gave to his wife
We are married 46 years now, and unfortunately that ring was taken from me in an armed robbery from our home a few years ago.
I actually gave Rosi the first fancy color ring 20 years later for our anniversary. It was a lovely dress ring with mixed fancy color made by Graff.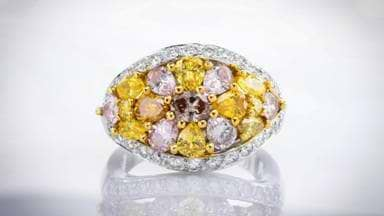 The colored diamond ring Leibish bought from Graff
Fancy color rings were given to a number of famous women, as they added a lot of glamour to their appearance. The glamour of these stones is one of the main reasons women love these pieces. Trust me, no one is would have the same joy in flashing around the latest cell phone.
Her Royal Majesty, was queen is one of the biggest diamond collectors of the world. She in fact had quite the collection full of many pretty pieces. Her engagement ring, a 3 carat solitaire ring with five small diamonds on the side, was given to her in 1947 by Prince Phillip. It may not be the best or most expensive piece in her collection, but it was always on her finger.
One of my favorite images that a client and friend sent me of his wife, radiates love and happiness. It is a real and authentic unedited image. Meaning, no Photoshop at all. Both the diamond and the lady are full with sparkle.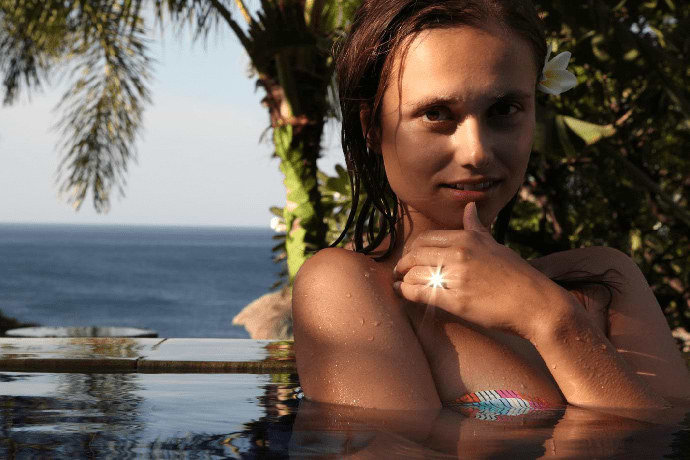 The sparkle of a true love in a Leibish engagement ring
The Leibish engagement ring was just given, and the proposal was accepted. The image was taken minutes later in a beautiful hotel in New Zealand. Can you imagine, that the picture with taken with an iPhone?
Regular people like you and me are gifting the loveliest diamond rings. Also, they aren't spending millions. Our average engagement ring is bellow 10k.
We sell lots of jewelry, for many different occasions. But the most active market on our website is the colored diamond engagement rings.
There are many different reasons why a man gives a woman a diamond ring. One of my favorites mans need to point out that their relationship should always sparkle like a diamond, and that it should last forever.
Now you tell me, how could one compare the magic of a ring to the meaning of a cell phone?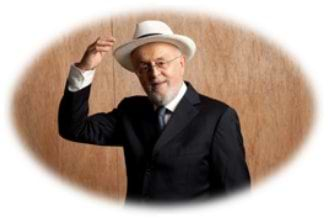 Best regards,
Leibish Polnauer, President and Founder of LEIBISH Fancy Color Diamonds