A diamond needs no introduction as its history and beauty speaks for itself. However, its rare sibling, the color diamond may need to be introduced, since some are not fully aware of what a natural color diamond really is. Due to various elements during their creation, some diamonds have had their color altered. The results are diamonds in every color of the rainbow including the rare and glorious pink diamond. Diamond studs have adorned women's ears, and now men's as well, for some time. Today you will see these classic earrings being replaced with unique and extremely valuable substitutes such as yellow, champagne, and pink diamond earrings. Many celebrities have discovered these natural treasures and have been framing their faces with pink diamond studs, drop earrings, and hoops to name a few. Here is a look at some of the phenomenal options for pink diamond earrings.
Solid Pink Diamond Earrings
Pink diamonds look terrific on their own as well as when paired with other diamonds or stones. Since pink diamonds are so very rare, it is difficult to find stones in a larger size, and even when one does they will cost quite the pretty penny. Pink diamonds are often set in studs at a smaller size, paired with colorless diamonds, with or without a diamond halo.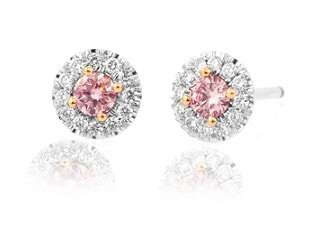 0.30-Carat Round Fancy Pink Diamond and White Diamond Earrings
Pink and White Diamond Earrings
While going pink all the way is clearly very eye-catching, it is also very pricey and hard to accomplish. For this reason, it is wise to go with the pink and colorless diamond combo. This can be done with halo stud earrings, using a center pink diamond surrounded by colorless diamonds, with pink and white diamond hoops, or with drop earrings that has just one large pink stone and smaller colorless diamonds. Pave earrings, whether hoops, studs, or drop earrings with a combination of pink and colorless stones are other options as well. It is always possible to do the opposite, and make the main stone a colorless diamond, enabling you to use a larger stone, and surround it with smaller pink diamonds. This can be done with halo studs as well as single and multi-stone drop earrings.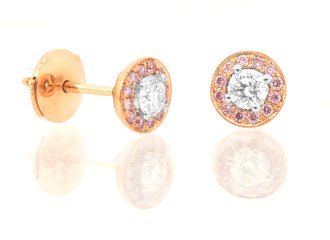 White and Pink Round Diamond Earrings
Pink Diamonds Combined with Other Color Diamonds
For those who love color, pink diamond earrings do not have to be just pink, or even pink and white. They can be paired with a variety of colors from yellow to blue to green to brown. In drop earrings using multiple stones, every stone can be a different color, one of which is pink, surrounded by colorless stones. In hoops, halo studs, and pave earrings, a collection of color diamonds can be used to create endless color designs.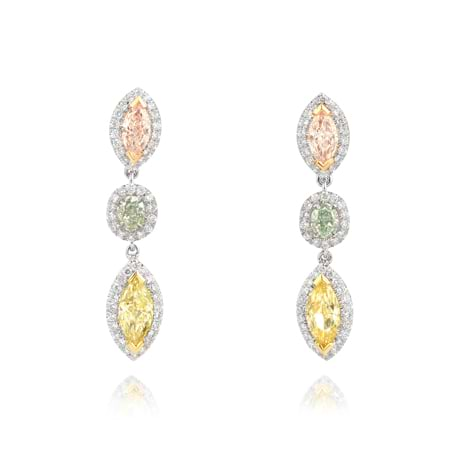 2.80-Carat Fancy Yellow, Faint Pink Marquise, Fancy Bluish Green Oval Diamond Earrings
There are so many possibilities when it comes to pink diamond earrings, one for almost every budget and taste. The important thing is to browse around for ideas, know what you are looking for, and create the perfect pair of pink diamond earrings for your face shape, skin tone, and personality.