In a short 10 days, the jewelry industry got a lot of free promotion. For certain companies like ours, it is PR of the highest quality, that money can't buy.
Julia Roberts posed with Mr. and Mrs. George Clooney, but the world took notice of the magnificent colors around her neck. Simply put, color is king. Her emerald jewelry is the greatest charm for both men and women. For example, our 30.47 carat emerald earrings caught the eye of all the top buyers who visit our website.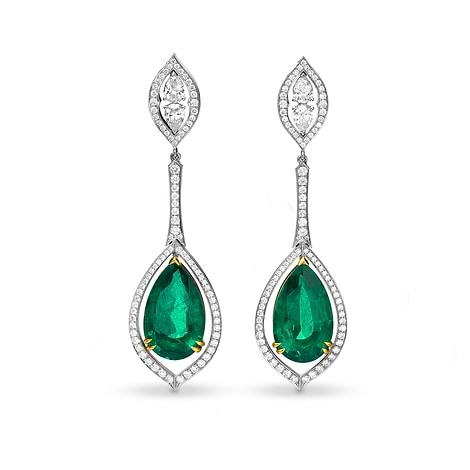 Extraordinary Green Emerald Pear & Diamond Drop Earrings, SKU 63811 (30.47Ct TW)
As if the sky opened, and dressed up the Red Carpet, fancy jewelry and fancy color diamonds where all over. Anywhere you look, colors are shining through.
The Sotheby's Geneva auctions in May 2016 netted hundreds of millions of dollars. In fact, on May 9th, Sotheby's Geneva set a new world record with a $175 million dollar jewelry auction. Their sales reached new records in prices never reached before.
Just mentioning a few more from the Emma Tsai report, there was a 7.32 carat, pear shaped, Fancy Vivid Blue diamond ring which was estimated to go for a minimum of US$14.7 million. The stone realized a whopping $17,112,629. In all honesty, it was a super price for a stone with an open culet.
The market is hungry for blue and pink diamonds and the momentum in Geneva was great for new records.
The real action started with the sale of the 15.38 carat Unique Pink. The largest fancy vivid pink ever offered at auction. The stone was sold for $32 million dollars.
For the trade however, the prices realized for fancy pink diamonds are more important that the record breaking, one-of-a-kind vivid's. An auction record for a fancy pink diamond was seen with a pink diamond pendant, where the center stone was weighing 18.51 carats. The stone fetched at total of $9,773,672 / CHF 9,546,000 ($528,021 per carat).
LOT 411A, which estimated $5-8 million, saw a record price per carat for a fancy purplish pink diamond. The stone which weighed 8.20 carats, sold for $3,696,098 ($450,744 per carat). This is a world auction record price per carat for a fancy purplish pink diamond.
That is already a more commercial type of stone, but still wouldn't be called upon on an everyday sale.
The item, talked about most over the last month, was the 14.62 carat Oppenheimer Blue Diamond. It is classified as a fancy vivid blue, emerald shaped stone. It sold for an unbelievable 58 million dollars. The diamond drew a lot of attention, and I myself, watched the auction online. It reflected my original view of the stone and on the the fancy color industry. The market is burning with new desire for top quality goods. A vivid blue is priceless.
Buyers began once again to look at fine fancy color stones as monetary instrument. Stones like this are no longer seen as just objects of love for collectors. Those looking for stable alternative investments are no longer going for Apple stock, which took a 30% dive over the last half a year.
Let me share with you my opinion on the jewelry market's short term future. Within the trade, I hear a lot of crying and complaining. We can all see the financial reports of Graff and Chow Tai Fook, which show big drops in profits and sales.
But, I always preferred to take a long term view on business. I am not the type of person who likes to complain. To me, the diamond business looks like a landscape just before sunrise. It is the darkest part of the night. But when the sun comes up, the light will disperse through the darkness very quickly. The water also starts to warm up slowly, and then at 100°C it turns to steam. At that point, the water will move a ship forward without any effort at all.
When we see a big ocean-liner by Sunrise from a great distance, one cannot say if it is coming or going. But, you sense that it moves. The diamond and jewelry industry is at Sunrise and it will move forward with increasing powerful speed. The volume will rise and the prices will pick up. We see that already all around in sales. However, not everyone will dance at this party. Jewelry and diamonds will be sold more and more as packaged information. Amazon, Leibish.com, Bluenile and retailers will pick up most of the new business. But, like in a big Hollywood party, plenty food and drinks will be served and no one will go hungry.
See the hottest jewelry in the market today!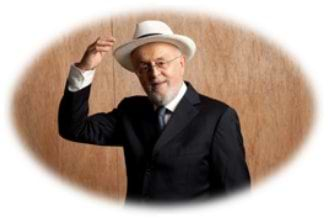 Best regards,
Leibish Polnauer, President and Founder of LEIBISH Fancy Color Diamonds