One of the most popular days for marriage proposals is on the Holiday of Love, otherwise known as Valentine's Day. Some might find it cheesy, and others highly romantic, but the numbers speak for themselves and it is on this special day that many joyous women find themselves with some brand new bling. Since some may claim that proposing on Valentine's Day is unoriginal, why not spice it up with a unique diamond ring such as one of the many custom color diamond engagement rings, or perhaps, even a different piece of jewelry like a color diamond bracelet? The options are truly endless and if unique is what you are looking for, there are plenty of choices in the color diamond department. Valentine's Day will have a whole new meaning when proposed to with one of these stunning pieces.
Once you have decided to step away from the standard colorless diamond solitaire engagement rings it is time to think about other possibilities, especially ones that are suitable for the Holiday of Love. Heart-shaped diamonds as well as Pink Diamonds, Purple, or even the especially rare Red Diamonds are romantic ideas for engagement rings. If the solitaire look is too common for you, you might want to consider a center diamond surrounded by a halo, or for a bit of glamor, a three-stone ring.
If you really want to be different, you can always propose with a jewelry piece other than a ring. For example, a color diamond bracelet can be a remarkable token of affection and an alternative to the traditional engagement ring. Though this option is less common, there are plenty of women interested in distancing themselves from the norm and embracing new and fresh concepts.
Heart-Shaped Diamond Engagement Rings
A Fancy Deep Brown Pink heart shaped diamond ring
When it comes to the heart-shaped diamond, there are many choices for rings. The main stone can be colorless and surrounded by a color diamond encrusted band such as the 0.87-Carat Heart and Fancy Intense Pink Pave Side Stone Ring. Or, the center stone can be a color diamond, as it is in the 1.02-Carat Fancy Yellow Heart Diamond Designer Ring. An extremely unique design for a heart-shaped color diamond engagement ring is the 0.97-Carat Fancy Deep Orange Heart and Pave Bow Ring, which incorporates the solitaire color diamond, pave diamonds, and bow design all into one sensational ring.
Pink Diamond Engagement Rings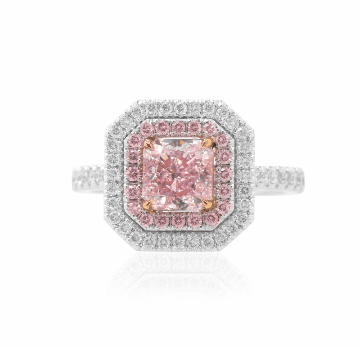 Fancy Purplish Pink radiant shaped Argyle diamond double halo ring
Pink diamonds are some of the most beautiful, popular, and rare of color diamonds. They are soft, feminine, and romantic, which makes them fantastic choices for an engagement ring presented on Valentine's Day. The pink diamonds can be used in many ways, from a solitaire stone in a variety of shapes, to the choices of stone for a pave ring. A pink diamond can also be paired with another color diamond, as is displayed by the Cross-Over Twin Pear Halo Fancy Intense Purplish Pink and Blue Diamond Ring. Another example of the pink and blue diamond combination is the 0.92-Carat Mix Ring, which includes a ring mounted with a 0.26-carat Fancy Intense Pink baguette, 0.30 carats of Fancy Blue baguettes, a 0.21-carat White Marquise diamond, and 0.15 carats of pave brilliants.
Unique Diamond Colors and Shapes
Most engagement rings showcase colorless diamonds, so essentially any color diamond makes the ring different and special. However, there are some color diamonds that are so vibrant and uncommon that they make the ring exceptionally unique. Yellow diamonds are some of the more common color diamonds but they are still quite rare and original for an engagement ring. When a large stone, or a cluster of stones, is chosen, the result is breathtaking. The 4.76-Carat Fancy Yellow Oval and Triangle 3 Stone Diamond ring displays a large, bright yellow stone, enhanced by colorless side stones. Aside from unique colors, unique shapes can make an engagement ring unforgettable as well. The 1.14-Carat Fancy Dark Orange Brown Marquise Diamond Solitaire Ring is a perfect example of a ring with an-anything-but-standard diamond shape. In this case, the diamond color is distinctive too.
Unusual and Creative Engagement Ring Designs
For those who really want to step away from commonly seen diamond ring styles and be truly original, here are several designs that are the definition of stepping out of the "diamond engagement ring" box. The 0.18-Carat Fancy Vivid Yellow Emerald and Pear Diamond Engagement Ring gives off an unusual sun or flower effect. It is classy and artistic all at once. An additional yellow diamond ring in this category is the 0.80-Carat Oval Fancy Light Yellow Diamond Pave Braided Ring. In the brown diamond department, there is a 2.12-Carat Fancy Light Brown Round Diamond Flower Ring. Colorless pave diamonds, in the shape of a flower, surround the brown diamond. This is a bold and impressive choice.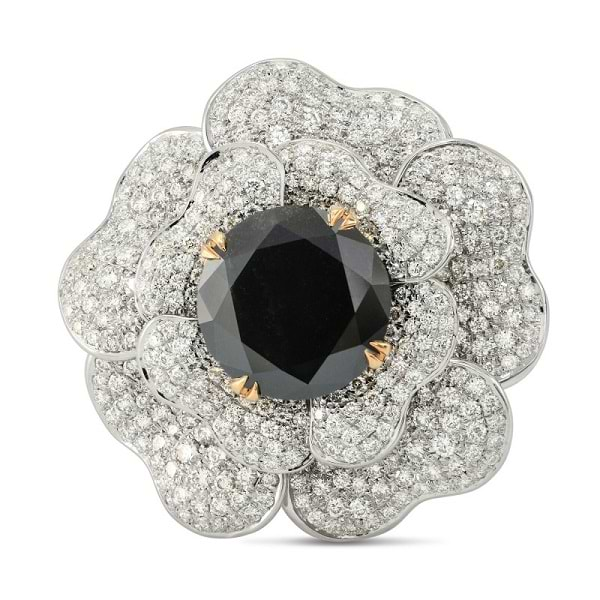 7.25 Ct TW Fancy Black and Pave Diamond Flower Ring
Alternative Diamond Engagement Jewelry Pieces
While the ring seems to be the most popular jewelry piece for engagements, other pieces such as a diamond bracelet or pendant can do the job as well. As with rings, the choices are endless. There are color diamond halo pendants, color diamond bracelets including one color or several, along with many other possibilities.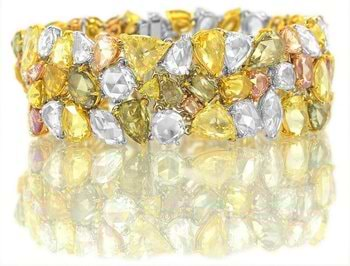 54.84-Carat Multicolored Rose-Cut Diamond Bracelet
Getting engaged is a big deal, so it is no wonder that you want it done right. Once you know what you are looking for, the decision becomes much easier. Whichever color, shape, or style you are after, always remember that there is still a way to make it unique and tailored for your specific needs. This way, the long-awaited moment will be as magical and memorable as you hope and dream it to be.