Let's face it; most of us watch the various awards shows and whatnot that consist of a red carpet for ulterior motives. One of those motives is to lay our eyes on the outfits and some of the most phenomenal jewelry the most well known celebs are wearing.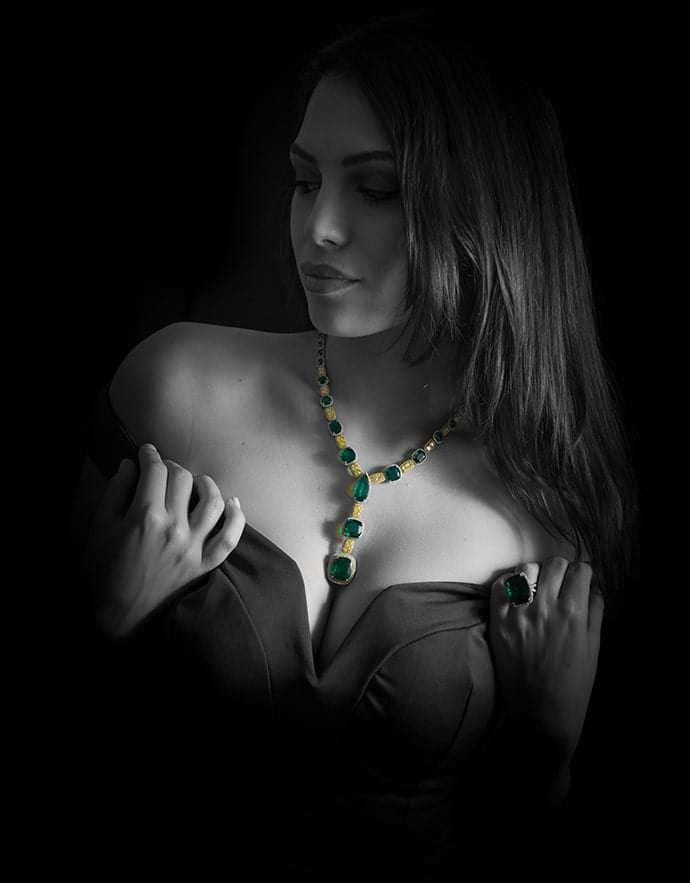 A remarkable 64 carat emerald and diamond necklace
We are simply never disappointed by the divine creations that grace the carpet. However, if one gives it some thought, an intriguing question arises: where do these exceptional jewels come from? Many would assume that celebrities either buy or ask to borrow their jewelry, since they are celebrities after all. Others may think that they would be thrilled to be able to wear jewelry worth millions of dollars, even if it is just for a few hours. But to be honest, the majority of these assumptions aren't entirely correct. You see, although the celebrity might enjoy wearing the glamor and glitz, it is the other side that has more to gain and is therefore willing to pay the price. Let us take a look at the different ways red carpet jewelry makes their way to their wearers and what it entails.
Check out Louis Roe in an unbelievable 65 carat LEIBISH Emerald ring from the collection featuring Gemfields emeralds!
Brand Ambassador
The most expensive, but also most dependable way to get the stars to wear your jewelry is by making them your brand ambassador. This requires shelling out between $15,000 and $500,000 and depending on the deal made between the said celebrity you can expect the piece to be worn at all the red carpet events, appear in one or several posed photos, or make an appearance in a commercial or at various functions on your behalf.
Celebrity Placements
The second option is far less expensive and to be honest, is the most regularly used by the various jewelry companies. This involves going the celebrity placement route, which relies on the relationships of stylists and PR professionals who make their way into your showrooms or preset appointments and choose items for their clients. Aside from possible PR fees, and insurance, there is no cost but there is also no assurance that the celebrity or stylist will decide to pull your piece.
If you are a jewelry company who went this route to place your jewelry, keep in mind that once a celebrity wears your piece on the red carpet, don't consider that a home run just yet. That's precisely when you have to get to work! The challenge is sharing that information with the world so that everyone sees your jewelry on the hands or ears of whoever chose to wear it.
Gifting
Another possibility that is not very dependable and can also be more expensive is gifting the stars with your jewelry. Now, this can work wonders works with a T-shirt company but when it comes to jewelry, the problem with this method is threefold. First of all, there is a very good chance the celebrity will not connect with the piece that you gifted. Second, with other options available to them there is a very low chance of them actually wearing your jewelry, and even if they do there is nothing forcing them to mention your name to the media. Lastly, unless you are willing to part with a very expensive piece, it won't garner much attention even if it is worn in the end.
Wearing their Own
As a last resort, there is always hope that a celebrity will choose to wear one of your pieces that they happen to own. This is very unrealistic because of the aforementioned reasons of having so many attractive offers that there is really no need to wear one's own jewelry. Additionally, any piece of yours that they may have will probably not be at the level you wish to display on the red carpet. Still, if it's just your name you wish to get out there and nothing else, there is always the possibility that a simple and modest star will show up in her own jewels that you designed, which of course also cost quite a bit.
Yes, jewelry on the red carpet is quite the industry. If you were not behind the scenes you would never believe what goes on. So the next time you see an outrageous jewelry piece on your favorite celebrity, understand that in addition to getting to wear such a stunning piece she is probably getting paid an impressive sum to wear that brand. Hollywood is certainly full of surprises from every which end.