Today, we are witnessing global occurrences which create a direct and swift impact upon the diamond and jewelry industry. Putin's invasion of Ukraine which began in February 2022, forced an embargo on the free flow of Russian diamonds throughout the world. Russia's state controlled Alrosa mining conglomerate previously supplied over 28% of the global diamond output. More sanctions followed suit after the initial injunction. Almost a 1,000 foreign companies self-sanctioned by curtailing their Russian operations according to Center for New American Security June 16, 2022 report, 'Sanctions by the Numbers; Economic Measures against Russia Following it's 2022 Invasion of Ukraine'
Beyond the Russia War
We can also reflect on the universal COVID-19 closures in China and Hong Kong that halted China's commerce almost entirely. For many months there were no diamond imports into China forcing the China Diamond Exchange Center in Shanghai to shutter. Adding to that upheaval was the mandated Hong Kong quarantine of 7 and 14 days each.
The Political Price to Doing Business
The dictatorial regime and military terrorists ruling Myanmar forced the outside world to block the gemstone trade in Burma - no goods are coming onto the market at all. Harry Winston and Cartier, both purveyors of ultra-top-tier Burmese ruby and jade along with other gems, were early adherents to rejecting doing business with Myanmar. By 2021, human rights advocates embarked on a big push to implore major jewelers to cease doing business with Myanmar. By banning trade in Myanmar's gems it sent a powerful message and exerted pressure on Myanmar's military junta by restricting profits from that nation's lucrative mining trade.
Increasing Growth of LGD
Soaring inflation and diminished discretionary spending created a perfect climate for LGD to flourish. While all those global conditions play out, lab grown diamonds (LGD) are making steady inroads within the retail landscape. It's as simple as looking at profit margins in LGD—because they're huge.
A leading manufacturer of LGD approached us offering LEIBISH a lucrative partnership cutting and manufacturing LGD fancy color diamonds and selling the goods on our website with up to 500% profit – I was stunned by his suggestion as I am considered one of staunchest opponents of these artificial products. But my son Shmulik, a GG, with a poker face examined the goods. So did I, and they're not bad looking. Luckily, they do not look like an authentic pink diamond, and they are far inferior to the Argyle pink diamond color, face up.
We really just wanted to know what LGD players are doing to imitate genuine LEIBISH Argyle pink diamonds. We did not even consider for a second of entering into a partnership selling LGD - using our brand and reputation to mislead consumers. So I told him, "We'll stick to our values and reputation." His proposal with a 500 % profit is nice, but not for us. We do it the old way; "making wine from grapes and mining and polishing real natural diamonds."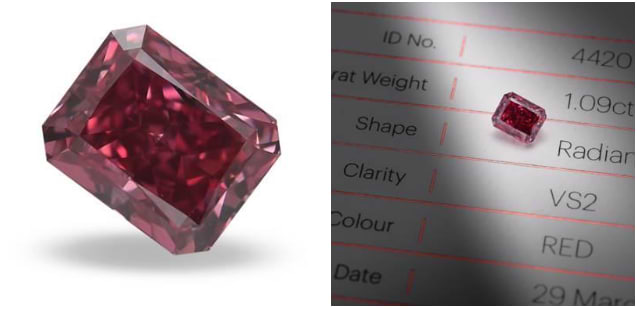 1.09 carat, Fancy Purplish Red Diamond, pRED, Radiant Shape, VS2 Clarity
What's Happening in Surat
The world's largest diamond manufacturing hub, Surat, India boasts over 5,000 diamond manufacturing facilities. This includes the most cutting-edge, large-scale diamond polishing plants in the world. With the absence of Russian rough coming into Surat now, about 25% of Surat factories have pivoted to manufacturing LGD. This is causing a shortage of goods in all fancy colors while keeping strong prices trending upward. Contrary to pessimistic predictions that the jewelry trade will be much slower in 2022 - sales are actually up with healthy gains achieved thus far.
Driving the Trends
The biggest potential we have right now are in diamonds and gemstones. Fine jewelry is one of the highest-growth categories we have, if not the highest, to quote Michael Burke, chairman & CEO Louis Vuitton (LVMH). In addition, all brands are trying to expand their bandwidth by adding other luxury products. For example, Graff recently added fragrance to their collection.
What Recession?
While all this is unfolding, at the same time there's a lot of talk about a potential recession in The US. So, for some people in the trade, the situation is really confusing. I personally feel cool as we have a healthy and growing demand for natural fancy color diamonds and gemstones on our Internet site, and strong trade sales with our regular trade clients keeps us busy.
So far, there's been no recession in the US, nor a real downturn in the diamond industry either. Analysts like to issue apocalyptic predictions and create a name for themselves—proving that they can see into the future. The fact is no one really knows the future. But it's easy to make statements about impending gloom. Instead, leading jewelry conglomerates are reporting great numbers.
LVMH saw H1 revenue rise by 28% to $37.3bn, as Tiffany & Co. enjoyed an "excellent" half-year. The French luxury conglomerate reported that all of its business entities achieved double-digit organic revenue growth over that period.
Watches and jewelry grew by 16% with reports of 26% profit increase from recurring operations, up to $1bn for H1 2022.
"Tiffany & Co. enjoyed an excellent half-year, driven by strong momentum in the United States," reports said. It also singled out Bulgari, Chaumet, and Fred, TAG Heuer, Hublot and Zenith to mention those.
Bernard Arnault, chairman & CEO of LVMH said, "We approach the 2nd half of the year with confidence. Who can argue with Arnault's reports?
Discover What's Trending in Sales
An amazing factor we're seeing is the strong growth of gemstone jewelry sales on our website—we're especially witnessing sapphire and ruby sales excel.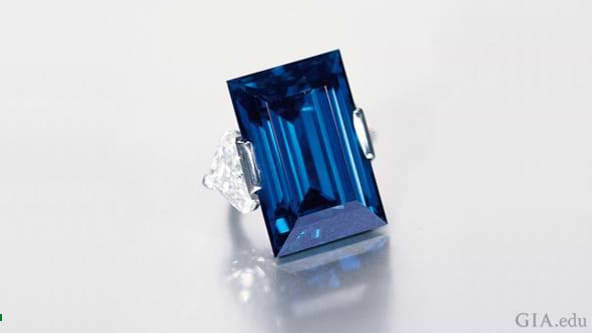 The famed Rockefeller Sapphire weighs 62.02 ct.
Here it is flanked by two cut-cornered triangular cut diamonds, mounted in a platinum ring signed Tiffany & Co. Courtesy: Christie's Images Ltd., 2015
Birthstone for September---Sapphire
September's birthstone, the sapphire, traditionally carries remarkable symbolism like sincerity, truth, (leading to the expression "true blue") plus faithfulness and nobility. For centuries, this elegant jewel adorned the robes of both royalty and the clergy. Ancient Greek and Roman elites believed sapphire protected them against harm and envy. Medieval clerics donned sapphire to symbolize heaven, and ancient Persians believed the earth actually rested on a giant sapphire which made the sky blue.
This lustrous September birthstone was also cherished for its healing powers. Medieval Europeans believed that sapphire cured plague, boils, and diseases of the eye, and was thought to be an antidote to poison.
Today there are many ways to celebrate life's milestones with sapphire besides it being the September birthstone. Sapphire is a treasured wedding anniversary gemstone, commemorating the 5th and 45th anniversaries. If this stone is enticing you—and it should—then act now. It takes time for us to carefully craft a gorgeous sapphire ring made just for you at our LEIBISH factory.
Love and desire never go into a recession. Not even the pervasive Artificial Intel and affect it. So, we say it's always a good time to spoil yourself.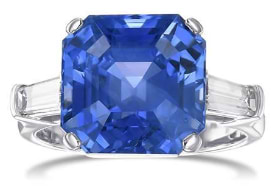 Emerald No Heat Blue Sapphire and Diamond Three Stone Ring
Best regards,
Leibish