Martian Pink Diamond Sells for $17 Million in Hong Kong
Though it was estimated to fetch an impressive $8 million, the famous Martian Pink diamond, a rare round pink diamond, surpassed all expectations by selling for a mind-boggling $17.4 million. The magnificent stone was auctioned for the first time in 36 years, at a Christie's show in Hong Kong. The Martian Pink is known for being one of the largest round fancy intense pink diamonds in the world, along with another famous pink diamond, the Williamson Pink, which belongs to Queen Elizabeth II. The diamond was the largest of its kind ever to be auctioned. A total of $80 million was earned at the Christie's show, though the highlight was most definitely the unique pink gem.
An anonymous bidder purchased the highly sought after stone after a ten minute bidding war. This purchase has put this auction on the map, though Hong Kong is already the world's third biggest auction center, after New York and London of course. Set in an 18K gold ring, the diamond could be a fabulous, and expensive, piece of jewelry for the new owner, or just a very wise investment. The previous owner had speculated that the Martian Pink would bring in a higher sum if sold in Hong Kong and proved to be correct. Items as unique and significant as this one are rarely auctioned off like this, making this sale a special and even historic occasion.
Related Diamond Articles
Pink Diamond Auction
Famous Beau Sancy Diamond to Be Auctioned
Rare Blue Diamond Expected to Fetch $15 Million at Auction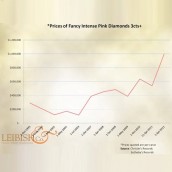 Diamond Investments - Investing in Diamonds