Pat Bowlen Honored with Super Bowl Ring
There just isn't any other way to commemorate a super world wide event, then to design an absolutely gorgeous diamond memento. We have seen Super Bowl rings before, and in fact, it wasn't that long ago that Jamal Lewis sold his ring for a quick $50k! Still, regardless of how macho and rough the sport may be, everyone loves a beautiful luxurious diamond ring. It wasn't so surprising that Pat Bowlen, the owner of the Denver Broncos, had a Super Bowl 50 ring created in his honor that could put many pieces of jewelry to shame.
The Ring
The ring consists of 194 diamonds that weigh 5.05 carats and 18 sapphires set in 10K white and yellow gold. Together the gemstones create the Super Bowl 50 logo as well as 3 Lombardi trophies and the team logo. Additionally, the words "World Champions" are etched along the sides in bold lettering.
About Pat Bowlen
Pat Bowlen is known as one of the most successful team owners in all of sports. The Denver Broncos appeared in seven Super Bowls during his time as owner, which is more than the team's five losing seasons. Bowlen stepped down in 2014 due to Alzheimer's disease and was replaced by CEO Joe Ellis while former quarterback John Elway became responsible for football operations.
As beautiful and magnificent as this ring may be, it is perhaps surprisingly not the first or last piece of jewelry that will be created in honor of football. Furthermore, other football paraphernalia such as trophies have been ornamented with precious materials and stones, such as the sterling silver Super Bowl trophy awarded to the Super Bowl XLVIII winner.
check out our extraordinary items...
Related Diamond Articles
The Super Bowl Trophy: A Truly Luxurious Sterling Silver Tribute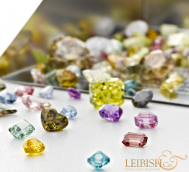 Beyoncé Stuns in Fancy Color Diamonds at Super Bowl 2016
Diamond Soccer Ball Worth $250,000