The Message from This Year's Oscars
The 95th Academy Awards presented on March 12, 2023 in Hollywood, was a star-studded affair that did not disappoint. And this year it also sent a message about how the film industry is broadening and how this diversity contributes to us all.
Each year, film buffs and celebrity watchers eagerly anticipate who will win— and what will they say in their acceptance speech. But if we are to be completely candid, we'd also admit we want to see what the stars are wearing on the carpet— their glamorous gowns and tuxes, and most of all, the priceless jewels.
This year's award ceremony gave us plenty to rehash after the show.
Traditional Hollywood Yields to a Wider Demographic
An old joke said that Leo the Lion, Metro Goldwyn Meyer's (MGM Studios) iconic trademark was the only non-Jew at the studio. And as recently as a decade or so back, most of Oscar winners were white Hollywood stars. You could barely find a black or Asian actor or director to be acknowledged for their contribution to the motion picture industry.
What a difference a few years make. Look the cinematic landscape today- the current picture is a multi-colored and multi-cultural one with expanded representation.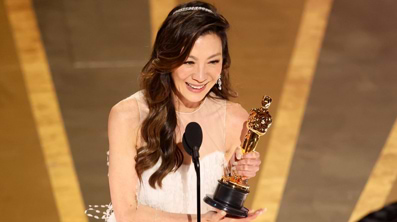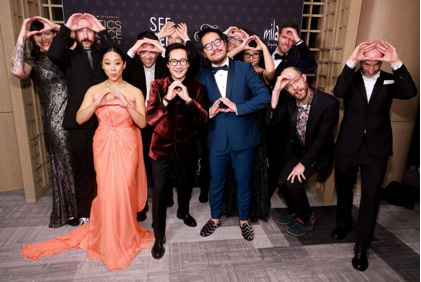 Film buffs are still over the moon with this year's history making wins for Asian performers.
And the Award Goes to . . .
Michelle Yeoh, for best actress, Daniel Kwan, Daniel Scheinert, Jonathan Wang for best directors, and Ke Huy Quan for best supporting actor—in Everything, Everywhere, All at Once. The film kept the momentum going with best supporting actresses, and best adaptation of a screen play. In all, it swooped up 6 awards that evening. Good for them.
While some pundits had written Yeoh off as 'past her prime,' today it looks like she's just warming up.
Something Worth Saying
It was a glamorous turnout with global contributions this year. But did you take note of the jewelry parading down the champagne carpet? It delivered a brilliant a message too.
Each piece was well thought out for the event, its wearer, and their ensemble. While icy white diamonds put on a spectacular performance, we discovered that colored gemstones are having a moment too.
The breathtaking ear pendants Rihanna wore were just for starters. Donning original designs by Alaïa, she deftly chose fancy deep orange brown pear shaped diamond drop earrings in 18K yellow gold and platinum by London-based Moussaieff jewelers. The brown stones weighed 35.82 and 34.66 carats each, complemented by pear shape fancy yellow diamonds of 6.32 and 6.01 carats each, with square cut Colombian emeralds linking the diamonds.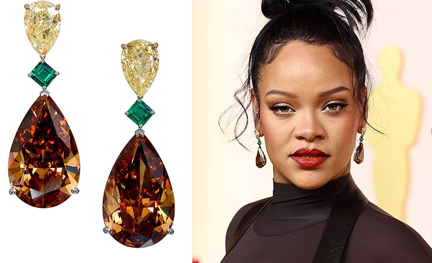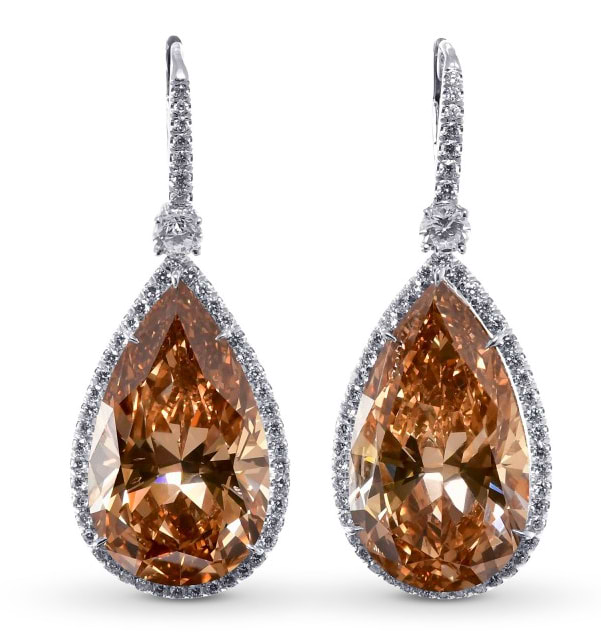 LEIBISH: Extraordinary Fancy Deep Brown Yellow Pear Shape Halo Diamond Earrings (42.46ct)
Two's Company
Michael B. Jordan proved that two is not too many by wearing twin Jean Schlumberger for Tiffany & Co., Bird on a Rock brooches. The diamond encrusted birds were perched atop eye-popping sized gemstones. First a giant Morganite over 32 carats, and its companion brooch boasting a 58+ carat green tourmaline crafted in 18K yellow gold. Jordan's satin lapel on his custom Louis Vuitton tux created the ideal backdrop for these impressive jewels.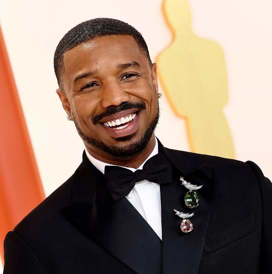 Oh My!
Oh—this is gorgeous. Demonstrating that vintage jewels still bedazzles a crowd, Sandra Oh's choice of a circa 1980s necklace with its bold citrine medallion was a brilliant pairing with her marigold tone chiffon gown by Giambattista Valli Haute Couture.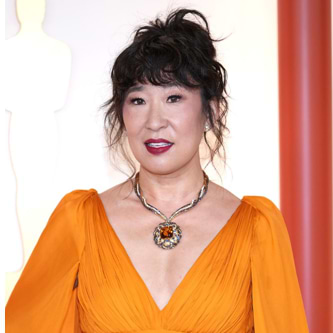 Presenter Emily Blunt paired her sleek white Valentino gown with a splash of pink from her statement earrings as a perfect finishing touch. The dramatic jewels featured 76.17 carats of pear-shaped pink sapphires, with 5.89 carats of white diamonds done up in 18K white gold from Chopard's Haute Joaillerie collection.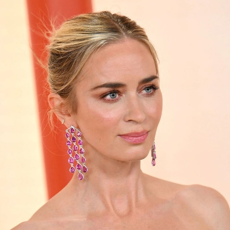 Oscar winning actress Jessica Chastain, the leading muse of Gucci's high-jewelry campaign went all out with her Gucci look---including her opulent neck piece. This impressive necklace from the Hortus Deliciarum (Garden of Delights) collection boasts about 80 carats of Tsavorites and diamonds set in 18K white gold.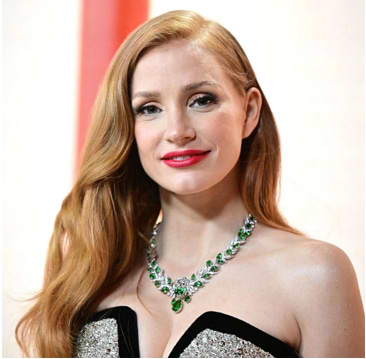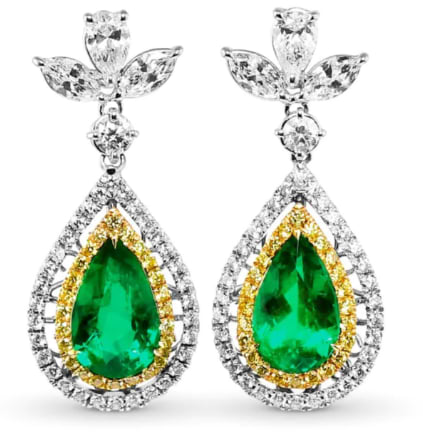 LEIBISH Colombian Pear Shape Emerald and Diamond Couture Earring, 7.67Ct
A Timeless Motif
And striking a powerful image was none other than Angela Bassett in a most regal purple Moschino frock. Her gown's sumptuous bow neckline made the perfect counterpoint for Bulgari's high-jewelry Serpenti necklace artfully crafted in 18K white gold and over 70 carats of shimmering white diamonds. The collection originally debuted in 1948, but its striking appeal is as fresh as tomorrow morning. Bulgari celebrates the motif's 75th anniversary throughout 2023.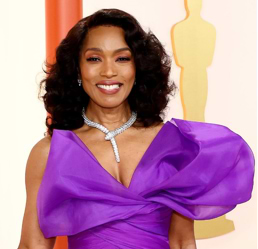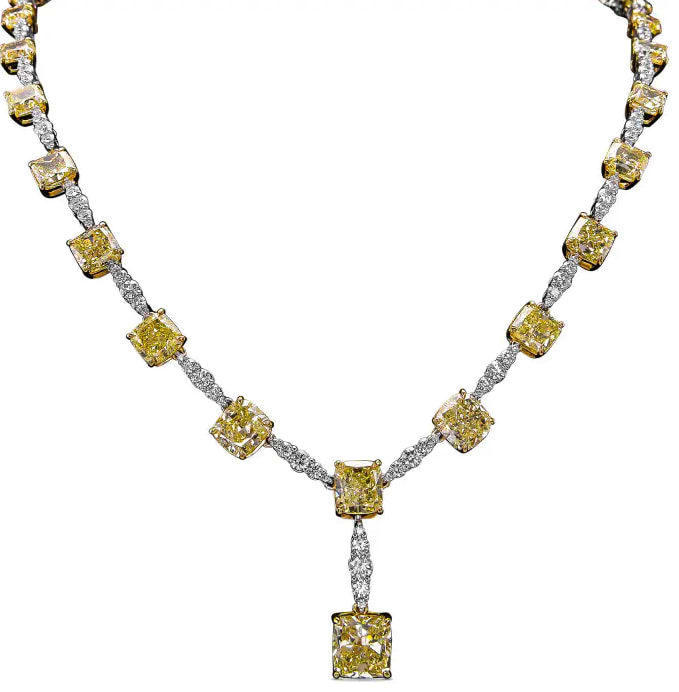 LEIBISH Fancy Yellow Cushion Diamond Necklace, 47.61Ct TW
Perfect in Purple
Not to be missed was Allison Williams gliding along the carpet in a delicate blush colored gown accented by 1950s vintage diamond earrings in platinum from Fred Leighton, and a stunner of a purple sapphire and diamond ring set in platinum.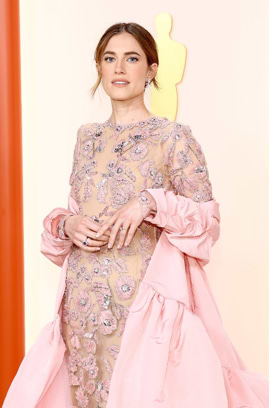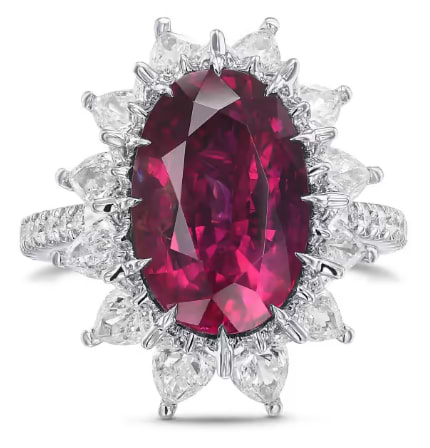 LEIBISH Extraordinary Oval Ruby and Diamond Halo Side Stone Ring, 10.02Ct TW
The Take-Away from the 2023 Oscars
The evening's message was one of celebrating an inclusive array of talent—with every skin color and ethnicity. Expanding the Awards to include Asians and people of color was a refreshing sight we all embrace. The era of solely elevating the white American male hero and traditional starlets has moved on to recognizing the talents of our global culture.
And let's not forget the luxurious jewels. The beautiful stars gracing the carpet proved that colored gemstones hold their own in a sea of diamonds---it was a night to remember. ▼