Lorraine Schwartz, the mastermind designer behind some of the most brilliant and famous pieces seen upon our favorite celebrities at high profile red carpet events, realized at this year's Golden Globes in January that her $250,000 diamond was missing from her finger. Though the designer reported the theft at the time of the event, it seems that her ring had fallen from her finger onto the red carpet and was found by a carpet cleaner later on.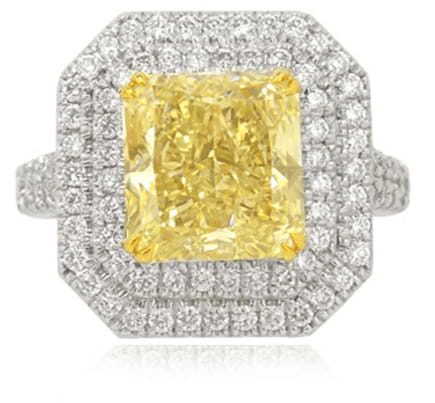 A similarly styled yellow diamond ring from LEIBISH, a 6.45 carat Fancy Light Yellow Radiant Diamond Double Halo Ring
The Unfortunate Event
An otherwise glorious evening turned into one filled with turmoil when designer Lorraine Schwartz discovered that her 10.62 carat yellow diamond had disappeared from her finger. She suspected that it was stolen from her while she was wearing it at the event and told as much to the police. It would only be months later, in July, that the truth would come out.
Diamond Thief Uncovered
Unlike other missing and stolen diamond instances where the diamond, or the thief, is never discovered, this particular story has a happy ending.
It turns out that the carpet cleaner found the diamond, which had fallen onto the red carpet. The culprit, Henry Bernal, reportedly gave the diamond to his girlfriend, Christina Gonzales. The two decided to see if they could make some money off of their discovery and brought the stone to Kevin Jewelers. Luckily for Schwartz, the couple decided to decline the store's offer to buy the diamond, and continued on to the GIA, where they sought to have it certified.
Thanks to the diligent system of the Gemological Institute of America, which only allows a diamond to have one certification number, the GIA was able to notify the authorities upon Bernal's request to have the stone certified.
Once apprehended, Bernal told the police that he neglected to report the diamond because he does not trust law enforcement. The theft in its entirety is currently being investigated, but thankfully, the beautiful and rare diamond has been returned to its rightful and deserving owner.
Take-Home Lessons From this Story
This incident does not only make for a good story, but an important lesson as well. If it is true that the ring fell off of Ms. Schwartz's finger, then it is important for women every to note that you must be wearing a ring in the correct ring size. If your ring is too big for your finger, it can easily slip off while you are engaged in some sort of activity and you may not notice. Another lesson to note is that when you are wearing particularly fancy jewelry, like a big yellow diamond ring, for example, the desirable nature of the piece increases your risks of being noticed and when surrounded by the right people, may be stolen right from your hand – so check your hand every once in a while to make sure that your jewelry is still there! Finally, due to this diamond being certified, the crook and the diamond were able to be located. Had it not been brought in for certification, the large yellow diamond would not have been identified as Ms. Schwartz's but would have remained in Bernal's possession for good.
It is always important to seek out a certified stone when you are diamond shopping, and to insure it right away to best protect your purchase.
Have you ever had a piece of diamond jewelry stolen and recovered? Let us know in the comments!