8 Most Expensive Celebrity Rings for 2023
Celebrities are closely followed by fans across the globe for a myriad of reasons. One of these is for the purpose of fashion tips and ideas, which of course includes elaborate jewelry. While many of the most festive pieces can be seen on the red carpet of various events, a great deal of celebrity "bling" makes and appearance when a celeb gets engaged. Similar to the way in which many of us drool over luxury cars of the rich and famous, we tend to stare open-mouthed at the substantial and even outrageous diamond and gemstone rings that some celebrities boast. Let us take a look at the most expensive celebrity engagement rings of all time, their stones, their styles, and how we can be inspired by them.
F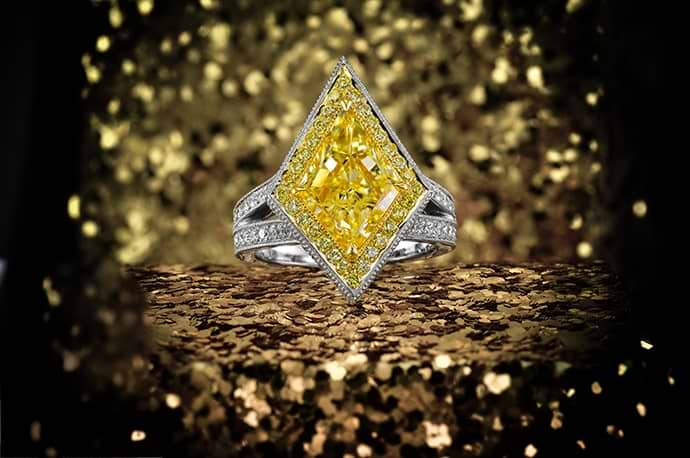 A 3.97 carat yellow diamond kite, halo ring
1. Mariah Carey
Anyone who knows anything about Mariah Carey knows that she is everything but subtle. It therefore should come as no surprise that her engagement ring is one of the most expensive engagement rings in the industry, and on the planet! With a price tag of $10 million, Mariah's ring consists of a 35-carat diamond flanked by two smaller diamonds. It is impressive that she manages to lug this kind of weight around!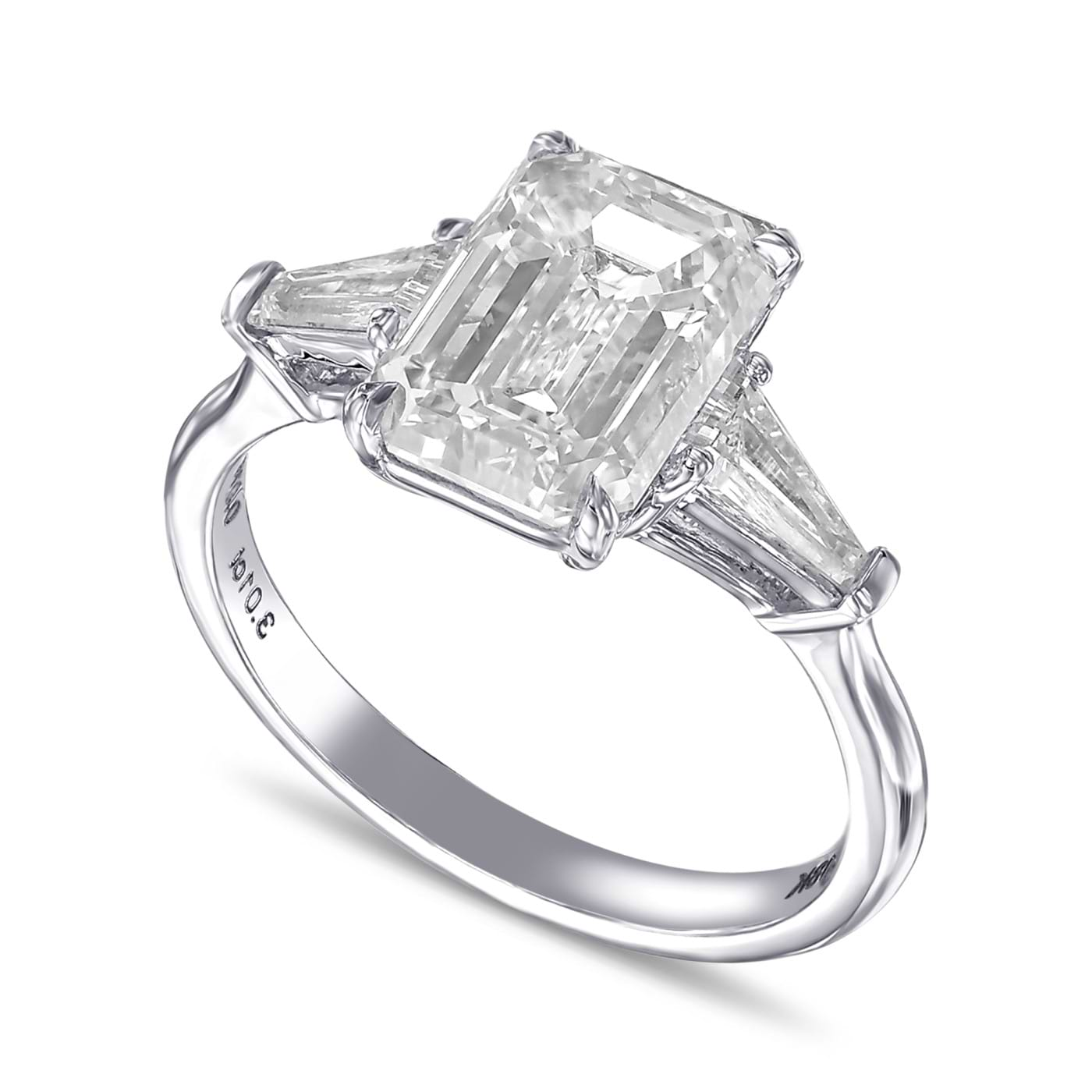 LEIBISH White Emerald 3 Stone Ring 3.52 CT
2. Kim Kardashian
If the owner of the previous lavish ring was any indication of what type of person goes for these excessive jewels it shouldn't be at all surprising that our next celebrity is none other than Kim Kardashian. Kim received a 15-carat diamond ring from Kanye West and it was rumored to have cost nearly$ 8-million. Her enormous rock was mounted upon a delicate diamond-studded band. Again, how one manages to wear such a massive stone on a daily basis so effortlessly is a real mystery.
3. Beyoncé
Beyoncé's engagement ring will forever remain one of the more elaborate and expensive engagement rings that belongs to someone who is perceived as flamboyant but is really more modest-natured. The 18-carat diamond ring cost $5 million and sits upon a double band.
4. Jennifer Lopez
Ms. Lopez most definitely has a track record for expensive engagement rings since she not only received a stunning 4.5-carat pink diamond engagement ring worth $1.2 million from ex-fiancé Ben Affleck, but she also received an 8.5-carat ring worth $4.1 million from now –ex-husband Mark Anthony.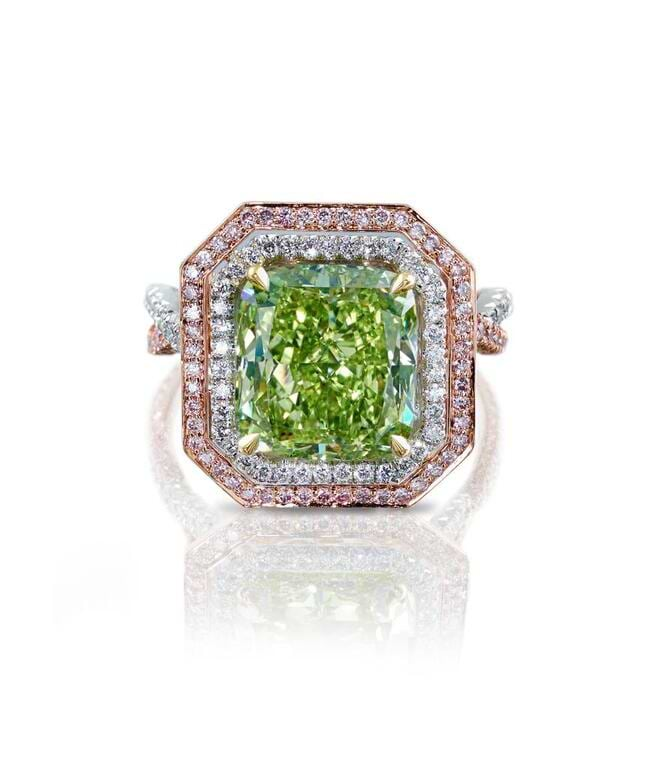 LEIBISH Fancy Intense Yellow Green Cushion Double Halo Diamond Ring 5.24 CT
5. Blake Lively
If you want to know what a "simple" engagement ring for a "modest" celebrity looks like, take a look at Blake Lively's 12-carat $2.5 million ring from Ryan Reynolds.
6. Anna Kournikova
One of the most beautiful engagement rings in the celebrity realm belongs to someone a little less likely, and is not nearly as expensive as some of these other monster rings. Anna Kournikova's pink and colorless diamond ring boasts 11 carats of diamonds and is worth $2.5 million. The pear-shaped pink diamond is flanked by two colorless diamonds for the ultimate princess look.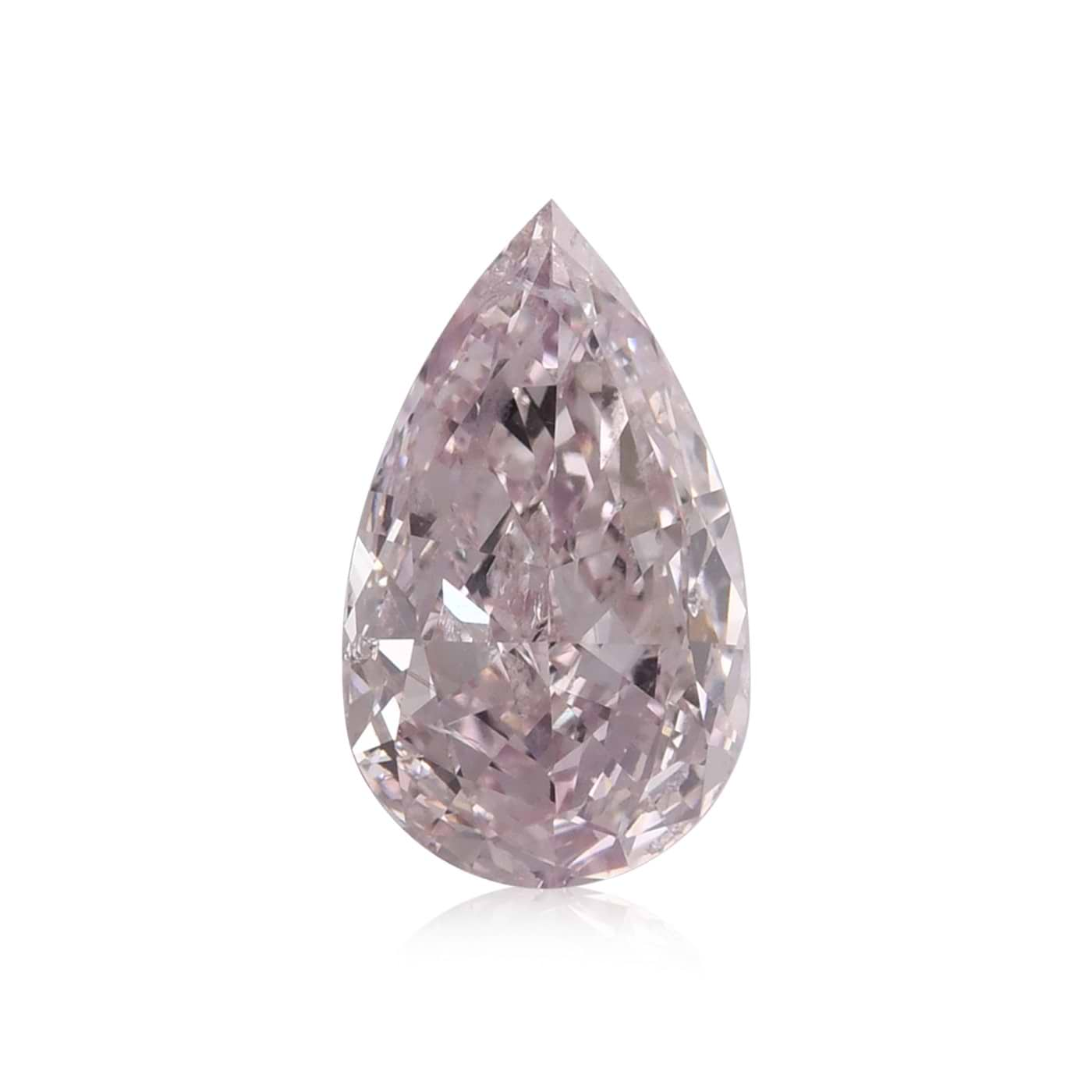 LEIBISH Fancy Light Pink Diamond, Pear Shape. 3.03 CT
7. Katie Holmes
Another "modest" diamond ring for a down-to-earth celebrity was the one Tom Cruise gave Katie Holmes back in the day. This mere $1.5 million ring included a 5-carat oval diamond surrounded by 6 carats of smaller diamonds.
8. Angelina Jolie
When it comes to Angelina Jolie and flashy jewels, she is a real wild card. On the one hand, she is well known for her stunning and enormous emerald jewelry that she wore on the red carpet years ago. On the other hand, she is seen and perceived as being a celebrity who cares first and foremost about humanity, family, and health. Therefore it is somewhat fitting that although far from being affordable for most people, Angelina's engagement ring is quite simple given her wealthy background. Though her ring boasts a 16-carat diamond, it is only worth $500,000. This ring, given to her by Brad Pitt, shows that large does not necessarily mean more expensive.
Aside from seeing many digits (specifically zeros) the common denominator between most of these rings is that they are significantly larger than a standard size engagement ring. As mesmerizing as each and every one of these rings may be, it does not necessarily mean they are ideal. Bigger isn't always better. Yes, it certainly makes a statement and yes, it can be seen from a mile away. However, smaller frames deserve smaller jewels, and this works the other way around as well. Some of these rings are simply overbearing. Having said that, there is certainly something to take away from these exquisite pieces. Most of the rings have a traditional element, which shows that as exciting as it may be to have modern touches to jewelry, it is also fitting to have engagement rings exhibit timelessness with a solitaire style or traditional shape. Other factors to be taken into consideration is that color diamonds make wonderful choices for center stones as Jennifer Lopez's former engagement ring has demonstrated, as well as Anna Kournikova's. When seeking an engagement ring for yourself or a loved one, bear in mind these important points which include but are not exclusive to: less can be more, quality vs. quantity, tradition, and inserting personality into one of the most important pieces of jewelry you will ever own.