Practically every woman dreams of her wedding dress from the time she is very young. As a child, the ideal dress may be something inspired by a fairytale, or a favorite princess. As you grow older, your perfect dress changes. These changes are based on fashion styles and your own developing personal taste. No matter how conservative, outlandish, or classy your taste is, there's one thing that is certain: the dress must be absolutely perfect. What would you say to a wedding gown with thousands of pearls? Probably, 'yes please!' Well, it may not be yours just yet, but a pearl wedding gown was just unveiled in Tokyo, valued at $446,000. The stunning gown features over 13,000 pearls, some of them extremely rare. The jewels are what account for the steep price.
The pearl dress weighs thirteen pounds, double the weight of an average wedding gown. Japan's figure skating sensation, Miki Ando, modeled the jeweled gown. The champion rather enjoyed donning the piece, though she did state that the dress was a bit heavy to walk around in. Well, with 13,000 pearls, it should be heavy! The dress is not for sale, so grooms can relax. If it were for sale, there would surely be a bride interested in purchasing it. The rare pearls used for the gown were from designer Mikimoto. The designer claims she "wanted to show the beauty of Japan in the wake of its disaster."

Though this dress is quite special, it is not the first wedding gown to be adorned with stones or jewels. One example of a famous jeweled dress is the 12 million dollar diamond wedding dress designed by Martin Katz and Renee Strauss. The dress featured 150-carats worth of diamonds, which were laced throughout the dress. Another example is a dress that was shown in a jewelry store in Shangrao, eastern China. A whopping 9,999 carats of gems adorned the gown.
As gorgeous as these gown are, there are other ways to make a wedding gown the talk of the century. One way would be to imbed colored diamonds throughout the dress. Colored diamonds are unique and rare, and becoming increasingly popular and valuable. These diamonds would transform the garment into a fairytale wedding gown. In order for it work, smaller diamonds would need to be used. This would prevent the dress from being too heavy, or too expensive for that matter. Or, perhaps the right piece of jewelry could help set the mood. Below is an extraordinary diamond neckalce purchased by some of LEIBISH's private customers who had this specially designed as part of an investment portfolio.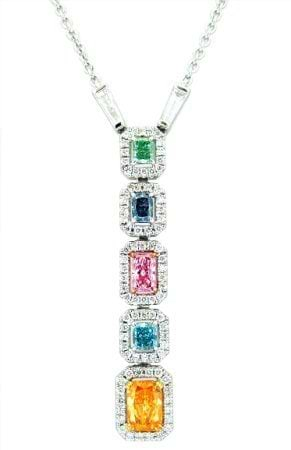 The Four Seasons Pendant contains 0.79ct, Fancy Vivid Orange diamond, a 0.19ct, Fancy Vivid Blue-Green diamond, a 0.22ct, Fancy Vivid Purple-Pink diamond, a 0.21ct, Fancy Vivid Blue diamond, and a 0.15ct, Fancy Vivid Green diamond
There are not many dresses more distinctive than a dress featuring colored diamonds. Wedding dresses are traditionally white, but having tiny colored diamonds throughout the dress will just add more beauty, without taking away from the white tradition.