Since antiquity, knowledgeable collectors, whether they be powerful East Indian moguls or European aristocracy, have fawned over the refreshing tints of natural emeralds. Their difficulty in harvesting, their scarcity, and beauty all play a role in creating a hearty appetite for emeralds among connoisseurs.
These lively gemstones are also known to gather their own fascinating stories along the way. An intriguing provenance adds cachet to the already compelling appeal for the green sparklers.
The Rockefeller-Winston Emerald —a Name to Remember
Take the Rockefeller Emerald, for example. In 2017 Harry Winston snapped up the 18.04 carat Rockefeller Emerald at Christie's New York auction for $5.5M – making it the most expensive per carat price ($305,500. per carat) to date, for an emerald.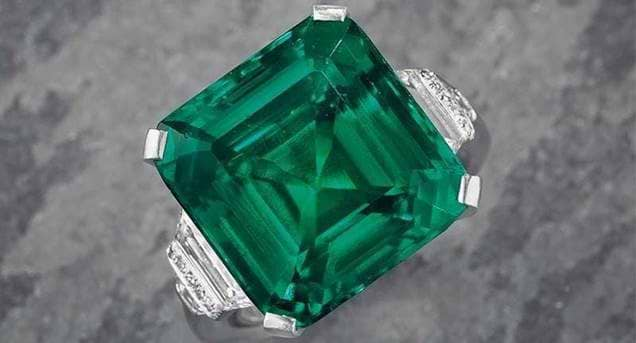 The stone's history winds a bit—as do many important jewels. It was originally acquired in 1930 by John D. Rockefeller Jr. as a brooch made by Raymond Yard for Rockefeller's wife, Abby Aldrich. Master jeweler Yard was later tasked with disassembling the brooch upon his wife's death so that the stones could be distributed to Rockefeller's children.
David Rockefeller (the elder Rockefeller's son) was the recipient of the center emerald. He then re-commissioned Yard to turn it into a ring. A generation later, the exquisite stone went to another American collector.
It's not uncommon for an item of jewelry's price to soar once a famous name is linked to it. After Harry Winston's successful acquisition, the stone was renamed The Rockefeller-Winston Emerald Ring---a prime example of the power of association—in this case, 2 world class personalities.
A Star Falls for Emeralds
The 23.46 carat Bvlgari pendant-brooch made for Elizabeth Taylor was sold at a special auction, The Collection of Elizabeth Taylor; Legendary Jewels Sale in 2011 at Christies New York for $6.5M.
Richard Burton purchased the emerald for Taylor while the two of them were in Rome filming Cleopatra. Burton jokingly said, "I introduced Elizabeth to beer, and she introduced me to Bulgari." The name Bvlgari and Rome are inextricably intertwined for their timeless jewels. The famed jewelry house has adorned other screen legends like Sophia Loren, Gina Lollobrigida, and Ingrid Bergman as well.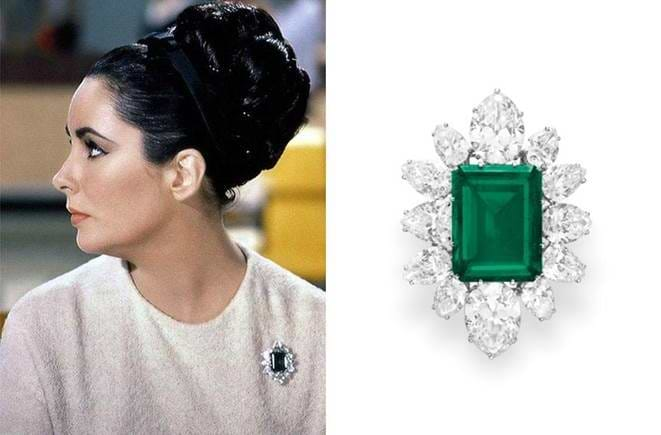 The much anticipated Taylor auction ended up being one of the most spectacular successes for jewelry ever sold at auction. The pre-auction estimate placed her collection at about $30M. But when all the sales were tallied, it came to $137M, well over 4 times the pre-sale estimate. Much of the proceeds for this historical event were earmarked for Taylor's favorite charities, including AMFAR (Aids Foundation) and a Botswana hospital charity trust.
Some of the reasons for the enduring popularity of emeralds lies in their lush green color along with the large carat sizes possible with emeralds. In this light, they actually provide collectors with great value for their investment.
Where to Find Top Emeralds
While there are several key emerald deposits found around the globe, Colombia and Zambia are judged to generate the finest crystals for commercial output. But Afghanistan's Panjshir Valley mines also produce outstanding quality stones.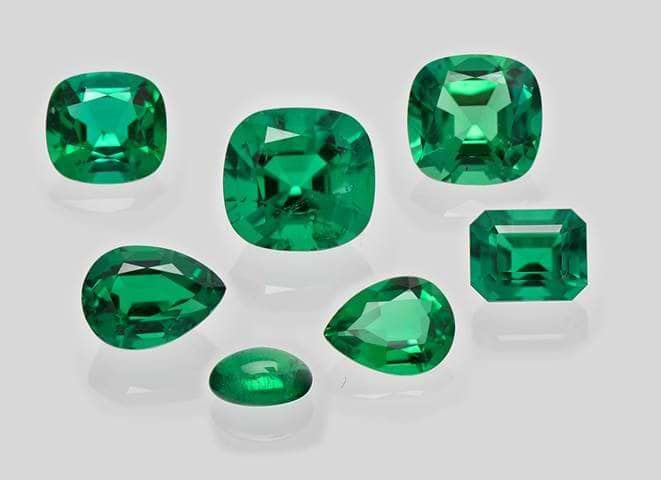 Photo Xaysonghkam, SSEF
LEIBISH Carefully Curates Top Emeralds
Unfortunately Afghanistan's current political climate obstructs commercial export of large quantities of emeralds. So, for our fine jewelry, we carefully select top Colombian and Zambian goods.
I personally like Colombian emeralds, and we use them extensively here in our workshop. They face up with a lush vivid green color reminding me of Colombia's hills where the emerald mines are located.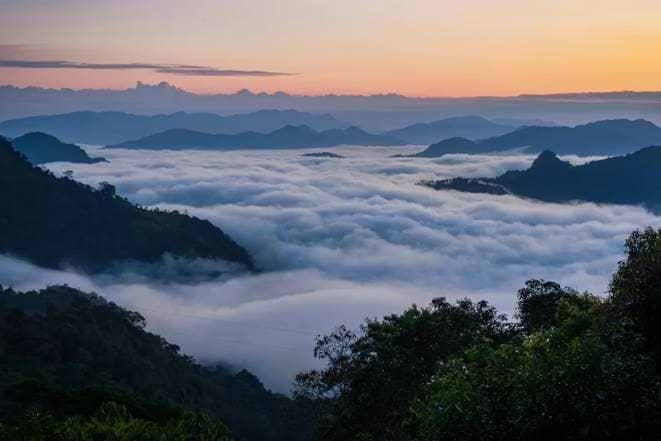 My favorite emerald ring is a fabulous Colombian emerald with diamond side stones ring, with a center emerald weighing 2.54 carats, certified by Gṻbelin Gem Lab. The emerald is styled in a split claw 4-prong setting, with F+ color trapezoids set in a channel milgrain setting. The ring is mounted in platinum and 18K yellow gold.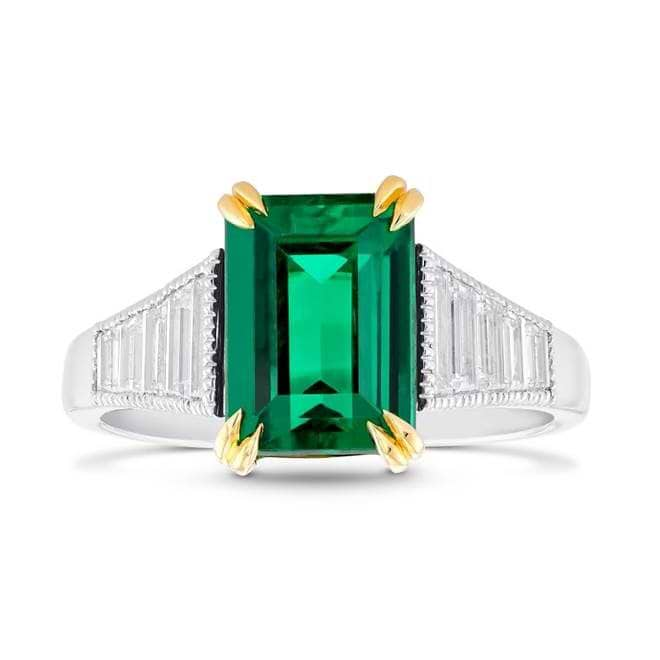 Colombian Emerald and Diamond Sidestone Ring
But we also use Zambian emeralds extensively.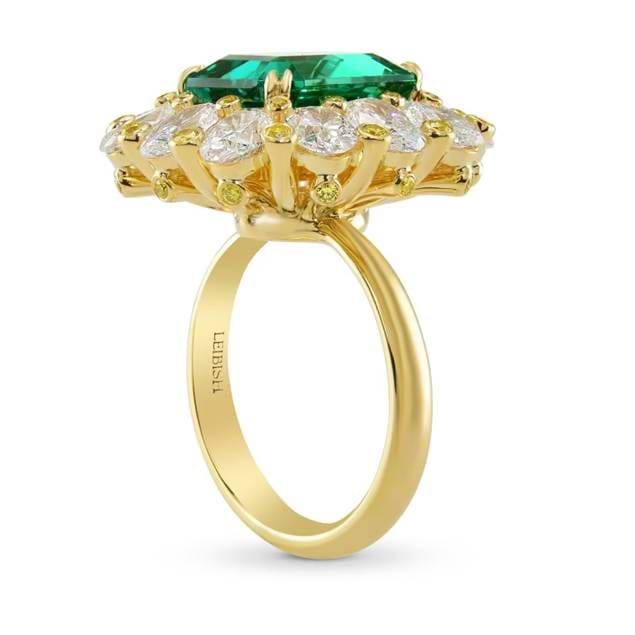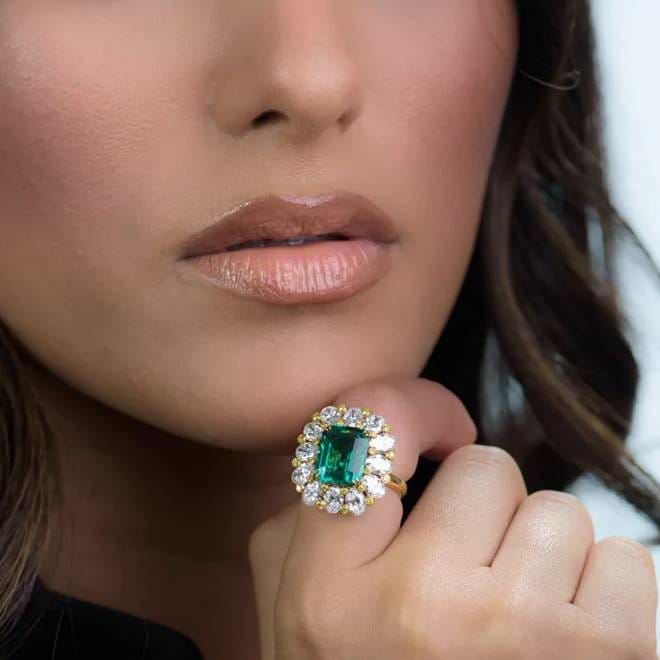 No Oil Zambian Emerald and Fancy Intense Yellow Diamond Extraordinary Ring
The center stone was cut in-house at LEIBISH, and the ring was made by our in-house designer Chavi Itzhakov with fine canary yellow diamonds as a hidden halo under a white halo of diamonds.
For evening jewelry we usually recommend wearing larger stones, like this memorable piece.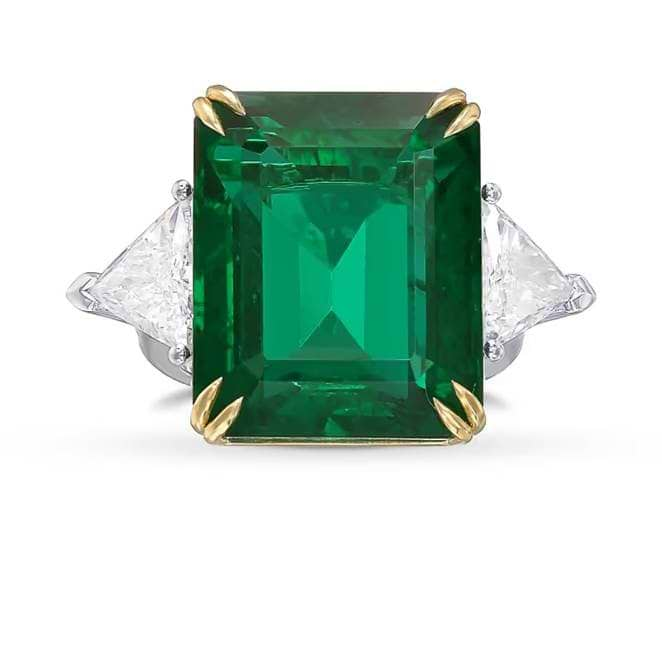 Vivid Green Octagon Emerald and Diamond 3 Stone Ring
This stunning vivid green octagonal cut Zambian emerald and diamond 3 stone ring, with a center gemstone weighing 20.78 carats is certified by C. Dunaigre (CD) Gem Tech Laboratory.
The center stone is flanked by 2 collection color trillion shape diamonds. The 3 stones are styled in a split claw 4 prong setting for the emerald center, and prongs with v-tips on the side diamonds. The ring is mounted in platinum and 18K yellow gold. Learn more about this one-of-a-kind ring by contacting our Customer Service department.
The greatest appeal to emerald jewelry for serious collectors is their attractive price point related to their carat size. For example, you can buy an impressively-sized high quality emerald with superb color for much less money than a similarly sized diamond. This stunning 22.48 carat emerald ring retails for $187,500.
Everything Old is New Again
The eternal appeal of emeralds often propels them to headline news that covers ancient discoveries. Veteran gemologist Gary Roskin, of Roskin Gem News Report, discusses an emerald that lay hidden for over 400 years in the shipwrecked Nuestra Señora de Atocha off Florida's coast. Considered to be the trophy of the salvaged horde of this ancient galleon, it was only retrieved 37 years ago. It is expected to fetch some serious money in an upcoming auction.
Estimates say the 6.25 carat ancient emerald set in a simple yellow gold band could fetch $70,000 or more.
So, it appears that not only diamonds are forever – but emeralds are to.