ALL OUT GLAM
The 94th Academy Awards Presentation held at Hollywood's Dolby Theater on Sunday March 27, 2022, exuded the glamour we long to see at celebrity sightings.
At different eras, this iconic event has captured the zeitgeist of the times. Through the 1970s and into the early 1990s, fashion journalists had a ball tearing into some of the more outré men's ensembles that might be called epic fails. Political statements also wove their way onto the red carpet via 'statement' outfits worn by celebs over the years, too.
The Academy Awards of last year, 2021 was a unique hybrid affair—where attendees could keep masks off when the cameras were filming them—and then whoosh—on they went again when the show broke to commercial or attendees (a petite crowd of 170) were off-camera.
That was Then, This is Now

Enough of that. This year's Oscars was all about the glam. And not just common glitz. The gowns, coiffures and jewels were classic Old Hollywood to the minutest detail. In some way, you could say this year's Academy Awards was making a bold statement of its own.
With the world so topsy turvy right now, a return to classic Hollywood glamour is both comforting and reassuring that some things in life can still be counted on.
The New York Times proclaimed, "The Oscars Red Carpet is Living Again!"
Before the Show – the Stroll
The Academy Awards gives us an elaborate red-carpet stroll where we can ogle bigger than life celebrities wearing what we can't--- haute couture gowns and tuxedos, plus high jewels that dreams are made of.
Classically elegant evening wear is best accessorized by important diamonds and gems. We saw those plentifully, this time around. Women looked like the Hollywood stars we remember even if it was just in old movie reels. Perhaps the Oscars provided another kind of celebration beside those waiting to hear who-won-what. The 2022 attendees could actually get really dressed up sans mask and schmooze with their peers. That was reason enough to smile broadly and look relaxed—whether or not they were up for an award.
Let's take a look at a few of the winners in the jewelry category. We didn't hear a peep about lab grown diamonds at Sunday night's soiree. These jewels were the real deal, all sizeable, and every one of them were envy-makers.
Town and Country Magazine noted, "Diamonds were certainly the stars' best friends—but so were sapphires, emeralds, and pearls."
The More the Merrier
Pendant earrings had a moment-- several moments to be exact at Sunday night's outing. One of the benefits of wearing diamond dangle, chandelier, or duster earrings is the light show they create. These intricate earring types are articulated in several places allowing them to move gracefully with the slightest gesture of the wearer. In doing so, light is captured and reflected off of each diamond's and gemstone's facet. It's high drama in the most confident way.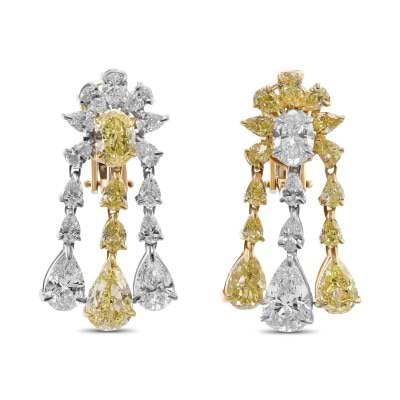 Fancy Yellow and White Diamond Pear Oval Drop Earrings (12.55 Carat TW)
This was the night to bring out the big rocks. Nicole Kidman's Hollywood Golden Age structured gown replete with a 1950's peplum flounce was artfully balanced by her diamond neckpiece. She flaunted a whopping 33.42 carats of diamonds around her neck including a rare canary yellow stone. The jaw-dropping platinum necklace boasts 33.42 carats all set in 18K yellow gold and platinum.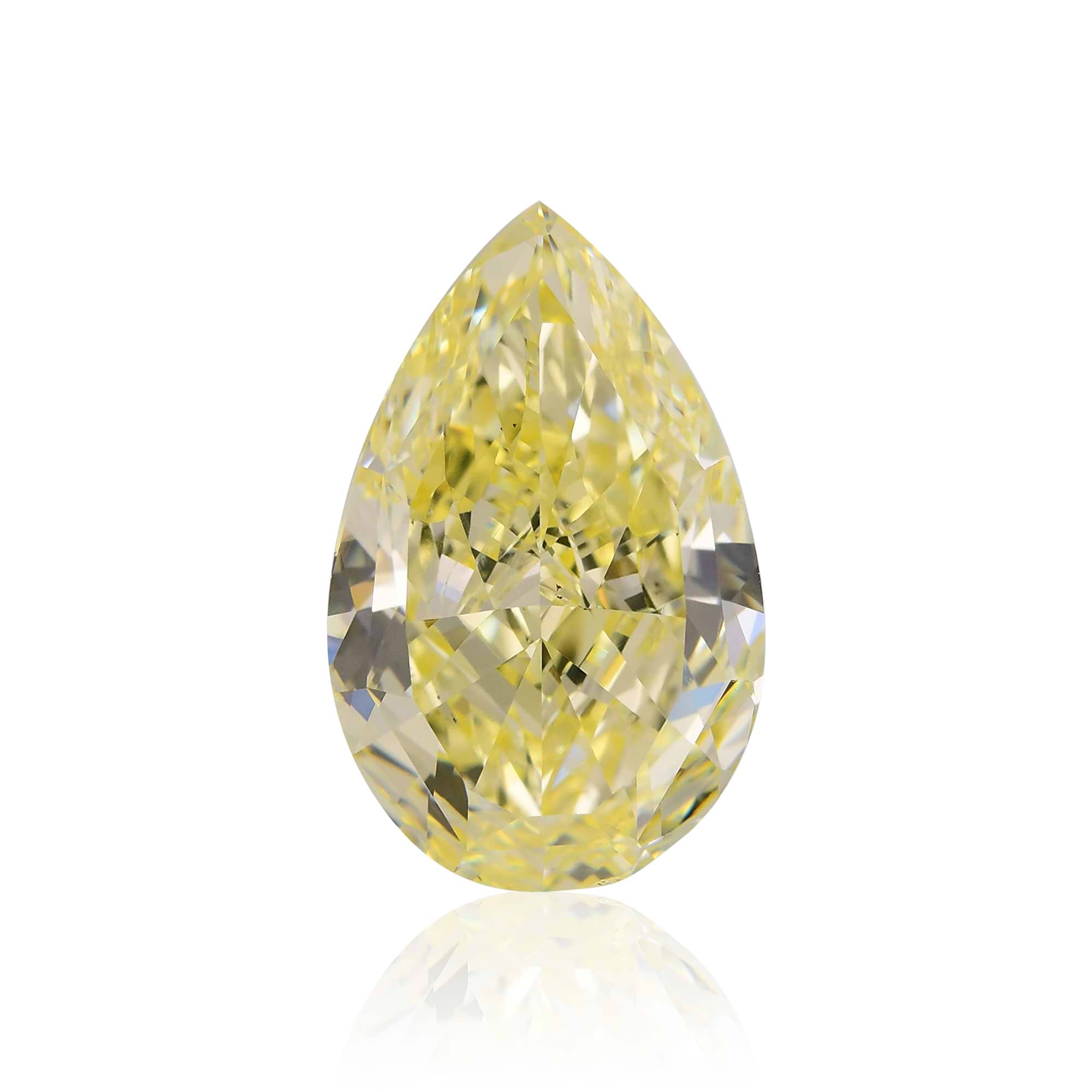 8.07 Carat, Fancy Yellow Diamond, Pear Shape
Kidman's memorable necklace was distinguished by a 5.87 carat pear-shaped fancy yellow diamond center stone complemented by graceful, winged detailing on both sides of the canary stone. Fashioned from 250 pear-shaped, marquise and round brilliant diamonds, they totaled 27.55 carats. Pure Harry Winston.
Color Loves Company
Jessica Chastain knows how spectacular diamonds and colored stones can blend harmoniously in her uber- feminine Gucci pendant earrings. The distinctively mis-matched stones make you pause and enjoy each well curated colored gem.
Let's Hear it for the Boys
Stylish men proved they can rock the bling too, as Daniel Kaluuya demonstrated wearing Boucheron's Wolf ring paved with yellow sapphires, set in yellow gold.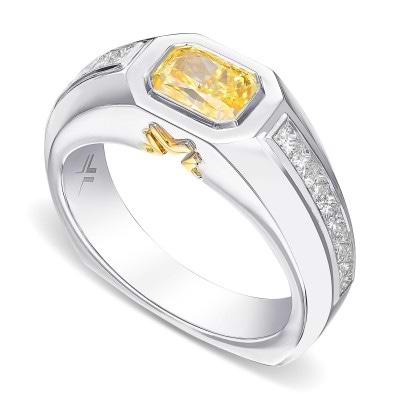 Fancy Yellow Radiant Diamond Men's Ring (1.73 Carat TW)
When a gentleman doesn't want to flash too much, a diamond and emerald stick pin is just the ticket. Wilmer Valderrama shows us how it's done.
Necklace by the Numbers
Vanessa Hudgens wore some serious emerald and diamond jewels by Bulgari. This triumph of a high-jewelry necklace stopped the show with its 11.35-carat octagonal emerald. 170 buff-top emeralds (a Bulgari signature stone shape) totaled 12.28 carats. Then there's 88 fancy-shape diamonds totaling 9.16 carats and 46 round brilliant and pavé-set diamonds totaling 15.35 carats looking effortlessly and artfully set in platinum.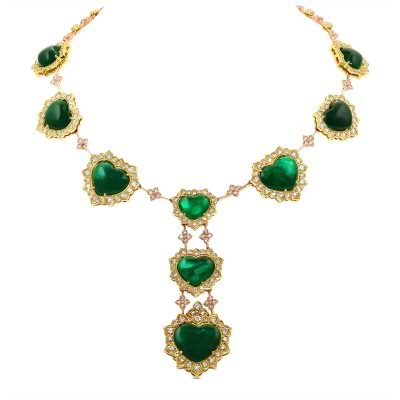 Emerald Heart Shapre and Diamond Halo Necklace (73.58 Carat TW)
We're Still Going Green
As much as we love a transparent emerald, let's not turn a nose up to other green stones. Tiffany Haddish demonstrates why we love other verdant gems with their lively hues. Thanks to high-jewelry La Gioia 2022 collection, Tiffany's one-of-a-kind neckpiece features a whopping 54.3-carat green tourmaline, surrounded by 21.1 carats of diamonds set in 18K white gold.
Trending Diamond and Colored Stone Pairings
Uma Thurman in Cartier's diamond and emerald ear clips were at once graceful, timeless, and understated—if you can imagine diamonds in platinum presenting a muted vibe. The high-jewelry earrings, crafted of diamonds, emeralds, and onyx paid homage to the Art Deco era where geometric diamond shapes and jewelry styles often included inky-black onyx accent stones.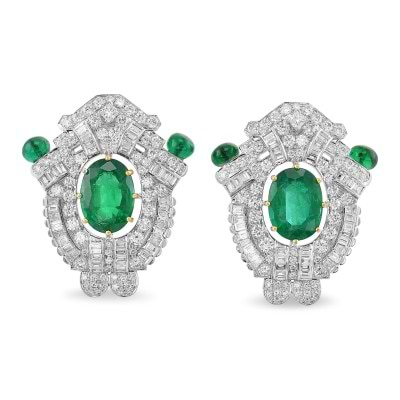 Emerald & Diamond Coture Earrings
These pieces and many others that graced the red-carpet Sunday night reinforced that natural diamonds and fine gemstones stay forever relevant. There is simply no substitute for classic jewels to make a woman (or man!) feel like an Oscar winner every time. ▼