Receiving a gift is always enjoyable; especially when it is something you really wanted or when it is incredibly thoughtful. One of the best ways to transform something a bit ordinary into something unique and sentimental is by having it personalized. Contrary to what you might think, when it comes to jewelry this can be done in a number of ways.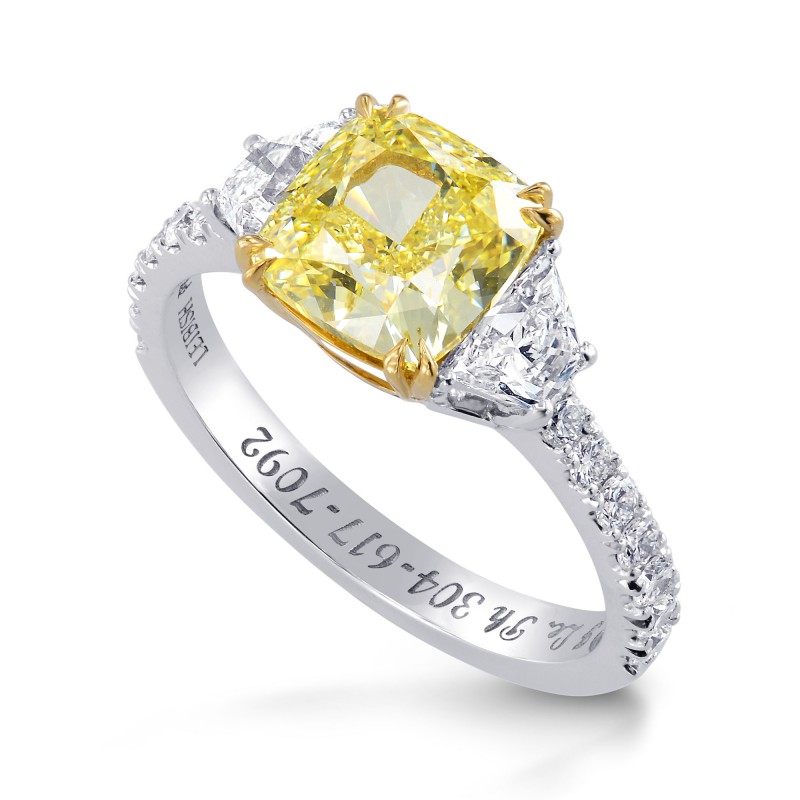 A trapezoid and pave diamond side-stone ring with a personal inscription on the inside of the band
Often, wedding bands and engagement rings have inscriptions on the inside of the band, but this can also be done on pendant necklaces and bracelets as well. While branded jewelry is generally created in order to provide the jewelry piece with some sentiment, there can be other reasons as well.
Making it Your Own
The real idea behind branded jewelry is making it personal. This can be achieved in various methods from inscriptions to letter jewelry to out-of-the-box jewelry styles. By adding an inscription within your loved one's jewelry, whether it is a name or a short message, you will enable her to carry a bit of you wherever she goes.
Alternatively, presenting someone with jewelry showcasing a letter or letters from their initials can add that level of personalization to an already very thoughtful and intimate gift. Lastly, you can go that extra mile by simply stepping away from the ordinary and the expected and going for something a bit more daring. This can be anything from colored diamonds to her favorite gemstones.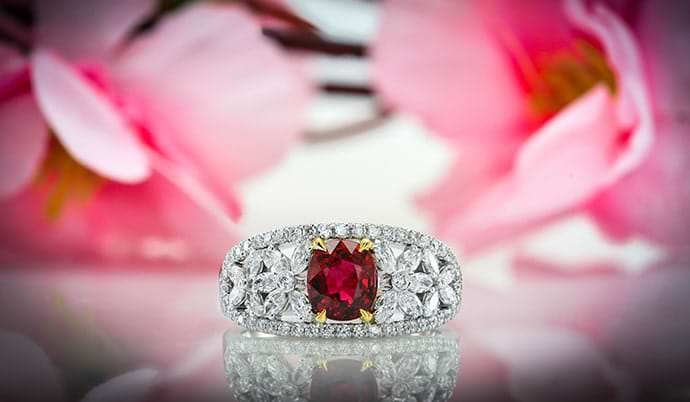 An Extraordinary Unheated Ruby & Diamond Dress Ring
Leaving a Mark
Of course, you can take personalization and creativity to a whole new level like something we recently saw from a designer named Jason Aresheben. He was constantly told by his wife that she wished his ring would leave a mark on him since he kept on taking it off. This made him come up with a ring that consisted of raised letters on the interior of the ring that spelled out "MARRIED." The idea was such a hit that he ended up coming out with a design, which consists of black gold, five half rows of black diamonds, and the large capital letters on the inside of the ring.
Though the idea behind this ring was to make the wedding band as permanent as possible even when removed, the concept could theoretically be utilized in different ways.
Heirloom Material
Gifts, and jewelry, in particular, should be given with the recipient in mind. However, having said that, knowing that your gift could be cherished for generations and have tremendous sentimental value can truly add so much to any gift. Items that will eventually be outdated, get worn out, or become irrelevant do not make ideal potential heirlooms. Beautiful, quality, personalized jewelry on the other hand definitely make the cut. When choosing to personalize a jewelry piece, in whichever way you see fit, remember that you are adding a story to the already beautiful and valuable jewelry piece. Make sure you go to a reputable jeweler that will give you top quality products.
The difference between a generic piece of jewelry and one that has either been custom made or personalized is that it is immediately different from the rest, which makes it special. Additionally, it has that extra level of thoughtfulness. You didn't just get her her dream ring, you got her her dream ring with a romantic message in some shape or form. That alone will be something considered priceless.