It hit me like a bolt of lightning, tradeshows have become a deadly mix of alligators inviting each other to a tea party. No private customers are admitted to the shows and buyers are encouraged to try and create business between one another. One company is inviting the other to dinner, but no meat is served. How could carnivores feed scones and cucumber sandwiches, and expect each other to be satisfied?
The floor at Baselworld 2016 was bursting with products at every turn. There were 6 billion dollars worth of goods and hundreds of watch companies showing off their merchandise. Everyone was trying to attract new customers or at least hang on to the old ones.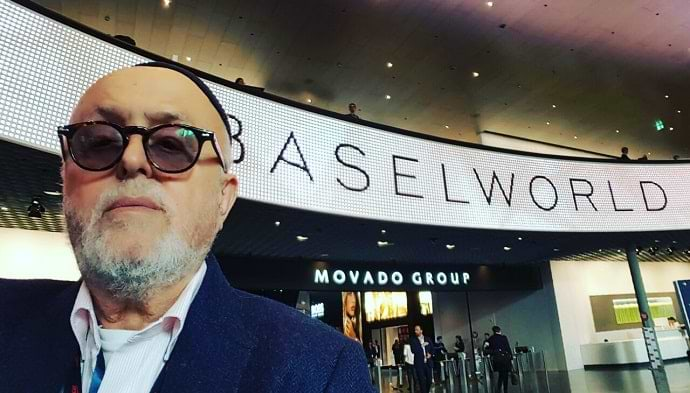 Walking through the halls at Baselworld 2016
The perpetual calendar and the ultrathin watches are nothing new and cannot create the viral attention needed. The time when Laurence Graff landed his fancy color diamond watch for 55 million dollars are long forgotten.
Apples smart diamond watch changed the way people are looking at watches in the luxury corner. To be online and connected is the name of the game. This year it was the Tag Heuer Smart watch who was the star of the show. It simply isn,t enough to be skinny and tell the time. These days it has to be fully connected all day and night.
As we are Internet marketers, most of the visitors on our website are out not among the magic circle of tradeshow visitors. Virtual buyers are looking for high quality goods at excellent prices. They are using straight forward terms, like 'Argyle pink diamonds' or 'yellow diamond engagement rings,' and can compare the search results with competition right there on the spot.
Hall 3 was the center stage of the diamond and gemstone dealers, while Hall 4 was just an addition to this space. Larger white stones did not move well. Promotion of the idea that 'Diamonds are Forever' was missing. The most sought after stone, by anyone who is who, is a 2.00 – 3.00 carat fancy vivid pink diamond. We wanted to buy a stone we had just sold a few months ago as it was a perfect match for a pair of earrings. The buyer wanted 40% more than we had sold it for such a short time ago.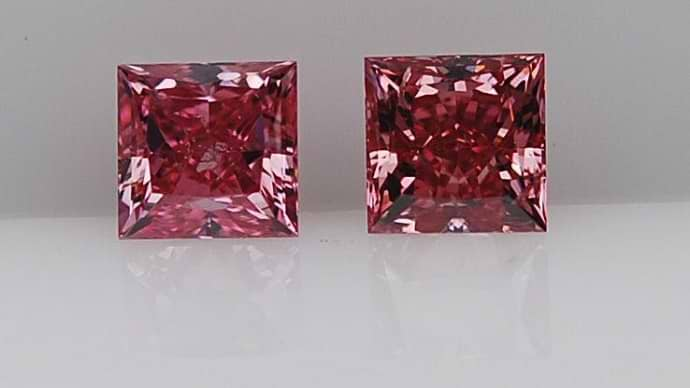 A matched pair of Argyle Fancy Vivid Purplish Pink, Princess Cut Diamonds
I attend many tradeshows throughout the year, but I feel they have become nothing more than a PR event with marginal commercial merit. From time to time you see a new face of someone who is looking for a long term relationship, and it is a good opportunity to rejuvenate the old friendships that I have in the business. But, the time of dealers and wholesalers is done. Online traders like us, and even diamond lists like Rapnet have managed to wipe out the need for the middleman. The buyer has everything on his desk all year round. At any point, he can get any stone delivered on memo. So again, what really is the need to travel to Basel? These days, the millions spent on trade shows have little return on the investment.
Some tradeshows allow privates to visit as an exception to the rule, but with the vast majority of only trade members, the diamonds are simply circulating between Alligators.
In retrospect, the March Hong Kong Show was not bad, and the spirit has shown some vital signs of recovery, but it is not yet at an all-time-high where it was before. Brands with a total focus on their customers' dreams will accomplish their mission. In fact, the merchandise itself is less important than the brand behind it, as customers will come back if you give them good reason.
The Chinese customers have not yet fully returned to the game yet. The cash buyers with big bags of money aren't around as often, but some transactions of 100k happened with online HSBC transfers.
The smell of cash money has disappeared as the mood and paranoid fear was brought on with the collapse of the China trade. But we have begun to see some improvement. The price of Metals, Iron, Nickel, and Oil has actually increased, some by 30%! Diamonds aren't directly connected because the industry depends on the general mood. But again, since the mood has improved, we strongly believe that business will improve as well.
Now that we just finished up two large diamond shows, I can tell you it is good to be in the business of color. Argyle pinks and fine blue diamonds are in demand, and other rare stones are continuing to sell for top dollars. Diamonds are forever, and rare pinks appear to last even further.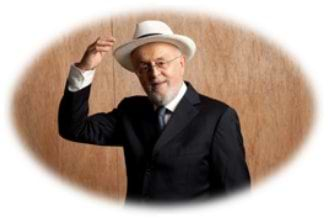 Best regards,
Leibish Polnauer, President and Founder of LEIBISH Fancy Color Diamonds