Men tend to experience symptoms of an increased heartbeat and a sudden rise of blood pressure just hearing about the upcoming big anniversary.
It really is amazing how a woman never forgets the day. In fact, it almost seems as if she is waiting for the unsuspecting husband to miss it. The bashing of such a mishap can be very difficult, and repairing the damage is always much more costly.
From my experiences, women tend to get exotic ideas, like traveling to Vietnam, going on a Lion Safari out in Botswana, or on a cruise around South America. My suggestion is to be proactive! Before your beautiful wife says she wants to go away on a worldwide expedition, suggest that you create an important anniversary diamond ring according to the design that she likes best. I myself admit that my 40th wedding anniversary is approaching. My wife is already giving me that look, waiting for me to tell her about my secret plans for the big date. 40 years! I can't even think that far back as so much has happened since.
The ring I gave my wife as an engagement ring was a marquise sapphire, which cost me about 110 pounds. Back then, I didn't have money for that, so my mentor, Avraham Itzhak Gluck, lent it to me. Unfortunately, that same sapphire ring was taken in an armed robbery in my house 20 years later.
The truth is I haven't given my wife a lot of jewelry. The first fine ring I gave her was made by my old friend, Raymond Graff. It was created with fancy color stones from our collection, before we began producing our own jewelry.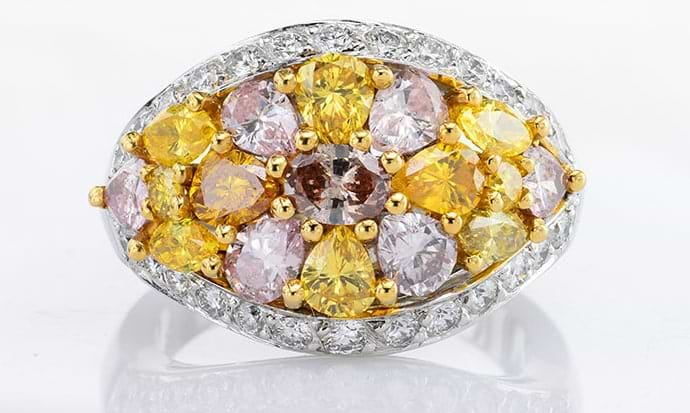 The ring Leibish presented to Rosi
The ring was a craftsman's creation of lasting beauty. The greatest thing is that it looks just as nice today as it did the day I gave it to her.
leibish color diamond ring from LEIBISH on Vimeo
The most important part of giving an anniversary ring to your wife is to involve her ideas in the design. We have a whole team ready to attend your wife's creative ideas and figure out the best ways to incorporate them into the anniversary diamond ring.
In order to create a nice ring you need at least 4-6 weeks. It takes us only 22 business days, but there are a number of decisions you will both have to make before the design is finalized. The design ideas will go back forth many times before the ring of her dreams is created.
In a virtual world, there is no 'distance' one needs to consider when sending over a mockup. If something isn't perfect, there is no problem making a change to the design. There is no need to run around from store to store, and what's better is you never have to simply 'tolerate' something you aren't 100% happy with. There is no other way to buy the ring of her dreams with such little effort on your side, with perfect execution, and at an excellent cost.
The ring I gave my wife on her 60th birthday is her favorite. She looked at many stones and many designs, together with my daughter Chavi. It took some time until they finally selected the perfect ring.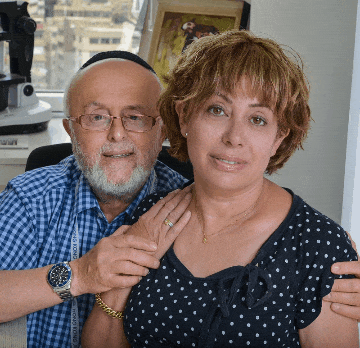 The most important thing is that the final ring will be done specifically according to your wife's wishes.
Ring Side Stones, SKU 161984 (3.24Ct TW) from LEIBISH on Vimeo.
Here is another piece of advice, which is absolutely crucial. When it comes to creating her dream design, don't waste your time trying to surprise her. I am sure you can attest that it is difficult to surprise a woman after 20 years of marriage.
It might seem like a long time, but 20 years will pass by pretty fast. Still, it is amazing to consider how much the world has changed over the past 20 years. Do you remember Lehman Brothers? They were the fourth-largest investment bank in the United States, before declaring bankruptcy in 2008. In 2005, Facebook did not exist. It was only in 2006 that Breyer made the first serious equity investment into Facebook at an $80 million dollar valuation. He hosted a dinner in the Village Pub, at which he ordered a $400 dollar bottle of Quilceda Creek Cabarnet. Marc Zuckerberg was only 20 at the time, and as he was under the drinking age, he ordered a Sprite. Facebook had at the time, roughly three million visitors. Today, they are past one billion visitors each day. You see, 20 years ago we hardly had the Internet available.
A piece of nice jewelry will outlive people and any another paper based values. My father-in-law made a ring 40 years ago for his wife by Rabinowitch in the Bahnhofstr. Since then, the jeweler unfortunately passed on, as did my mother-in-law. But the ring, which was passed down to my wife, still lives on.
The sapphire ring Prince Charles gave to Princess Diana was inherited by Prince William and presented to the Duchess of Cambridge, Kate Middleton the future Queen of England.
Princess Diana divorced Prince Charles and died in a tragic car accident, but her ring still lives strong. It was actually presented to Kate Middleton as an engagement present. That ring has its own life and destiny with the great spirit of Princes Diana.
A lion safari may very well be a lot of fun, but will be forgotten after five years. A new car or any other expensive gift will get worn out very fast. But, a fine piece of jewelry is timeless.
A 15.03 carat Fancy Yellow Cushion Shaped Diamond Ring
Especially for an anniversary which is the celebration of when you came together, shows your endless affection for one another. It gives strength to bond to your wife after so many years.
Happy Anniversary!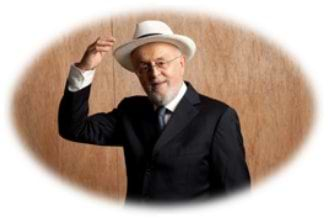 Best regards,
Leibish Polnauer, President and Founder of LEIBISH Fancy Color Diamonds