Who said a diamond is only a girl's best friend? Womenfolk may love sparkling diamonds for their beauty as well as their status, but they are not alone. The male trend in Hollywood of wearing diamond earrings, bracelets, necklaces, and rings has rubbed off on the general public and we are seeing more and more men decked out in diamonds. Not just diamonds, but colored diamonds as well. Celebrities have been seen wearing black, yellow, and blue diamonds. From earrings to cufflinks to pin lapels, diamonds are adorning all types of men, in a variety of ways. Here are some ideas for sporting diamonds in a masculine fashion, as well as options for fantastic gifts.

Rings and Wedding Bands: Colored diamonds are not just for the ladies, despite their colorful appearance. Men are also wearing colored diamond rings and wedding bands displaying diamonds in colors such as yellow, black, and even champagne. Champagne diamonds can be a great choice for a wedding band or ring since their color is subtle enough for it to exude masculinity. Rings can be found in a wide range of styles and prices, depending on the stones and the metal.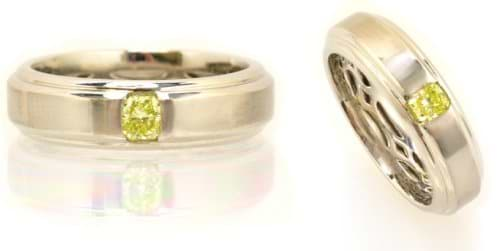 LEIBISH 0.26 Carat, Fancy Intense Greenish Yellow Radiant Gents Band Ring, Radiant

Bracelets: There may be men who claim bracelets are for women, but the fashion we are seeing today proves otherwise. The hottest celebrities today boast glittering bracelets, on the red carpet, on screen, and even just strolling along. These bracelets can be constructed from black and white diamonds in an assortment of designs, or made with a mixture of colored diamonds including blue, yellow, and brown.

Earrings: Perhaps the most common diamond accessory for men is a pair of white diamond earrings, particularly white diamond stud earrings. They have been seen on many men, including famous singers and rappers, for decades. Now, we are seeing a wider range of designs including hoop huggie earrings, yellow diamond studded earrings, black diamond stud earrings, and others. The most popular color combination for men seems to be yellow, blue, and white, and yellow, black, and white diamonds.


Pendants: Men's colored diamond pendants differ from women's in terms of style as well as colors. Just like other men's colored diamond jewelry, pendants take to the blue, yellow, brown, and black tones more than other colors. Besides the blue, these diamonds are also more commonly found than, say, pink, red, and green diamonds. In addition to the color choices, pendants for men appear in shapes of pistols, superheroes such as Superman and Batman, as well as sport team logos, and cartoon characters like Tweety, Popeye, and Buzz Lightyear.

Necklaces: Another male statement piece of jewelry is the necklace. It is not uncommon for a man to wear a gold chain around his neck. Wearing a diamond-studded chain takes it to a whole new level. Black and white diamonds on 14K gold, brown diamonds, blue diamonds, canary diamonds; you name it and you can find a memorable colored diamond necklace. If you can't, there is always the option to design your own, with your choice of colored diamonds.

Cufflinks: One of the best ways for a man to showcase beautiful colored diamonds is on a pair of spectacular cufflinks. Cufflinks help give a man a sharp, elegant, and trimmed appearance. Having one-of-a-kind cufflinks on his cuffs will enhance the look even more. Champagne diamonds would go very nicely on cufflinks, as would black, blue, and even green colored stones. Designer Sol Raphael designed a pair of black and white diamond cufflinks for actor/singer Jamie Fox, which he wore to the Oscar's.


Fancy Yellow Radiant Diamond Cufflinks

Lapel Pins: Most men don't walk around on a daily basis with a lapel pin, but they can be wonderful gifts as well as a unique item to don on special occasions. Lapel pins can be custom ordered for particular occasions such as political, sport, and fund raising events. They can be created with any colored diamond, depending on the theme of the event. Champagne colored diamonds are suitable for lapel pins since their earthy, neutral tones evoke a sophisticated and posh masculinity, which many men are after.

Diamonds are beautiful to look at and adorn, for both women and men alike. They can be displayed in a slightly different manner, but the idea is the same: to boast shimmering and impressive diamonds for all to see. In addition, these pieces are superb investments. Find your favorite style and color, and don't be afraid to show off some bling, each one in his own individual way.