It is around this time of year, every year, that many of us sit down and try our hardest to come up with the perfect gifts for our friends and loved ones. It can be tough, no doubt. Taking budget, taste, and previous gifts into account can already mark off many options. However, you need to remember that gifts should never be about quantity. It is all about quality. Who needs ten gifts that are cheap, useless, or meaningless? It is preferable to do the most with what you have. With that in mind, consider this: a gift that will not only light up her eyes and her face when she sees it, but will also continue to "give" years later as well. You are most likely asking, does such a thing exist? Well, yes, it does, and it is called colored diamond jewelry. Read on to understand more about how the color diamond can be a gift that keeps on giving, this holiday season.
What is a Color Diamond?
A color diamond is a diamond, like any other diamond. Except, instead of displaying a colorless appearance, color diamonds display a color or combination of colors. The cause for the color, interestingly enough, is the presence of different levels of other elements within the compound structure of the diamond. For instance, yellow diamonds owe their color to nitrogen. Blue diamonds on the other hand more often than not contain higher levels of boron. A color diamond can be very light to the point where the color is barely noticeable, or extremely bold. Since it is the color that makes these pieces so unique, the colors found are the most important factors when it comes to these stones. Still, cut, clarity, and carat remain extremely relevant when it comes to evaluating the stones. Color diamonds are found in single shades of pink, red, orange, yellow, green, blue, purple, violet, brown, gray, as well as in black and fancy white. Also, because it has to do with the trace elements within, there is a wide range of color combinations as well. Although diamonds are indeed forever, and the characteristics won't ever change, there is actually a diamond known as a chameleon, which can temporarily change colors when left in the dark or heated.

Color Diamonds in Different Colors and Shapes
More than a Piece of Jewelry
Jewelry has been given to women since the beginning of time, so why is this news? Though colorless diamonds, specifically very high quality, large, and unusually shaped stones can be quite valuable, they are far less rare than color diamonds and will not appreciate as well over time. Furthermore, colorless diamonds have become quite commonplace, and though they may always be welcomed with open arms, they are not as unusual and unique as color diamonds. A Yellow diamond ring, a pair of Pink diamond studs, or a stunning Champagne diamond pendant is more than just a piece of jewelry: it is a remarkable and rare specimen that will remain in tact for many years to come. It can be passed down from generation to generation, worn endlessly, and preserved for a day when it can be sold for a great deal more than it was bought. Not to mention the fact that color diamond jewelry is very original and looks gorgeous!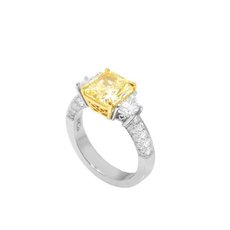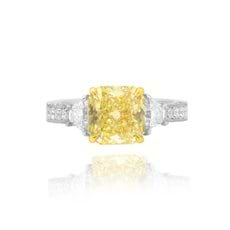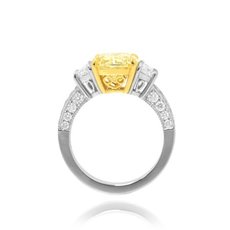 A 3.35-Carat Fancy Light Yellow Radiant Diamond Engagement Ring
| | | |
| --- | --- | --- |
| 1.49 Carat, Fancy Brown Round Diamond Floating Halo Earrings, Round, SI1 | 2.04 Carat, Fancy Light Yellow Halo Drop Earrings, Pear | 0.76 Carat, Fancy Intense Yellow Cushion Diamond Halo Earrings, Cushion, VS-SI |
A Diamond for Every Pocket
When most people hear the word diamond, they see dollar signs flash before their eyes, very much like in an animated show. But diamonds not only come in many shapes, sizes, and colors, but price ranges too. There may be some color diamonds that cost a lot more than colorless diamonds, but there are also plenty that are even more affordable than their colorless counterparts. Depending on the size, color, and quality of the diamond, one can pretty much find a stone or piece of jewelry that are right for any budget. Whether you are looking to spend as little as possible or price is not an issue, the perfect gift is always in store!
| | | |
| --- | --- | --- |
| 0.70 Carat, Fancy Yellow Pear Shape Diamond Halo Pendant, Pear, SI1 | 0.70 Carat, Fancy Brownish Pink Oval diamond pendant, Oval, VS2 | 0.63 Carat, Fancy Brown Round Brilliant diamond halo pendant, Round, SI1 |
Electronics die and become outdated, clothing gets worn, faded, and grows old, but diamonds are truly forever. In addition, the setting of the diamond piece can always be switched for something new if you desire, since the stone itself will shine just as bright 100 years down the line. It is the diamond itself that is valuable, and unlike anything else you might consider to get as a gift, will actually appreciate over time. Today you will have most beautiful pair of color diamond earrings, but in twenty years' time, you will have the same beautiful pair of color diamond earrings, except they will be far more valuable.