Now that Halloween and Thanksgiving are behind us, we can focus on the true icing on the cake: the Holiday Season! Whatever holiday you may be celebrating there is no denying the spirit of the season is in the air. Everyone enjoys giving gifts to their loved ones, and of course also receiving those items we've been ogling for the past year. Well, now is the time to splurge and spoil our better halves (and ourselves!) Here is a look at some colored diamond jewelry that we thing would make fantastic holiday picks!
Red (Or Pink) and Green Diamonds
Red and Green are some of this season's most prominent color combinations. However, since red diamonds are incredibly rare, pink diamonds can be used to substitute the festive color. From pendants to rings to bracelets, these combinations not only says holiday cheer but also makes quite the statement.
Some examples include the sensational 1.62-Carat Green and Brownish Pink Emerald Diamond Three Stone Ring, the 1.62-Carat Fancy Deep Brownish Greenish Yellow Triangular Pendant Surrounded with Pink Brilliants, and the 0.53-Carat Fancy Red, Radiant designer ring flanked by two Fancy Deep Blue-Green Diamonds.
| | | |
| --- | --- | --- |
| 0.53 Carat, Fancy Red, Radiant, Flanked by two Fancy Deep Blue-Green Diamonds | 1.62 Carat, Fancy Deep Brownish Greenish Yellow, Triangle, SI2 | 1.62 Carat, Green & Brownish Pink Emerald Diamond 3 Stone Ring |
Blue and White Diamonds
While some may be flying the red and green banner, for others, it's all about the blue and white. Blue is another rare color for colored diamonds. However, although they are gorgeous, blue diamonds can sometimes be quite expensive. The fantastically blue Tanzanite gemstone makes a fabulous alternative. One such item is the spectacular 5.55-Carat Tanzanite Heart with White and Fancy Vivid Yellow Pave Diamonds Heart Pendant. Other suggestions include the 5.68-Carat Oval Tanzanite Triangle Diamond Ring.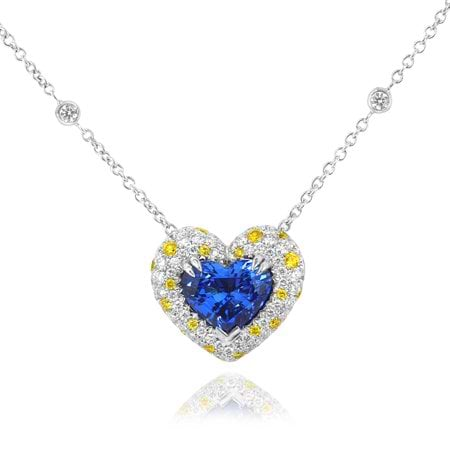 The 5.55 Carat Tanzanite Heart
Yellow Diamonds
Yellow is a bright and cheery color so it is especially suitable for the Holiday Season. Whether you choose a light yellow or a more intense yellow, any yellow diamond jewelry piece will surely liven up your holiday. Yellow diamonds look terrific set in rings, pendants, bracelets, and especially as yellow diamond stud earrings or hoops.
An example of a yellow diamond piece is the exquisite 3.04-Carat Oval Fancy Light Yellow Diamond Micro Pave Halo Ring.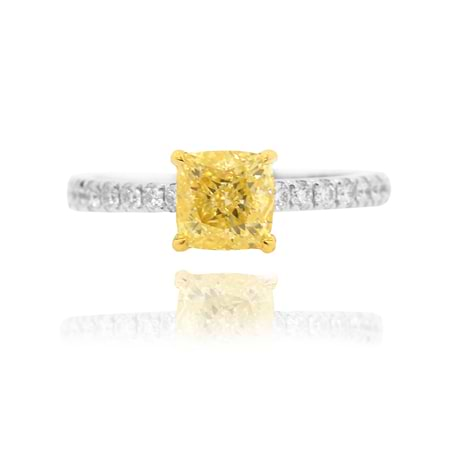 The 3.04 carat, Fancy Light Yellow Diamond Ring
Holiday Bracelets
When you think holidays you think bright, vibrant colors. What better way to showcase these colors than with a colorful diamond bracelet? There are many options when it comes to bracelet settings for colored diamonds. You can choose something simple like a gold chain with small, subtle stones like the 0.62-carat 'Les Bonbons' Fancy Color Candy Round Brilliant Chain Bracelet, or, you can go for something a bit bulkier with a row of different colored diamonds such as the 13.42-carat Fancy Intense Color Diamond Collage Halo Bracelet. If you really want to go all out you can go for something like the Multicolor Diamond Bracelet, which is created from 54.84 carats of rose-cut VS2 colored diamonds.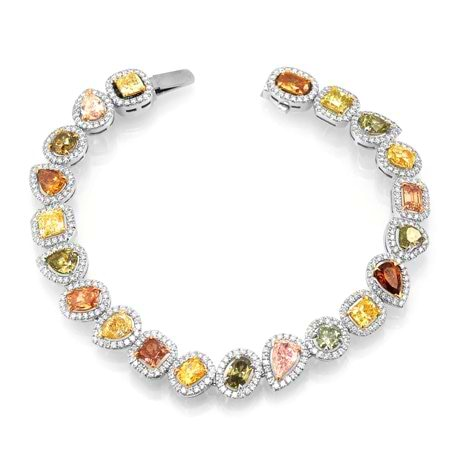 0.42-carat Fancy Intense Color Diamond Collage Halo Bracelet.
Colored Diamond Letter Pendants
One way of presenting someone with a personal and special gift is by including his or her name or initials. With colored diamond jewelry, this effect can be achieved with the help of a diamond-studded pendant, in this case, a spectacular Colored Diamond Letters Pendant in 18K Gold.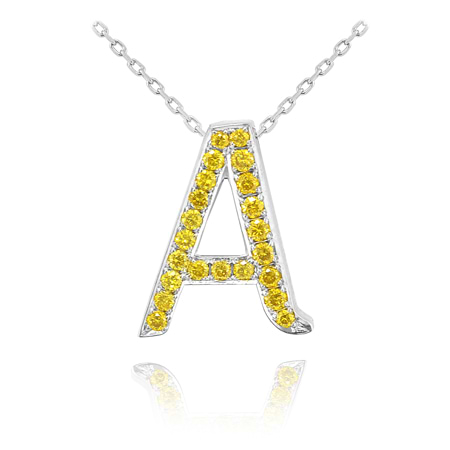 0.21 Carat, Yellow Diamond Letters pendant in 18K, Round
Festive Diamond Studs and Earrings
As mentioned before, yellow is a delightful and jolly color, which is precisely what the Holiday Season is all about. Some of the most successful yellow diamond jewelry pieces are earrings, such as yellow diamonds studs, hoops, and drop earrings. You can choose from Fancy Yellow Radiant Diamond Stud Earrings, Fancy Intense Yellow Radiant and Pave Halo Diamond Earrings, Fancy Vivid Yellow Pave Hoop Earrings, and Fancy Light Yellow Halo Drop Earrings. There are also options for other colored diamonds such as the 8.17-Carat Collage Fancy Colored Diamond Drop Halo Earrings in 18K Rose, White, and Yellow Gold, the Fancy Pink Diamond and White Diamond Earrings, and the Multicolor Pink and Blue Diamond Drop Earrings.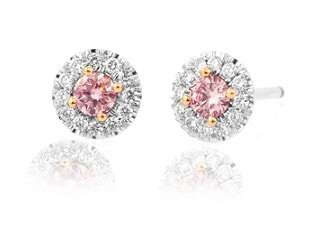 White and Pink Diamond Earrings
The Holiday Season is all about giving (and receiving,) and about fulfilling wishes. It is not everyday that someone wants to make your wish come true. This holiday season, why not browse through the phenomenal selection of colored diamonds and colored diamond jewelry at LEIBISH and make this year's holiday truly special and memorable.
Contributor: Benji Margolese