This Monday, December 2nd 2013, will be Cyber Monday! For those of you who are not familiar with the term "Cyber Monday," here is a short explanation. Cyber Monday is basically the Monday after Thanksgiving, and like "Black Friday," it is a day utilized by retailers to increase sales by introducing the most appealing deals. Many people look at this opportunity as the perfect opportunity to start on their Holiday shopping. And as a result, many companies, LEIBISH included, extend this sale to almost a full week of the lowest prices they offer throughout the year.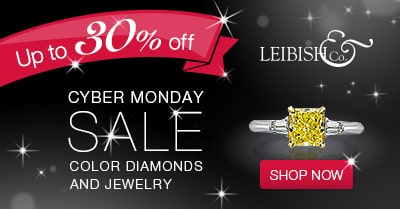 It is basically a win-win for everyone. Consumers get to buy the things they've been dreaming of for the best prices possible, and various stores and companies make up for their reduced prices by the excessive amount of sales made in a condensed period of time. However, there are some things to keep in mind as Cyber Monday approaches. One, there is generally a limited supply of everything, so you need to get shopping nice and early. Second, you can expect good prices, but you can't expect magic. No one is going to be giving items away. If you come with reasonable expectation, you will be more than satisfied. If not, well, you are setting yourself up for disappointment.

LEIBISH likes to stay on top of the latest trends, and Cyber Monday is definitely a trending topic these days. Leibish's clientele is vast and diverse, as is its jewelry line. Here are some of the top sellers that many will be glad to see marked down during the Cyber Monday sale.
Earrings
Coming into the gift season, earrings are one of the top choices! Some of the most popular color diamond earrings are solitaire studs, halo studs, and drop earrings. If you are looking for a unique gift that is unlike anything else you own, Yellow diamond solitaires are wonderful items to have in your jewelry collection. They serve as the traditional diamond stud but with a whole lot of flare. Halo stud earrings, with a pink or yellow center stone, also make wonderful classic earrings. The row of colorless diamonds surrounding the center diamond gives them a more elegant and sophisticated appeal, but there are so many options to choose from it is best to take a look and see what fits. If you are hoping for a more elegant and luxurious look, drop earrings drop earrings are quite regal and should be saved for special occasions.
A Champagne floating diamond halo earrings, Emerald pear drop earrings, and intense yellow halo studs
Pendants
Another one of the favorites for gifts are diamond pendants. There is a variety of innovative designs, which are unique and irresistible. They are most often paired with colorless halos to accentuate the colors that are found within the stones. The results you find will be a unique, breathtaking pendant that totally completes your outfit. Whether it is Yellow, Orange, Pink, or Champagne, once surrounded with colorless diamonds set in 18K gold the pieces look fantastic.
A Yellow Pear shaped Diamond Pendant, a Pink Oval Diamond Pendant, and a Champagne Round Brilliant Diamond Pendant
Rings
Nothing says "I love you" more than a unique color diamond ring. When it comes to engagement rings, LEIBISH is the expert. A Yellow diamond pave set halo ring, or a Champagne diamond round brilliant three stone ring flanked with two colorless side stones might just be in your budget come the Cyber Sale! There is no better time to propose when it is paired together with all the holiday spirit, so don't miss the chance to get your dream diamond engagement ring without breaking the bank.
A Yellow and Trapezoid Diamondring, a Pink Couture Halo Ring, and a Fancy Brown Three Stone Ring
Bracelets
Though color diamond bracelets are generally on the pricier side, some people prefer to gift their love with a bang! If you do decide to indulge, there are very impressive multi-color bracelets, which can include just diamonds, or diamonds and sapphires. Still, there are options for budgets of every size, for example the exquisite fancy colored diamond chain bracelet including 0.62 carats total weight of colorful candy diamonds. With variations for pink, yellow, orange and gray, the bezel set candy bracelet is available at a very attractive price.

Every person has her or his dream item that would be purchased if the price were right. This Cyber Monday Sale is the perfect opportunity to check out the great deals that are being offered. In short, mark your calendars because November 27 through December 2 you will want to be glued to your computer screens.