Imagine the following scenario: you are having an ordinary day when all of a sudden your breath is taken away by a surprise romantic proposal. With the love of your life down on one knee, cradling an open velvet box displaying a gleaming diamond engagement ring, all of your dreams are about to come true. You excitedly scream "Yes" and extend your hand in order to be adorned with your new jewel. However, your moment of pure glee is rudely interrupted as you struggle to get the ring on your finger, or alternatively, it hangs loose, threatening to fall off at any given second.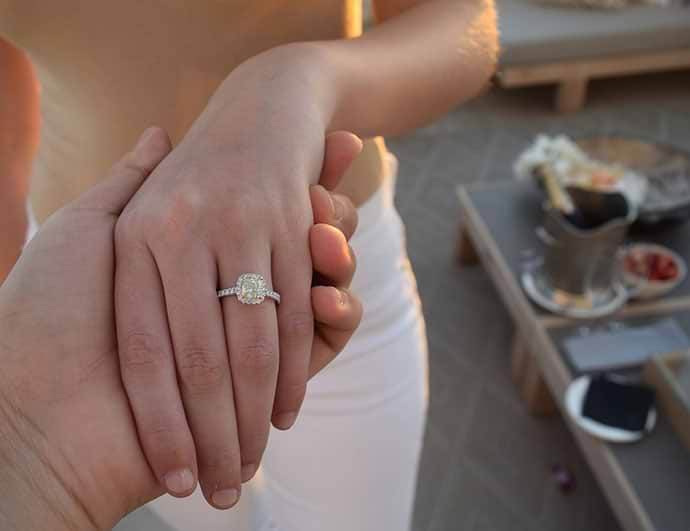 A LEIBISH customer just after proposing to his lovely Fiancé
Both men and women within the engagement circle, you need to understand how to easily identify exactly what your ring size is, ahead of time!
While most people make the effort and come to the jeweler prepared with the ring size and all, many others simply don't bother or forget to go through this step. In order to ensure that your proposal goes as smoothly as hoped, and in order to avoid complications with ring the future, it is highly advised to take the time and have your finger measured. There are many quick and simple ways to accomplish this feat, which is well worth the time.
Go to a Jeweler
One of the best ways to get an accurate ring size is by going to an actual jeweler to have your finger sized. It doesn't take long, and although it may take away from the surprise factor, there are still many ways to be surprised even if you know a ring is eventually coming your way. This route is for those who are practical and like things to get done right.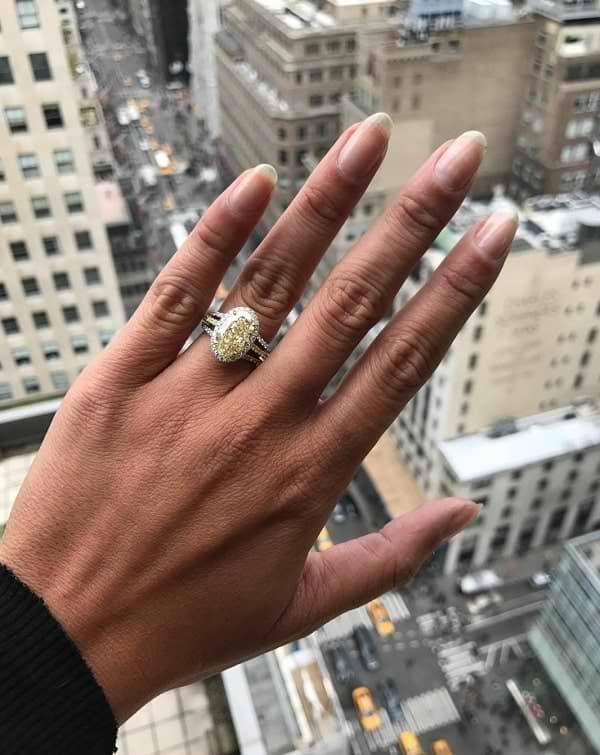 Trying on a yellow diamond ring in the Leibish showroom on 5th Avenue
The String Method
If you prefer not to bother with going to a jeweler and would like to measure your finger at home, it is completely doable as well. All you need is a string. Though this will save you the trip to the store, it will not preserve the surprise factor, unless you can somehow manage to take her ring size without her realizing, or "subtly" let him know your measurements. What you'll need is a piece of string, or paper, and a ruler. Wrap the string around your ring finger, beneath the joint and close to the knuckle. Mark the spot where the string meets, and measure the distance with your ruler. That is your ring size! Remember not to pull the string so tight that it starts to cuts off your blood. The ring needs to be able to come on and off.
Use an Existing Ring
If you already have a ring that fits you well, use the same string method as above on that ring. Then compare the two results just to ensure they are exact.
Online Measuring Tools
If neither one of the aforementioned methods are ideal for you, you can always turn to various online tools that are at your disposal. Various sites offer different kinds of measuring systems that will help you get your ring size in a fast and easy manner. Some sites will offer you a free ring sizer that can be sent to your home. Others will offer a step-by-step measuring guide. Depending on whether or not you want to wait around for a ring-measuring kit to arrive, you can measure your finger at home at your convenience. For example, you can easily find an online ring-size chart fomr which you can compare your own ring with a life-size ring on your monitor.
Finding out your ring size is really the very first step for buying a ring. It will help you determine what styles will work best with your size or what is available in the store you are looking at. Most importantly, you will be sure it actually fits when you finally receive it and slide it onto your finger for the very first time.