I am looking over the prices of the 600 give or take, natural pink diamonds we have sold over the past few years. These exceptional stones with perfect make, high clarity, and top colors are not only holding their value, but the prices continue to climb. The demand for pinks has increased tremendously, and those who chose to include these precious stones into their portfolio will reap the benefits down the line.
However, even more than the goods mined in South Africa or Brazil, the value of those mined in Australia, from the Argyle Diamond Mine, have simply skyrocketed! Argyle diamonds are by far the first and strongest figures in the scale of diamond value.
The significance of the color between two stones of a similar quality can be so dramatic that the difference between two intense pink VVS stones of a similar cut, clarity, and size can be shocking. This is actually one of the main reasons I have never attempted or even participated with others to create a price list for fancy color diamonds. A perfectly round Australian pink stone with a good pink color has become an ultimate luxury, extremely rare, and costly. The 2015 Tender included a number of round diamonds as well as some remarkable emerald cut stones. The premium of these Tender diamonds was about 25% higher than they were last year. The prices of tender diamonds has literally gone up by 50% over the past three years, which is a lot! But, to their credit, the make of these stones has substantially improved and the luster of the diamonds is much better than what they offered three years ago.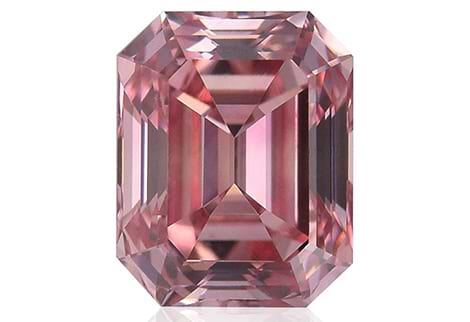 Lot #56 from the 2015 Argyle Tender.
A 0.75 carat, Fancy Intense Pink, Emerald shape diamond, with a VVS1 clarity
The 0.75 carat, Fancy Intense Pink, Emerald Shape, VVS1 Clarity, Argyle Tender stone is priced 50% higher today than what it would have gone for three years ago. Today, you pay more, but I think you get 'better diamonds.' This was one of 65 selected stones that were handpicked from the entire year's supply of Argyle Pink diamonds to be offered in their tender.
There is a lot of meaning in a name that people are not aware about. Argyle, for example, means that those stones were mined from in Argyle material. The ground over obviously has a lot to offer. There is a major difference between an Argyle Intense Pink and Fancy Intense Pink from South African origin. Both stones are graded by GIA as a Fancy Intense Pink, both are GIA graded as a VVS1 clarity, and both are a similar size. However, since the color is stronger with the Argyle diamond, the market value is significantly higher. Still, the most powerful seller in pink diamonds is actually not an intense. Interestingly enough, we have sold many more 0.50 to 1.00 carat, Fancy Pinks and Fancy light pinks than we have intense or vivids. These goods have gone up roughly 60% - 70% over the last three years.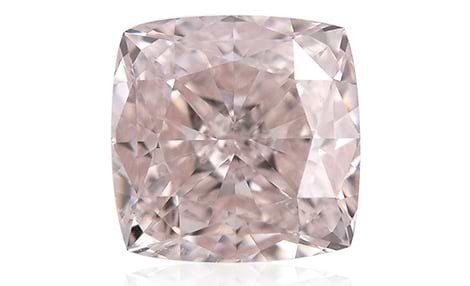 This 0.52 carat, Light Pink, Cushion Shape diamond with an IF Clarity, is a perfect example of a pink diamond in high demand, because it has great color and excellent quality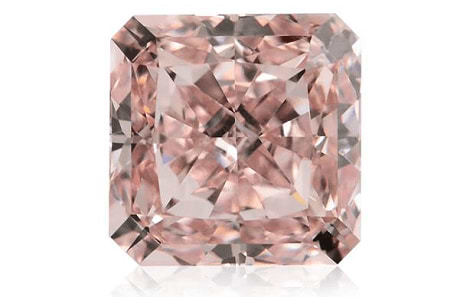 An 0.80 carat Fancy Intense Pink with a VVS clarity from South Africa - sold by LEIBISH
There were hardly any round stones in the latest Argyle Tender collection. We have an extremely rare pair of Fancy Intense Pink 0.60 carat and 0.62 carat, with identical proportions and a similar face up. Obviously, Tender stones, being the best of the best, are valued a lot higher. In addition to a larger budget, one really needs to learn and understand the potential these stones hold in order to allow themselves to make the purchase.
Rio Tinto made a gigantic investment to develop the Argyle Pink diamond mine. Although they announced the mine will apparently be depleted in 2020, they invested billions in 2012 towards developing their underground mining project. They consistently work towards increasing the mines production, but it appears the current 80% increase in production did not yield a lot of fine pink diamonds. The prices of those that are available therefore still remain very firm.
Mining Diamonds or Iron is a costly business. Due to the current collapse of commodity prices, even gigantic companies will nearly bleed to death as a result of their losses.
In 2013, Anglo American was playing with the idea of buying Rio Tinto's Diamond assets. Today, only a few years later, Anglo has since lost 90% of its market value! Its subsidiary, De Beers (85% of De Beers is owned by AAL), has to produce $4 billion dollars cash to help pay down the gigantic 13 billion dollar debts Anglo accumulated investing heavily in Iron ore in Brazil and similar ill fated ventures, just to keep afloat. De Beers is ready to talk about the prices of rough and started to talk face to face to its biggest clients, the Sightholders. They did however sell roughly $540 million of diamonds in its first sale of this year, which is more than double the amount at the biggest producer's previous offering. Without a choice, they began to operate reasonably and accepted the offers the Sightholders had. As a result, sales began to go up.
Many diamontiers are petrified that the reduction of rough prices from De Beers will hurt the prices of polished diamonds.

However I am not concerned. The market will not be affected by the price reduction of De Beers. The change won't lead to further declines in polished prices. If De Beers continues to act as a fair player as they did in the first sale this year, and they continue to sell the rough allocations to the Sightholders at a reasonable price, all will go well. Polished diamond prices will not decline from reduction of the prices of rough diamonds just as they didn't go up with the price increases of the rough. They are two different worlds. The polished diamond market is governed by customers demand, while rough was sold according to the perception of De Beers and other miners.
It's interesting. When you compare important diamonds with artwork sold at the latest auctions, diamonds today are being sold at bargain prices.
The 16.08 carat Fancy Vivid pink diamond sold for $28.5 million. It was sold to the same buyer who bought the record-breaking 12.08 carat Blue Moon Josephine diamond, which sold for $48 million at Christie's.
It's about time to hear some good news about the diamond market, since last year was quite tough for some. The future of the diamond business is in our hands now. From this point, it all depends on how well the retailers manage to polish up their tarnished brands to luster once again.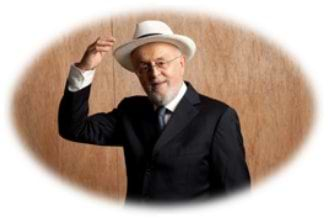 Best regards,
Leibish Polnauer, President and Founder of LEIBISH Fancy Color Diamonds