Now that Valentine's Day is behind us, we can focus on the Grammy's, although the awards show took place a little while ago. Hollywood loves awards shows, and where there are stars, there are diamonds. The red carpet at the 54th Annual Grammy Awards glittered with diamonds, from earrings dripping down starlets' ears, to necklaces with pendants hanging from elegant necks and laying against plunging necklines. Yes, the Grammy's left us wanting more, and not just of the fabulous music and performances, but of the fashion and mesmerizing diamond jewelry as well. Just to name of a few celebrities who caught our attention, are Katy Perry, Kelly Clarkson, Hillary Scott, Taylor Swift, Shawna Thompson, and Adele.

Katy Perry stuck out like a sore thumb with her dyed-blue hair and light-blue sequined gown, which was intended to compliment her hair color. Though the blue look is not for everyone, there is one thing most will agree upon: how stunning her earrings and bracelet were. The asscher cut diamond drop earrings, totaling 1.6 million dollars, consisted of three different sized large stones on every earring, each stone larger than the next. Small white diamonds surrounded every center stone. That wasn't all. The singer also wore a diamond bracelet worth 350,000 dollars. The earrings and bracelet were both designed by Norman Silverman.

Kelly Clarkson, the very first American Idol winner, wore a pavé and rough diamond "Iceberg" necklace. Additionally, she wore a 14.11-carat rough diamond ring from Diamond in the Rough. The necklace went beautifully with Clarkson's gorgeous gown. The neckline was perfect for displaying such a necklace.

Lady Antebellum singer Hillary Scott boasted a pair of Sutra earrings. The pink sapphire and pink quartz, were set in blackened gold with diamonds.


The Neil Lang ring that Taylor swift wore was ultra chic. White diamonds, set into an oval shape, upon a yellow gold band, made the perfect combination. Another young performer to wear Neil Lane jewelry was Grammy nominee Rihanna. She chose a pair of the designer's hanging earrings that went exceptionally well with her complexion.

Country singer Shawna Thompson wore jewelry from a number of jewelers including Diamond in the Rough, Isharya, and Carrera y Carrera. However, what stole the show were the earrings by Diamond in the Rough. The "Champagne Bubbles" earrings were ever so glamorous. Thirty-four rough diamonds were set in yellow gold, resulting in two dangling beauties.

Grammy winner and singer, and this year's singing sensation, Adele, wore Harry Winston jewelry. The star, who won more awards at the Grammy's this year than any other artist, donned a 12.4-carat Harry Winston diamond and platinum cushion-cut ring.

The Grammy Awards was most definitely a diamond-studded event. Our eyes feasted on the enchanting jewelry. Colored diamonds, which have become extremely popular among celebrities, made a presence as well. There are many brilliant pieces of jewelry featuring colored diamonds that can more than compete with these celebrity designs. Of course, there is also the option of designing your own piece of jewelry based on inspiration given by Grammy winners, nominees, and singers, and perhaps combined with a sensational colored diamond.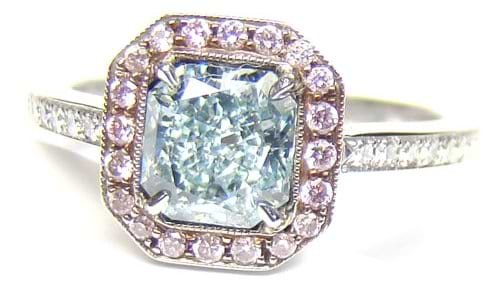 1.04 carat, Fancy Green Blue, Radiant, VS2