A stunning emerald and diamond ring was spotted upon the ring finger of the beautiful Irina Shayk, who is possibly expecting a child with her partner Bradley Cooper. This has led to speculations, and assumptions, regarding the new status of the pair's relationship. It is believed that the two will not only be welcoming a new life into this world in a few months' time but will also be walking down the aisle. Though the couple has not responded to either claim, their silence speaks more than words.
Bradley and Irina
Assuming the lovebirds do decide to tie the knot, it will be Bradley's second marriage and Irina's first. The American actor was previously married to actress Jennifer Esposito between 2006 and 2007 and famously dated Zoe Saldana and Suki Waterhouse afterwards. Irina ended her five-year relationship with footballer Cristiano Ronaldo in 2015, right before she met Bradley.
The Ring
Since neither Irina nor Bradley has come forth with any details revolving their possible engagement there is little to no information regarding the ring and what we do know depends solely on photos. It appears to be a large green emerald stone surrounded by a halo of colorless diamonds upon a delicate yellow gold band. Both the size and color of the ring suits the model's physique and skin tone flawlessly.
The Gemstone Phenomenon
More and more celebrities as well as your every day millennial are opting for less traditional stones for their engagement ring like the lovely emerald Irina is now sporting. Don't get us wrong, everyone loves a sparkling diamond, but using a gorgeous emerald as the center stone almost seems to be becoming a new trend! Check out these diamond & emerald rings, which are attracting a lot of attention! This significant break from the timeless and typical colorless diamond symbolizes a change in society's take on engagement rings and on engagement as a whole. Nothing is set in stone, pardon the pun, in this regard anymore, which is why we are seeing a variety of precious gemstones and semi-precious gemstones replacing the traditional diamond. This allows for more creativity, both in the financial and personality arenas. Gemstones allow for a much greater price range as well as choice of colors that can help reflect the many different types of personalities that are out there.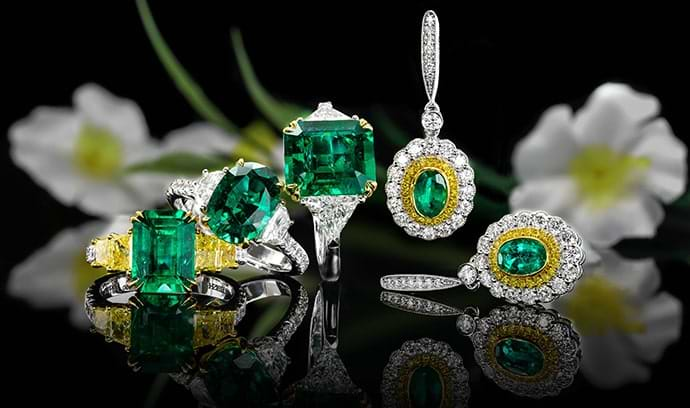 Leibish Emerald Jewelry
It is our hope that both of these pieces of information are true and that the adorable couple will have nothing but love and happiness in store for them. In any event, it is refreshing to have yet another famous gemstone ring brought to our attention to highlight the diversity we are seeing among jewelry styles and engagement rings in particular. The standard colorless diamond ring has stepped down as the main option for engagement rings and is leaving room for many other possibilities.
Want to see some more emerald & diamond jewelry? Check out our collection!