Fans of the TV hit, Desperate Housewives, were most likely utterly devastated when one of the show's stars, Eva Longoria, ended her intense romance with NBA player Tony Parker. However, there is now reason to rejoice as the compact actress has found love yet again, recently making it official by accepting a stunning ruby and diamond engagement ring from boyfriend Jose Antonio Baston.
Gemstone engagement rings are not anything we haven't seen before, but such pieces still manage to make a statement time and time again. This will be the third time the petite Latina heads down the aisle after two failed relationships. The exceptional ring may just be a way of telling the world that she may have fallen, but she is now rising and will stand taller than ever before.
The Ring
Ms. Longoria was more than pleased to accept the stunning red-stone-studded-ring when she was presented with it recently in Dubai while in town for the 2015 Dubai International Film Festival. Jose Antonio Baston, a 47-year-old president of a Latina media company, Televisa and a father of three (a fourth child passed away shortly after birth) popped the question to the enthusiastic celebrity who eagerly accepted the ruby and diamond ring. Set in platinum, the gorgeous colored center stone is surrounded by a halo of colorless diamonds, and completed with the diamond-studded eternity band.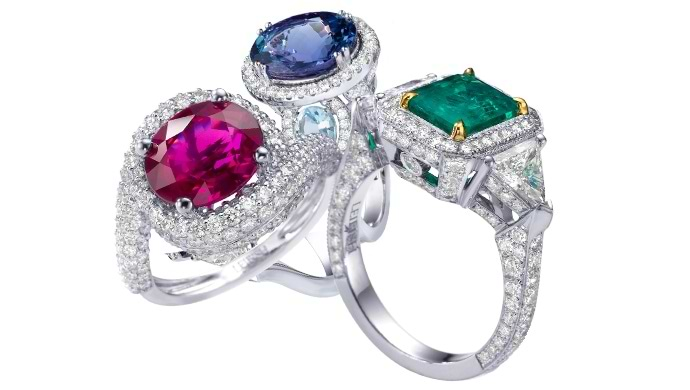 More and more people are getting into gemstone and diamond rings
Longoria's Celebrity History
Since first appearing on the small screen in 2001, as an actress in The Young and the Restless, Eva's career has been escalating at an incomprehensible rate. The TV series Desperate Housewives was an instant hit, taking her directly to the top of Hollywood. Longoria was first married to Tyler Christopher from General Hospital, and after that didn't work out, she began a relationship with Tony Parker of the San Antonio Spurs. Although they were a dream couple at the beginning, things deteriorated quickly once hundreds of texts were discovered on Parker's phone from his teammate's wife. Despite the devastating turn of events, Eva Longoria managed to push forward and find love again when it was least expected.
The Future
As Longoria enters her fifth decade, having children is on her mind but not something she necessarily thinks she needs to do. Her fiancé has children and she feels as though her life is filled with everything and everyone she needs. With fame, fortune, a dedicated and handsome husband-to-be, future stepchildren, and of course a sensational ruby engagement ring, could she really ask for more?
We hope her marriage to Jose Antonio is just as beautiful. After all, the real people behind our favorite dramatic characters deserve happiness too. Here is to many years of a loving and healthy marriage, along with much enjoyment from that unique ring!