In planning a wedding there are so many details to focus on. You may feel like your head is spinning, especially when selecting that very important item---your bridal jewelry!
With countless options, you may be left wondering, did I get it right? Why don't we discuss the various pieces of wedding ring sets and engagement rings, to make sure you select exactly what you want.
Let's demystify bridal sets and engagement rings with a few simple explanations.
What is an engagement ring?
Simply put, a bridal includes the engagement ring which is worn when your wedding announcement is made. Later, a wedding ring will be placed on your left hand's ring finger during the ceremony. Often the wedding ring and engagement ring match because they were created to go together. But there's room for personalization too. You can select two completely unique ring styles for your engagement ring and your wedding ring for a completely individual vibe. It's completely up to you.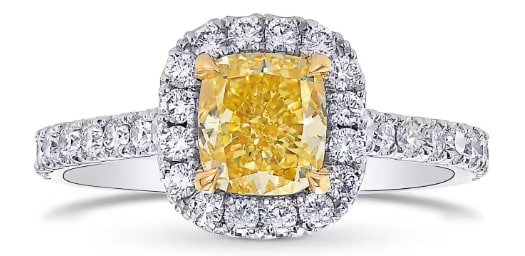 LEIBISH Fancy Vivid Yellow Cushion Diamond Halo Ring
Bridal sets -v- engagement rings
If this is the first time you're hunting for the perfect engagement ring or bridal set, it's easy to get confused by the different expressions being thrown around. Today most brides choose engagement rings with a large center diamond for optimum sparkle. But of course, you can choose a gemstone with a personal meaning to you both. Engagement rings and bridal sets are designed to be personal expressions today, so the choice is yours.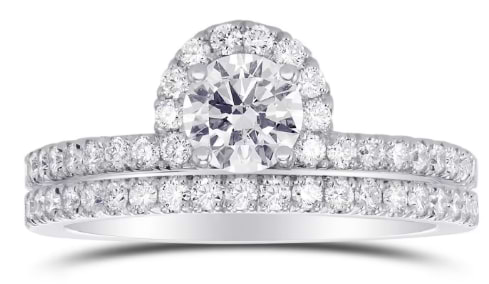 LEIBISH Round Brilliant Wedding Set Ring and Band
Wedding ring sets -v-bridal sets
You've likely heard the phrase wedding ring set instead of bridal sets. Sometimes, the wedding ring set refers to the engagement ring and two additional complementary bands—one is used as the wedding ring placed on the bride's finger during the marriage ceremony. The other identical band goes on top of the engagement ring, making the two identical bands 'sandwich' the bride's engagement ring. It's a dramatic and memorable statement for sure.
The combinations are easy to remember. The first ring the bride receives is her gorgeous engagement ring to show to admiring friends and family. Then secondly, the wedding ring placed on the bride's finger at her wedding completes the bridal set. Sometimes alternately it's called the wedding set. Since some jewelers refer to the wedding set as the engagement ring with 2 bands worn on both sides of the engagement ring framing the center engagement ring.
The wedding set with three rings
But you might hear couples –or even jewelers refer to a wedding set as the engagement ring and the bride's and the groom's wedding rings. Make sure you ask these questions thoroughly, so you'll get what you want. Many couples today choose matching wedding bands as an especially romantic touch during their ceremony. The matching rings are a sweet way to show the commitment the couple has.
Today, not only are there styles for every couple's taste, but you'll find the perfect bridal sets within your budget after doing a bit of research. These rings symbolize the beautiful and unbreakable bond of two people vowing to share their lives together—forever.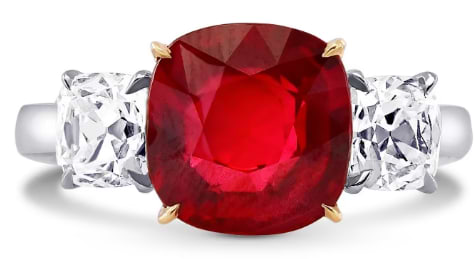 LEIBISH Mozambique No Heat Pigeon Blood Ruby Three Stone Ring
Price your Bridal Set
It's pretty logical that the engagement ring will be the most expensive ring in your complete bridal set---or wedding set, depending on how many other bands are in your set. Most often, the priciest item –the engagement ring, will have a large central diamond or other gemstone. Additional side diamonds or gemstones add to the overall cost, as well as small accent stones that may be used for the halo around the center stone or on the shank. The wedding bands for both men and women will likely be less costly. But depending on the amount of gold and diamonds in those rings, it can become substantial.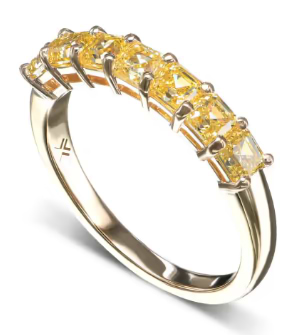 LEIBISH Fancy Intense Yellow Asscher Band Diamond Ring
Size of your Wedding Set
Since the decision is completely yours, you may opt for the engagement ring and complementary wedding band—so that's two in your set. Other brides love the wedding band plus another identical band on each side of the engagement ring for a more dramatic impression, making the set three.
Do you want to have matching wedding rings for the bride and groom for an extra romantic feeling during and after the wedding ceremony? You may have three rings with the engagement and two wedding bands—one for him and her. You can personalize this to your own preferences.
When you've finally made the choice and selected the rings, you'll remember this time as a joyful part of your entire experience from engagement to wedding. Happy Life you two! ▼